Deftones
Letlive, Three Trapped Tigers
Birmingham, Academy
19th February 2013

Deftones Letlive Three Trapped Tigers

First up tonight are Three Trapped Tigers. I'd say they are an instrumental, post rock band and sounding something like 65 days of static, they are a hard band to place in a solid category. Whatever the genre, the sound the band are making, is pleasing to my ears, very synth driven with guitars and drums filling in the rest of the sound, making a rather melodic set. Not sure if this is the right band for this tour but these people should experience something different, I know they have a new fan in me to say the least. The songs on show are completely good of vocals bar a few extended oooooohs wooooahs and arrrrrrghs. As the set progresses they win the crowd over for a rather large applause at the end of the set.


Main support tonight are Punk rock band Letlive, they open with 'Le Prologue', really letting the crowd know what they are in for, they explode on with the likes of 'The Sick,Sick,6.8 Billion' and 'H.Ledger'.

The onstage manic presence doesn't quite cut it, the front man, is a total mad man, giving it his all on stage for every song every night must be draining, be he must have some serious batteries in him. There are a fair few Letlive fans in the academy tonight as when the crowd is required to sing back they sing back. They finish off what feels like a lengthy set, but it's a set that lasts only 7 songs. The songs are quite ferocious , some do last a while it seems, but it's not a boring set due to maniacs on stage creating quite a visual show, superb energy setting the crowd up for the Deftones.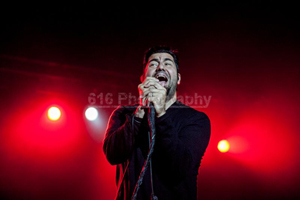 I have to say I'm not much of a Deftones albums fan, but live they are superb and have few rivals. They open with 'Diamond Eyes' which seems to fly by with Chino running around stage, strangling photographers other band members with his wild mic cord, which looks to have seen better days I might add. They keep the pace up with Poltergeis't, 'Be Quiet' and 'Drive' and then take things up a notch with 'My Own Summer(shove it)'.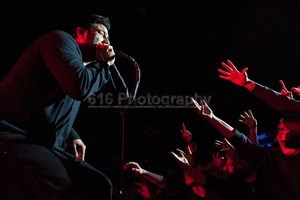 Just from these opening songs, you know right away that this is going to be the best gig you've been to so far this year and is going to be tough to top, the sound and attitude is spot on, you can see why they are very much in demand.

They cool things off a few notches with 'Rosemary', and 'Rocket Skates', then take it back up with the likes of 'CMND/CTRL' ,'Sextape', 'Feiticeira'. This set is really spot on with the pace, Chino has the crowd in the palm of his hand and responding to every poke and prod, singing along nicely for most of the set.


The likes of 'Tempest', Swerve City' , 'Head Up', ; Dai The Flu' and main set closer 'Bloody Cape', really top out a superb main set which also feature 'Entombed' and 'Passenge'r, it really is a great set, taking the mood and pulse of the room up and down on a Deftones soundtracked roller coaster ride, not many bands can do that with the material in their back catalogue.

After a short break they close out what really has been a great night with the likes of 'Nosebleed', 'Engine no. 9' and finally '7 Words', what a great show, I can't recommend enough that you go see this band live even if you only know a few songs.

Three Trapped Tigers 4/5
Letlive 4/5
Deftones 5/5

Review By Robert Lawrence