All Time Low
Lower Than Atlantis
Birmingham, Academy
6th February 2013

All Time Low Lower Than Atlantis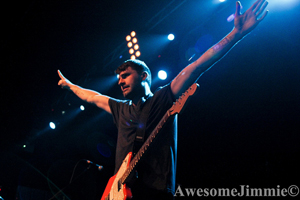 All Time Low seem to tour the UK around this time every year, and every time they do, it sells out, so after the band leaving their big label last year is tonight any different? The answer is, nope, tonight sold out very quickly and it just shows that they don't need a label to carry on with what they do, as they're still getting the numbers, let's just hope the show will be as good as before.

After queuing for what seemed like an age to get in, I enter into the boiling main room of the academy, and I arrive not a moment too soon as the first band are about to walk on stage, the amazing…..


Lower Than Atlantis, if you didn't know, are a punk/rock/indie band from Watford, they're not a band I would have put on the same bill as All Time Low but they do a great job of working the crowd. They start by blasting straight into single Love Someone Else before continuing on quite a long set list including If The World Was To End, Miles Away and Deadliest Catch. They sound great, blasting out into the main academy, the grungy guitar sound the integral hi hats overlaying with singer Mike Duce's husky vocals. The crowd lap them up, which as I've said before isn't too difficult when it's a room of screaming 15 year old girls, but they do well and even have pockets of the crowd singing along in places. Duce tells the crowd, how the band all used to have day jobs and not to give up on their dreams for if they all had, then they'd still be delivering Chinese food and labouring. They rap up there set list and leave the crowd waiting in anticipation for the main act....


All Time Low, who are obviously a pop punk band from Baltimore USA, a city you might be more familiar with now as they won the super bowl a few weeks ago. They take to the stage after a good wait, due to their big stage set up, which includes massive lights across the back of the stage, a drum high rise and the bands initials in huge letters above the stage. But this 4 piece come running out to Somewhere In Neverland, and it's apparent that the band have a few extra members to help get there live sound over(a bit like Green Day do), hidden behind some lighting rigs is a backing vocalist and a guitarist who do help the band, as they sound awesome! People might say they're a throw away band that's only for kids, but they have some great songs in their back
catalogue, that are fun, bouncy and great to sing along with. Their setlist doesn't disappoint with a good mix of old and new songs, starting with Forget About It, For Baltimore, Stella, Damned If I Do Ya(Damned If I Don't), Lost In Stereo and Time-Bomb. They add to this their great energy, as they bounce about the stage, running up and down, jumping off things, sitting on amps and collecting mountains of bra's that the crowd throw up on stage.

They have good banter to go along with the energy and in between songs they tell the crowd things like "Today I shaved my pubes for all of you", "Wow my face is on a durex box(after finding it on stage), I think I should sue someone", whilst Rian Dawson tunes up his bass, Jack Barakat makes a joke about how the noise he's making sounds like the noise his penis makes when he cums and finally singer Alex Gaskarth tells the crowd "my dicks like a cats tail, it swish's around and sometimes wakes me up and I get scared of it". This is
very childish banter, and considering the crowd is made up of young girls it's kind of inappropriate, but the audience knows what the band are like, and that's why they enjoy them, they're cheeky and naughty and make them laugh. The crowd respond to the banter with laughs and by throwing lots of bra's and notes to the band on stage.

It's clear that the band are great live, and that the sound, energy and banter come across well. They finish their set and encore of The Reckless And The Brave, Weightless and ending with Dear Maria Count Me In. The crowd go away in fits of tears and screams fully content with tonight performance.

So when All Time Low are next in town, if you fancy some fun pop punk with allot of passion and charm, with the odd childish laugh thrown in, then go and see them, you'll really enjoy the experience.

Lower Than Atlantis 3/5
All Time Low 4/5

Review By James Daly