Parkway Drive
Emmure
Birmingham, Ballroom
14th November 2012

Parkway Drive Emmure

&nbsp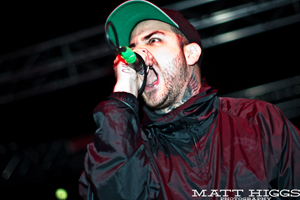 Tonight is a cold one in Birmingham, as winter is setting in and the nights are getting darker and the days are getting shorter, but fear not, as tonight we have Australian metalcore outfit; Parkway Drive here and hopefully they'll have brought the warmth with them.

First up we have support from New York brawlers Emmure who get pits opening up all around the venue. They play tracks Solar Flare Homicide and Protoman which gets frontman Frankie Palmeri going as he strides back and forth across the stage, as he rasps out his vocals as he gives the crowd a rather haunting stare. I Thought You Met Telly and Turned Me Into Casper tears the crowd a new one just before a technical error cuts out the venue's lights. The band
still continue the song with no lights at full volume, at the end of the song they explain that it's not planned and ask the audience to light up the stage with their mobile phone lights, which works rather well and the band continues without batting an eyelid. The band continues to perform Demons With Ryu and Crossover Attack in an atmospheric highlighted glow from the front row. With the lighting eventually restored Dogs Get Put Down and Children Of Cybertron continue to get the crowd warmed up, before the band finish with When Keeping It Real Goes Wrong which brings the hectic set to a great end.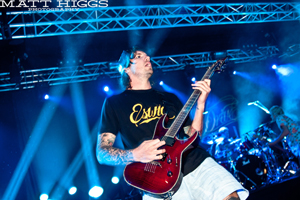 The venue is recovering from the support, and by now is heaving full of people ready to rock, in all states off dress, with Hawaiian shirts and half naked people it's clear this is a young crowd and there security are having a few issues keeping everyone safe before the band come on stage, but eventually things get smoother, and as they say there's a clam before the storm that is…

Parkway Drive, wonder onto the stage to be greeted with huge cheers and screams. It's clear from the off that security are again going to have their work cut out for themselves as tonnes of bodies crowd surf to the front, even during opening track Sparks, from their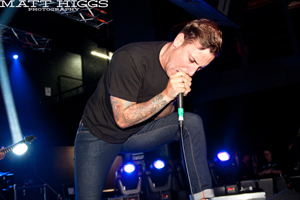 latest album Atlas. Singer Winston McCall smiles his way through the entire set, like a cheshire cat he seems completely in his element and his vocals show this, with their perfect levels off chaos and smooth rolled into one. They may be jetlagged but this doesn't come across as the band sound amazing, with big hits from the drums, thrashing ferocity from the guitars and rupturing bass lines, this band encaptivates there audience from the start. They play a great set with songs from all 4 albums including Dark Days from Atlas, Deliver Me from Deep Blue, Boneyards from Horizons and Romance Is Dead from Killing With A Smile. It's clear that even though this bands 4 albums cover 7 years and that most of this crowd would have been too young to know them from the start, they know all the words and scream along to every song giving a great atmosphere.


The band aren't really to chatty but at one point, McCall asks the crowd weather they'd like an old song, Gimme A D or a new song Swing, the crowd chooses the newer song which is either a nod of the cap to the new album being awesome, or maybe the crowd don't like the older stuff all too much, either way the song tears the crowd apart with pits breaking out everywhere and the chaos covers the room, it's a great sight to see. Even McCall is surprised at how much the fans love this song, as he clearly thought the crowd where going to choose Gimme A D.


Parkway Drive end there set with Blue And The Grey which leaves the crowd wanting more, as the band leaves the stage, but fear not after a moment they come back on and melt peoples faces off by playing Home Is For The Heartless and Carrion. During Carrion McCall shouts "No! That's how you're gonna end it? That's as loud as you can be?" And starts the song again making the crowd be louder than they have been all night, and that is loud!

The night comes to an end and the crowd can be happy in the fact Parkway Drive have come half way across the world for this gig, and it was worth it. They played their hearts out, they moved about the stage in a frenzy with McCall spending allot of time in the crowd than on stage. It was crazy, raucous fun that the world of metalcore brings, it might never sell out arenas but tonight its got one step closer.

Emmure 3.5/5
Parkway Drive 4/5

Review By James Daly
Photos By Matt Higgs