Billy Talent
Bristol, Academy
19th November 2012

Billy Talent

&nbsp


Billy Talent have been on the road touring their forth studio album 'Dead Silent' in the UK on the Rock Sound Riot Tour for the last two weeks and tonight they brought the tour to an end with a extremely energetic show at the Academy in Bristol.

We arrived at the venue just before 9pm and had a solid 3o minute wait until Billy Talent were due to take to the stage, looking around I was shocked at how empty the venue was especially considering how Billy Talent are a pretty big band who have not done a headline tour across the UK for a good 3 or 4 years, but maybe with tonight being the last show of the tour the fans travelled to different venues and cities to see Billy Talent earlier on the tour.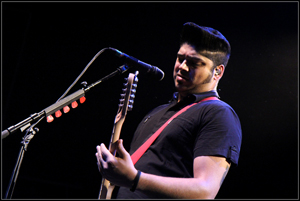 Time quickly went by and Billy Talent took to the stage opening up with their latest album 'Dead Silence' openers 'Lonely Road To Absolution' which instantly ran into comeback single 'Viking Death March' which sent the crowd bonkers especially the people in the running around in circles in a moment of pure mayhem.

The set that Billy Talent played featured 19 songs and ran for nearly 1hour and 30minutes and was like a massive greatest hits style show, with hits like 'Devil In a Midnight Mass', 'Line And Sinker', 'Rusted From The Rain' all being played early on in the set.


Hallway through the set Ben Kowalewicz started talking about Movember and said "you may have noticed that John and Aaron are supporting moustaches this is not because they are paedophiles they are supporting movember as we have lost so many people to the horrible fucking disease" before blasting into 'Cure For The Enemy' a song about the killer that is cancer.

The later part of the set is clearly the strongest part with Billy Talent leaving the likes of 'Try Honesty', 'Devil On My Shoulder', 'Fallen Leaves, 'Surprise Surprise' and regular set closer 'Red Flag' to the end, Billy Talent have been away from the live scene for a couple of years now whilst they were working on their forth studio album but after tonight's show it feels like they were never away as Ian still supports his crazy hair, Ben still has a set of vocals you can't help but fall in love with and in general the band are so tight sounding and full of energy which leads me to one question why are Billy Talent not up there with the dizzy heights of Green Day and Blink 182 as they easily have the songs and energetic live shows for arena shows but haven't managed to connect with a fan base of that scale yet.

4/5

Review By Trigger