Feeder
The Virginmarys, Dakota Beats
Wolverhampton, Civic Hall
21st November 2012

Feeder The Virginmarys Dakota Beats

&nbsp
First up tonight is local band Dakota Beats, they are a 5 piece indie rock band. Opening up with a middle of the road pace which pretty much stays the same throughout the whole set, they certainly have just above catchy songs, with some good singable choruses. The sound is pretty easy to listen to, and the vocalist has a very good voice on him, you could easily slot him into any number of indie bands. While the songs are certainly catchy and listenable, there really isn't one stand above song in their half hour set, it's either all the songs are just that good or they haven't quite got to that level yet where they have those few killer songs. Overall they are a very good band, that will have some success but could do with trying to break out of the Indie mould.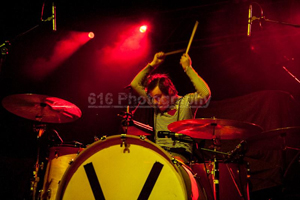 Main support tonight are The Virginmarys, they are a 3 piece dirty rock band. They open with the superb 'Bang bang bang', incorporating a superb stomping drum beat with a catchy guitar riff, it's loud and dirty, one of the best opening songs I've heard in a long time. They take things down a notch or two,with a slightly calmer sound for the following two songs then kicking it back up into that catchy, dirty 3 chord rock out. The drumming is simple but brilliantly catchy, whilst the vocalist and guitarist has got some decent riffs in his arsenal, his voice is definitely British rock. Most of their set is made up of really catchy rock songs, its superb, there's certainly enough to keep you well entertained for pretty much all of their set, great live band, I highly recommend you check you them out.


Feeder are a band that for me have certainly disappeared off the radar for a while, but tonight they are in pretty good form. They open the set with 'Oh My', it's an indifferent start I'll be honest, it's not exactly electrifying, but a good song none the less. This is followed by 'Insomnia' and 'Sentimental', that closes out the opening of the set, good songs but an indifferent start.

They play a song off the new album 'Tiny Minds', which certainly has that classic feeder sound from when they were more popular, but judging from the pretty packed room, they
still have a very good following. 'Renegades' is up next taking things up to more my liking, it's a pretty damn good song, nice and catchy. The set picks up in terms of being interesting, with the likes of ' Pushing the senses', 'Tender', 'Yesterday went too soon', and the pretty awesome 'Just the way I'm feeling' a great catchy song, with a good chorus too, it's very singable.

'Buck Rogers' continues the set, with Grant (Vox) joking that he didn't want to play the song, the crowd sing along to it pretty much word for word, and it sounds a tad heavier than the album version too. 'Idaho' is up next which is about their travels across the States Grant explains, while a notch down from Buck Rogers, it's still an entertaining song.


The set by this point has flown by, which is always a sign of a very good gig and we are now entering the final few songs before the encore, 'High', 'Boarders' and 'Generation Freakshow' close out the main set in fine style.

After a short break they come back on to great cheer as Feeder open back up with 'Children of the sun', not a bad way to kick start the show again, this is followed by the excellent 'Sweet 16' and 'Descend', then to top off the night, 'Just a Day', a fine way to close an excellent night of music.

Dakota Beats 3/5
The Virginmarys 4/5
Feeder 4.5/5

Review By Robert Lawrence