Sabaton
Eluveitie, Wisdom
Wolverhampton, Wulfrun Hall
2nd November 2012

Sabaton Eluveitie Wisdom

&nbsp
You can hear Wisdom's influences peeping through right from the get-go, a very Bruce Dickinson esque sound to Gabor Nagy's vocals over a classic heavy rock sound. Not surprising then that these five long haired lovelies have opened up for metal giants such as, Iron Maiden and Judas Priest in their 6 year career.

The boys from Budapest go down quite well with the crowd tonight, racing through a short set of 6 songs including 'Wisdom', which promotes the classic air punching from the semi full Wulfrun hall, and finish up with 'Judas', a track released from the album of the same name earlier this year.


Wisdom has a great energy on stage as a band, along with the best in sync head banging I have ever seen. A good opener for tonight indeed!

Main support comes from eight piece Swiss folk metal band Eluveitie who use a vast array of instruments, including a Hurdy Gurdy, Bagpipes, Violin and Tin Whistle against harsh vocals.

Opening with 'Helvetios', the sound is a new one on me it's very impressive though, the whole thing I mean, and it's like a mini metal orchestra with lots going on. The vocals do work very well against the Celtic sound of the unusual instruments, it's both soothing and savage at the same time and certainly something that puts Eluveitie in a class of their own.

Most of the set tonight, which does seem to go on a little bit with 9 or 10 tracks performed is led by Chrigel Glanzmann with the exception of 'A Rose For Epona', where we see Hurdy Gurdy player Anna Murphy take the lead vocals, and the sound is quite mesmerizing.

T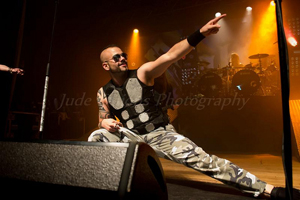 he crowd really enjoy Eluveitie's performance tonight, plenty of singing back to the band, and cheering.

Saboton enter the stage to a flood of lights and huge applause, kicking off with 'The March to War/ Ghost Division' you can tell we are well and truly in for a great show. The current line-up of five works so well together constantly smiling and entertaining the crowd. By the time we get to fifth track 'Carolous Rex' there are so many fists in the air along with a fair few horns and a lady holding onto the end of the barrier, nearly head banging her way into the cold steel! Another thing that works well tonight is the stage set up, two huge ramps either side of the drum kit that is constantly in use from the other band members running up and down them, all in front of massive back lights!


The set continues with a very riffy, Rammstein sounding 'The Price of a Mile', followed up with '40:1'. After a short two minute break for banter with the crowd the ever flexible Joakim pretends to break into a rendition of 'YMCA' before getting back to rocking everyone's socks, pants, scarves, and whatever other item of clothing is heading towards the stage, off with 'The Cliffs Of Gallipoli'. A little more in the way of keyboards used in this track, against some brief melodic guitar solos. 'Coat Of Arms' is chosen to be played next by a hardcore fan on the front row that Joakim recognises from prior Sabaton gigs.


The room is full of happy metal heads as we march into 'Aterro Dominatus', a full on power metal track, and onto the first of three encore tracks 'Art of War'. The band take another quick breather and grab some shots of the crowd in a quick photo opportunity which is always cool, and for them to thank fans for 'not giving them the finger' during the few line-up changes over the years. Sabaton finish tonight with 'Primo Victoria' and 'Metal Crue'.

I can honestly say that tonight has taken me back a few years, to when audiences didn't care so much about taking pictures or recording the entire gig on their phones or cameras, but more about throwing their horns and fists in the air and giving the band their full attention, a refreshing change!

Wisdom 3/5
Eluveitie 3.5/5
Sabaton 5/5

Review By Jude Onions