Bowling For Soup
The Dollyrots, Patent Pending
Birmingham, Academy
24th October 2012

Bowling For Soup The Dollyrots Patent Pending

&nbsp
Well tonight's a weird one for myself, it's the 3rd time in 3 years that I'm going to see Bowling For Soup, and it's always at the same time off year, in the same venue with the same big crowd, so it's starting to wear a little thin, but never the less I'm still rather excited, as they have a great collection of songs and have brought some fun support bands across. The first off which are heading on stage now.

Patent Pending kick things off with a bang, this 6 piece from Long Island are pop punk/punk rock they're fast they're fun and they're chaotic. They don't sound the best but they're punk so it doesn't matter, they sing and play with heart and for a reason, they lost a band member to suicide, a few years ago and it means allot to them to be playing in-front of people and making them smile. They do mention this at one point, to get over to the crowd to talk about their problems and to band together, which is a nice thought from a band that on the surface may just seem like a joke band. They do a cover off Allstar by Smash Mouth, whilst playing some fun songs of their own. Singer Joe can't seem to stay still and crowd surfs from front to back and throughout the set, he jumps into the pit and passes the mic to the crowd who sing along badly, but who don't care as they are sucked in by the energy Patent Pending produce. They play around some more and Joe tells the crowd "come talk to us later, and if you steel a shirt make sure it's the right size or you'll look like a dick". All in all their not the best band in the world but if you're feeling down they'll put a smile on your face.


The Dollyrots are next up and they're bringing their unique brand of bubblegum pop rock punk to the UK. Incase you didn't know, they're a 3 piece from Los Angeles and we'll get it out of the way now; they have a female vocalist, and amazingly, NO they don't sound like Paramore! They sound unusual but great, singer Kelly Ogden has a high pitched voice, that reminds me off characters from the rugrats cartoons, but it works awesome with the style of songs they play, happy upbeat and fun. They play well, and they come across great over the PA system, with fast guitars and pumping bass along with kicking drum fills to round it all up. They play a few songs off their new album which including Twist Me To The Left which sounds like a Vandals song in rhythm and sounds great, along with the odd cover including Brand New Key, which they comment "This gets a bit of confusion when we play it over here, as you have different lyrics, involving a combine harvester or something". They do really well and keep the energy in the room high as we wait for the main band.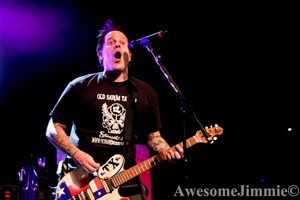 Bowling For Soup take to the stage, and if you don't know who they are by now, then I'm not going to help you, I mean come one, where have you been? Bowling For Soup, come out to their anthem/theme "Here Comes Bowling For Soup", which allows them to get on to masses of applause and then jump straight into "My Hometown" "High School Never Ends" and "Life After Lisa" which go down a storm. The academy tonight is lacking, in previous years this gig is a sell out and you can barely move but tonight, even though there are lots of people in the venue, they probably should have played the academy 2 if they wanted a truly buzzing atmosphere as there is something lacking. The band play well, and sound as good as they normally do, but weather its years of playing the same songs, or just the familiarity of the whole bar on the stage and
knowing how the gig will go, just makes it feel less fun than normal. It may be just myself, as the rest of the crowd seem to be loving it, but as I said earlier I have seen them 3 times in 3 years and they are a band that I always liked the singles, but never a full album, and I think I'm a little bored of the same old thing, to new fans or old fans who haven't seen them in a while it will be as much fun as I've had in previous years but for me it's just a bit lacklustre. They interact well with the crowd(as always), by chatting in-between songs to each other and Patent Pending who are on the stage drinking at the bar at the back, along with telling everyone that they are the band you can wave at, and welcome anyone and everyone to wave at them.

The set is a good one though; they play songs from the past that they've not played in a while, as well as all the singles(to keep me happy), including; Punk Rock 101, My Wena, Emily, Girl All The Bad Guts Want and the great single from their last album Turbulence. They also through in plenty of off the cough covers including; Stacey's Mum, Hit Me Baby One More Time, Paranoid and I Wanna Be Sedated. The rap the gig up by playing The Bitch Song whilst being joined on stage by The Dollyrots and Patent Pending who help sing along and end the night on a high.

Overall they do a really good gig, but it was just not up to previous shows, I guess they'll be back around next year in October, but I'd leave it a year before seeing them as in 2014 it will be their 20th anniversary and that will definitely blow tonight's gig out of the water!

Patent Pending 3/5
The Dollyrots 3.5/5
Bowling For Soup 3.5/5

Review By James Daly