Newton Faulkner
Colour The Atlas, Sam Brooks
Birmingham, Academy
18th October 2012

Newton Faulkner Colour The Atlas Sam Brooks

First up is Sam Brooks, he's a solo acoustic act, his voice is a tad dry but not in a bad way, there's a lot of dragged out bits in the way he sings, it's all very clean cut. One thing I've always found about acoustic acts is that they can be hit and miss, and at times I want to break out a lighter and hold it up. All his songs are rather slow paced, simple chords, but he's pretty good, not over doing it, but his guitar work could use a bit of colour, He's getting a good reaction from the crowd getting a cheer after every song. Not bad at all.


Next up are a 4 piece band called colour the atlas, it's all mid paced stuff, a female vocalist, a guy in the bass, a guy on a single Tom drum, and a guy on a acoustic guitar, the bass player switches to keyboards at times. The sound is rather colourful, full and rounded, while the singer granted can sing it gets rather nasal and whiny at times, and this gets annoying when she's conveying emotion and hitting the high notes as it were, it just gets on my nerves. The crowd are responding well to it though, with loud cheers after every song, which I might add that they go one a bit too long at times that to me they out stay there welcome, other than that not a bad set.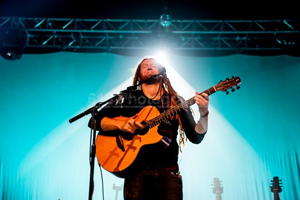 Newton Faulkner, I'll be honest, I really only know a handful of his songs, probably from his first album at that. The man has 4 guitars and an array of peddles at his disposal, I was expecting less of a set up. He has a really easy to listen to voice, he doesn't push it, but he has a few high notes that he fades out slightly. His guitar work is really rather superb, it's a nice full sound that he adds a kick drum to fill it out a bit more. One thing I was hoping for that he would do a bit of talking to the crowd he did this a fair bit regaling the crowd with some funny gig anecdotes, the girl and the ukulele was rather funny and as was the foot notes to People Should Smile More. He opened his set with Pulling Teeth, To The Light, People Should Smile More, it's not an electric start obviously but its highly entertaining and the chosen songs are really good songs to kick his set off with along with his anecdotes, it sets the pace nicely for the rest of the evening.


His set has a few covers in it, Payphone by Maroon 5, Tear Drop by Massive Attack, that is one of my all time favourites the original not the cover, but it's still a mighty fine effort, Superstition by Stevie Wonder is also a very good cover.

His set also features good songs such as Write It on Your Skin, Full Fat, Dream Catch Me and I Need Something, both of which I've heard far too many times that I'm rather sick of the album versions but played live, they are so much better and they get the crowd singing also. Brick by Brick, Sugar in the Snow, Long Shot, Clouds and I took it Out on You also feature.

He closes out his set with gone in the morning and pick up your broken heart, a fine end to a very entertaining evening, more than I was expecting, the guy should do stand up.

Sam Brooks 3.5/5
Colour The Atlas 3.5/5
Newton Faulkner 4.5/5

Review By Robert Lawrence