The Skints
The Drop, Tyler Mae
Birmingham, Academy 2
5th October 2012

The Skints The Drop Tyler Mae

Arriving at the venue it looks rather quiet, doors are open and everyone is already inside. The Skints have sold out most dates on this tour and yet as I walk into the academy 2 it's surprising to see only about 50 people watching the first band.

Tyler Mae are on the stage and are doing a great job to add some energy to this empty room. They sound great pumping out their own brand off break beat, rock/rap with some samples and thrashing guitar thrown in for good measure. This 5 piece from the West Midlands are going crazy moshing about the stage and hitting the drums with plenty of force, it's a surprise they don't break, at one point two of them drum on separate kits which just adds to the power off their sound. It's a shame there vocals can't be heard too clearly over everything else but despite that they still put on a good show and have the stage ready and warmed up for the next band.


The Drop arrive on stage to a warm welcome as the room has filled up significantly now and the Friday night crowd are ready for some reggae rhythms that The Drop are happy to supply. This 8 piece from London can barely fit on the stage but this doesn't stop them from putting out their summer rhythms, with great sounding keys, bongos, sax, trumpet, guitar, drums and vocals it's amazing the academy 2 sound levels have worked as well as it has, as it sounds sweet and fresh. The crowd love it and are dancing and swaying all the way through there quiet lengthy set. This is the first time they've played Birmingham and I hope it won't be their last as they sound really great. 4/5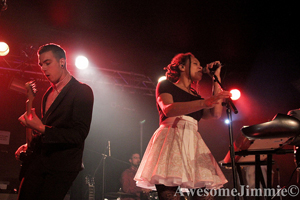 The Skints have a tough act to follow but they bring the cards to the table and smash The Drop out of the ball park, with their sweet sounding harmonies and dub/ reggae sound that people can't help but love. The audience goes crazy and no-one stands still, this great brand off British Reggae has been missing from the mainstream for a number of years and The Skints are bringing it back with a bang.

In case you didn't know they are a 4 piece from London town, and they have been around for a number of years now and have slowly built up a following, so much so that they've supported massive bands such as You Me At Six, and are now selling out big venues off their own. Tonight the venue was mainly empty but The Skints have filled the room by the time their set started.


They play a great set, with songs of both albums such as Mindless, Lay You Down and Ratatat, that sound immense and just as good as they do recorded. They interact with the crowd well and tell them how they love the support they have in Birmingham, and how it's the best smelling gig on the tour, as a smoke cloud comes across the crowd to the front of the room.

They play their Katy B cover On A Mission, which goes down a storm, and also get a guest on stage to help them sing Rise Up, the recording artist Parly B. They close their big set with Rock It Tonight, and then come back for an encore of Soul For Sale, Bright Girl and finally Culture Vulture which ends the night in style.

The Skints have put on a great show tonight and I hope they'll stick around and only get bigger as they're doing something different that deserves more mainstream popularity.

Tyler Mae 3/5
The Drop 4/5
The Skints 4.5/5

Review By James Daly