Merthyr Rock 2012
Cyfarthfa Park, Merthyr Tydfil, Wales
31st August - 2nd September 2012

I get to do many cool things here at Alternative Vision, go to gigs and feed my fire with my hunger for photography, I get to meet many great bands and have a chat, then write it up into an interview, I also get to check out the occasional festival and enjoy a full weekend of bands, music and photography and this weekend is no different. This weekend I got to check out one of the newer festivals around; Merthyr Rock!


I arrive at Merthyr all set to go on the Friday afternoon, we park in the college car park and talk a short walk up to the festival site to see it's in the middle of a public park with fence's put up around to stop people who haven't paid from entering, its big enough to hold two stages and quite allot of people plus the usual merch and food stalls and after a few drinks you forget you're in the middle of a park and really soak up the festival atmosphere. The nice thing about Merthyr before I get into the bands is the staff and security, there's allot of helpful smiling staff around and a good amount of security who know what they're doing and are keeping an eye out, but at the same time are letting people have a good time which is always refreshing at a festival.

So lets get into the reason your reading this review the bands, first up is Buckinghamshire band The Futures (2.5/5), they start the festivals main stage with a good bit of energy, rocking out some great tracks, unfortunately their set is not really too memorable, but they sound great which always a plus.


The People The Poet (2.5/5)are up next over on the James Mclaren stage, these local boys where formally known as Tiger Please, and go about getting the crowd worked up with their indie rock styling's, singing songs about abortions and romance, it's clear to see they have good song writing skills and they do entertain the crowd, but it's a bit to bland for me. On a side note, singer Leon did extremely well as he had been hobbling about on crutches throughout the day, and he didn't use them once on stage.


Saves The Day (4/5) are (to my knowledge) the only non-British band on the bill, but it doesn't stop them from playing a great set, with an hours' worth of material. The last time I saw them, I wasn't impressed at all but this time they've stepped it up, the set is rocking all the way through, there is a point towards the end where I find it getting a bit samey, but they push through and make it fresh again, they play some great songs like 1984 and the obvious ending to their set; At Your Funeral.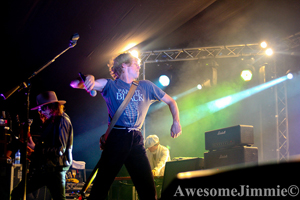 Razorlight (4.5/5) are tonight's main headliner, which in amongst allot of Rock and Metal might seem a bit odd but this doesn't faze them they come out on stage and tear the roof down. They play a great set that includes all of their singles which makes for allot of sing a longs, as they're back catalogue is more familiar than you might expect. Pumping out songs like America and Stumble and Fall, they're a band who know what is to be done and they do it well. I hope for a Razorlight revival as they definitely have allot more to give.

Saturday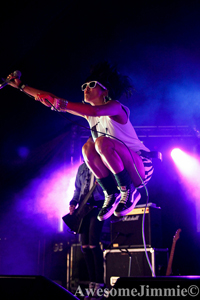 After a faff the night before due to setting up tents in the dark seeing as the camp site is 4 miles down the road, we decided to stay in bed a bit late then grabbed a taxi to get down in time to see Manchester's finest;

Sonic Boom Six (4/5), erupt onto the main stage and drop some heavy dub and ska beats whilst playing a great set list including Other Side Of The Street and Kids Of The Multi-Culture. They have been going for a long time and keep and building there fan base, and with energetic performances like this I can only hope they get bigger and that 2013 will be Sonic Boom Six's year!

Bastions (3/5) are up next and bring their own brand of hard-core to the quite big crowd that has assembled. They rock out some good sounds whilst jumping around the stage. Singer Jamie McDonald is a good frontman and keeps the crowd entertained whilst he talks about his love of British hard-core and how he's proud that people come out and support something he feels so passionately about. Aside from an idiot in the crowd punching someone in the pit causing the band to jump out to the front of the stage and make sure he was escorted away, there set went down with no major hitches and was well received.


After a break doing an interview with Skindred, I get back to the bands and I'm glad that I don't miss

Rise To Remain (4/5), this Metal band from London, really put on a show with singer Austin Dickinson running around the stage not keeping still, along with the rest of the band swapping places and moshing like there's no tomorrow. They sound great and blast out heavy guitar riffs and big drum fills to a busy tent.


Gavin Butler and Neil Starr (3/5) are changing the mood now with some acoustic songs from their debut album 'Ghosts and Echo's'. The duo are from The Blackout and Attack Attack and so are local and well loved, seeing as all the members off The Blackout are here at the festival milling around and checking out the bands they get an extra special reception. They play 2 covers from their main bands which go down a treat, this is not really festival music but the crowd love it never the less.

Yashin (4/5) are here and are yet again bringing rock/metal to the masses with their catchy double singer combo and great riffs that set the stage alight, as you don't have a clue where to look as there's so much going on. I've now seen Yashin 4 times since last November and they keep bringing the rock every time, they sound great and play some great songs including the hit single New Year Or New York which gets the entire tent moving.

I take a break in-between Yashin and LTA for some food so only catch Save Your Breath from affair, but they put on a good show and are a band I will keep an eye out for in the future.


Lower Than Atlantis (4/5) set alight the main stage, by jumping into their two latest singles from their upcoming album Changing Tune; If The World Was To End and Love Someone Else. Which go down great, they then go into their normal routine of playing there hits along with a nice Foo Fighters cover. Lower Than Atlantis have not always got the greatest reviews here at Alternative Vision, but I personally think they sound great live and have a great stage presence which comes across every time I've had the chance to see them. They could probably move a bit more, but it is hard when the singer also plays guitar.


Pulled Apart By Horses (4/5) are a band that I've always wanted to see, I've heard great things about their live shows, about how they climb up rigs and throw up on themselves, but tonight they just played a great show, which is awesome but when you've been told all these great stories you go away a bit disappointed even though they never did anything wrong. They played a great set of loud rock and roll with blistering vocals and allot of attitude, it's a shame there was no antics but I guess I'll just see if I get lucky next time I see them.


Skindred (5/5) are the band to close the day, the band walk out to some loud dub music and all get into place and start rocking out, then singer Benji Webbe casually strolls out in a brown outfit which was lit up with LED's so you could see him with the lights off. They play a killer set of old and some new (from the album they're about to go and work on), Benji is a great frontman and knows how to get the crowd even more worked up than they already are, by casually talking in-between songs whilst also breaking out into dances and at one point the entire band stop so the DJ can play Beyonce's Single Ladies, to which everyone dance's and Benji asks who all the single ladies and blokes are and why they're not together! They put on an amazing show with some killer riffs and heavy beats.

Sunday

Sunday starts off for me by catching the end of Buried In Alaska who's big noise has to wake this early afternoon crowd up.

Shadows Chasing Ghosts (3/5) are the first band I catch in full, and they are keeping on with the good work they did when I last saw them two weeks previous, with their big riffs, screechy vocals and energetic stage presence they are one to watch.


I catch a bit of Blow Goat and wish I'd seen the whole set as singer Paul swags around the stage casually hitting himself in the head with the microphone as the rest of the band frantically pump out there self-described drunk rock.

Straight Lines (4/5) are from just down the road so don't have to take too much time off their day jobs(farmers) to come out and play an awesome set. They come out rather casually to some local welsh singers pumped through the PA, and then jump straight into their party rock songs, along with classics like All My Friends Have Joined The Army and Set Me On Fire And Feed Me To The Wolves they play new singles Commitments and Half Gone. I've now seen Straight Lines about 6 or 7 times in the past 3 years and every time they bring the rock, they entertain the crowd and have fun whilst the crowd sings and dances along, this time they even got a conga line going. I recommend if you haven't seen them yet go out and see them later this year as that's going to be a fun tour.


Marmozets (4/5) are a band I've heard about over the past year but have yet to get the chance to see. They are made up of 4 young guys along with female singer Becca Macintyre, well I say singer she sings, she screams, she roars and it's not in the same way that Rolo Tomassi singer Eva Spence goes about things its more in your face, its more physical, it's a sight to be seen. The band blister out songs that last 5 minutes a time, all well written and rehearsed then they go out on stage and jump off the amps, fall over each other and kick things about whilst still playing and sounding ace. If you want to see a band live, then I highly recommend Marmozets, they are powerful, entertaining and different.


Don Broco (4/5) are up next, and a few months ago I was really psyched to see them, but was thoroughly disappointed, aside from some stage jumping they sounded poor and lacked anything that made them great on cd. But today, I went in expecting the same and was pleasantly surprised, they had either upped their game or when I last saw them the sound at Birmingham was poor, but they totally rocked today, they came out to hit single Priorities which was sung back to them by a huge crowd that new every single word. There set was the same as a few months back but they truly kicked it up a notch, they sounded amazing and out on a great show.

Page 44 (4/5) are local to me, here in Birmingham, and I first heard of them back at Hevy last year when they were on the Red Bull Bedroom Jam stage and performed really well, now a year has passed and they won the Red Bull competition, have been on tour with the Blackout and have opened up Download Festivals 2nd stage, to name just a few things. They've come a long way and are still on a big path to getting big, so a nice afternoon slot should be just the thing to win over a few new fans and they don't disappoint. They play a stonking set of accessible rock songs starting with the punky single Let Me Fade. The sound is wicked, they have nice crowd banter in-between songs and put on a great show. Keep an eye out for Page 44 as they're just going to get bigger and better.


After Page 44, I had to go and interview Kids In Glass Houses, so I missed the majority of The Proxies who were entertaining but a bit too loud for me. I did catch part of Future Of The Left, and I was gutted to miss part of their set as I had no idea that they are made up of two members of Mclusky a great garage style band who played angry rock and roll with a hint of humour. They sounded amazing, and even played a few Mclusky songs in their set, so I will be keeping an eye out for the next time they play as they were outstanding.

We Are The Ocean (2/5) were great when I last saw them at Hevy Festival last year, but tonight they seem lacking and its only afterwards when I find out that one of the singers Dan Brown had left the band that it made sense, they were lacking the back and forth between the singers during the songs like What It Feels Like and The Waiting Room. They do put in some effort but it's the first band that I've seen this weekend that are not up to scratch. On the other hand the crowd seem to be having a great time so it may just have been me holding onto memories of them sounding different.

Canterbury (3.5/5) are up on the James Mclaren stage next and brighten my mood up, by blasting out great sounding song after song. They have come a long way since I first saw them 2 years ago, they have a stage presence and have their songs down to a tea. They
keep everyone entertained and I look forward to seeing more from them. 3.5/5

Deaf Havana (4.5/5) also bring the noise, setting the main stage alight with songs from their latest album Fools And Worthless Liars. This is a band that had to get over a member leaving and have done that really well, they are a different band than what they used to be and instead of staying with what they were like, they've transformed into something completely different, something that this busting tent can't get enough off! They play songs like Leeches and Little White Lies which bring the house down. They also through in a few old songs like an acoustic version of Friends Like These which makes for a massive sing along. Deaf Havana have raised the bar for today and with only 2 bands left its going to be hard to beat.


'A' (5/5) are back and are playing Merthyr as their UK festival exclusive, they haven't practised for today and are just going on stage with a set list and the hope that it will still work the way it did 4 years ago. Funnily enough it does work and they rock so hard it hurts! Singer Jason Perry's vocals still sound great and unique; Marc Chapman still rocks the guitar with solos that put most bands to shame. Drummer Adam Perry and Keyboardist Giles Perry keep the rhythms flowing with heavy hits and synth sounds that are a key feature in A's songs. Finally Radio 1 Rock Shows own Daniel P Carter rocks the bass like a mad man, flinging himself all over the stage as he rocks the dirty background noise. A look like they haven't been away for the past few years, they may be older and have their kids rocking along on side stage but it doesn't mean they're not one of the best live acts the UK has ever produced. They play a stonking set list covering all 4 albums, along with classics The Distance, Starbucks and Foghorn. In between songs Jason talks allot to the crowd, maybe because he's nervous or maybe because he doesn't care what people will say as they're not doing this day to day, he chats about them having meals early in the day for just £5 which amazes him and says how he's trying to show off to his mate Shaun Smith from The Blackout who is watching side stage, and who comes out to help finish their stonking set by helping on the vocals to Nothing. It has to be said that I love A but the reaction of the crowd was amazing, A went down a treat and where definitely my highlight.


Kids In Glass Houses (4.5/5) are the final band of the weekend and who have the tough job of sending this tired crowd home on a high, and I think they just about manage it. They play a stonking set of about 15 songs that cover all 3 albums. They keep the energy up through out there set whilst jumping around and flinging there instruments around. I do think that KIGH are one of the best live acts around at the moment, they're hard working and it shows on stage as they sound amazing and keep the crowd entertained with sing alongs and stage antics. They are on top form tonight but I don't think they had that excitement that A had, they did dedicate a song to the sadly passed away James Mclaren who was a pioneer in welsh music. They end the show to massive applause as the band leaves the stage they can be proud of their performance and we look forward to hearing a new album in 2013

Overall Merthyr Rock was a massive success, lots of great bands with only one disappointment music wise for myself. I hope that it continues next year and beyond as it's great for Wales and it's great for British music in general. The only things I hope will be improved would be onsite camping as even though there is a free bus to the campsite at night, it's still a 4 mile trip and you can't nip back to your tent for an afternoon drink/snooze due to the distance away. So I look forward to next year's event and hope that the line-up will be as epic as it was this year!

Review By James Daly