Dive Bella Dive
Proxies, The Hype Theory, Maycomb
Birmingham, Academy 3
31st August 2012

Dive Bella Dive Proxies The Hype Theory Maycomb

&nbsp&nbsp&nbsp&nbsp&nbsp&nbsp&nbsp&nbsp&nbsp
Maycomb are the first band up tonight, they are a 4 piece pop punk from Wolverhampton. Their sound is fairly up beat as one would expect, but let's be honest there is probably 50 bands and more that do the same thing, that sound the exactly the same.

The songs aren't all that bad but there's nothing really outstanding about them, their 3rd song, a supposed future album song, sounds like someone has shoved a pillow over the speakers it sounds a bit murky and is also rather short. But the rest of the set is more by the numbers pop punk, they can play but it's not pushing the boundaries of the genre. Not a bad start to the night but rather formulaic.


Next up are The Hype Theory a 5 piece female fronted power pop punk band, they sound somewhat like Paramore, the singers style is rather Hayley Williams-esq in the way she sings and accentuates some of the words at the end of a line of vocals, I'm sure this band would make a great Paramore covers band.

Their songs are quite catchy well written but do sound like Paramore reject songs or maybe even b-sides at a push. Everything revolves around being catchy but there's nothing really memorable here for me, as it's just too close of a copy of that other female fronted band that I keep mentioning.


Main support tonight are Proxies, a alternative rock/electronica 4 piece band. And like the other bands before them playing to a quarter filled room in which most of the crowd are up against the barrier all 3 rows of them.

They are getting a bigger reaction than the previous two band combined, they are also a step above the previous bands.

Their sound is much more serious in tone at times and it's rather refreshing after all the pop, it's nice to hear a bit of synth too, it plays an understated but critical role in the band's sound. They have some really decent songs in their set, of much better quality in not sounding like any of the other bands tonight, and Dive Bella will be hard pushed to beat this very decent performance!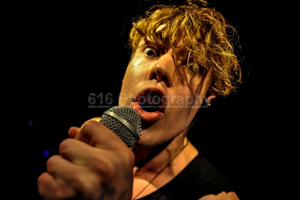 Dive Bella Dive are the head liners in what feels like quite some time since I last reviewed a gig despite being at the recent blood stock open air festival, I can firmly say I do not fit in here tonight!

Dive Bella Dive are a 4 piece punk rock band, I do applaud their ingenuity in attaching a synth board to some of their instruments, to switch easily between the two or using both at the same time to really fill out that sound of theirs sadly I don't hear much use of the synth on their guitars. They have a pop punk sound only it's has a more classic punk sound to it, which is nice to hear some of their influences coming through at times. The singer sounds like Brandon flowers from the killers only with a more punk attitude in his voice. Their songs are a lot better than I expected them to be, really catchy really well played while sounding simple not over complicating them needlessly and they are getting the best reaction of the night, still this is poor turnout for a decent band such as this, there hour set does fly by which has always been a sign of a good night for me. Non too shabby.

Maycomb 2.5/5
The Hype Theory 3/5
Proxies 4.5/5
Dive Bella Dive 4.5/5

Review By Robert Lawrence