Bloodstock Open Air 2012
Catton Park, Derbyshire
8th - 11th August 2012

Friday

Malefice (4/5) kick start our weekend filled with some of the dirtiest metal you can find on the face of the earth and these Reading based bruisers burst on stage full of energy and determination. Being much less popular than most of the other bands playing today as expected the turnout isn't overly fantastic but in all fairness it wasn't poor either, even so that seems to have no effect at all on them as they power through their half an hour set in the roaring sun spreading an even amount between each of their 3 albums. Highlights for me personally being a big fan were "Delirium", "Sickened"
and especially "The Midas Effect", they may have only got a mild reception but I thought it was a brutal way to start off the weekend! (JW)

Sweet Savage (3/5) are a 4 piece rock band, part of there songs are rock then they go a bit metal, it's a nice contrast that they can take it up a notch but it don't sound too metal, they are older guys on the wrong side of middle age but they are pretty decent playing to smallish crowd, there's some heads nodding, overall not bad if a tad middle of the road (RL)


Iced Earth (3.5/5) are back with a new singer once again, I lose track of what goes on with Iced Earth and their members it's like they juggle them around every couple of albums but never the less I was excited to see what they'd brought. With bands like Iced Earth whose songs are at times ridiculously long it's hard for them to play short sets at festivals, even with an hour at hand the band only manage to crack through 10 tracks before they run out of time. Whilst that's a bit of a bummer what I managed to see I thoroughly enjoyed; the only cringe worthy moment was when lead vocalist Stu Block accidentally flung his microphone across the stage in the middle of a song, rather than put a damper on the set people just felt for him to be honest it was such an embarrassing moment. Apart from that everything else was pretty much spot on musically, they put a massive effort into energising the audience too but feel they favoured a
slower pace today that perhaps wasn't the most appropriate but enjoyable non the less. (JW)

Derision (2/5) are a 4 piece metal band, there's a lot of noise and not much music to my ears as they are playing fast and not much in the way of a decent guitar riff just lots of shredding, not sure if comparison to machine head and testament are fair, as this band lack the creativity to make them sort of heavy catchy songs, maybe later on yes. (RL)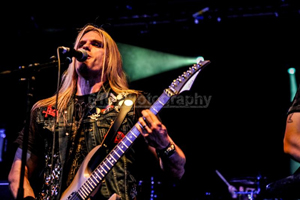 Death Valley Knights (3/5) are a 4 piece metal band, the singer is doing his best Vince Neil impression, this ain't all that bad, they got some decent guitar riffs, meaty and catchy at times, full heavy sound if they are a bit cliché this is a love song.....to Satan, it's rather 80s at times, but nothing you can't live with, there a decent band if not all that original in there ideas, the second stage is t attracting a lot of custom in the day (RL)


Sepultura (4.5/5) absolutely slay it, the aggression is relentless from start to finish feeding a hungry audience. They blast through their material taking at least 5 songs back to back before vocalist Derrick Green even speaks to the crowd, and when he does he keeps it as brief as possible to keep the momentum flowing. Their set is a total of 9 songs of the best material from the bands career including "Refuse/Resist", "Convicted In Life", "Arise" and ending with "Roots Bloody Roots", also a mention here that during "Territory" the band invited heavy metal legend Tim "Ripper" Owens to join them on guest vocals and I have to say I was genuinely gob smacked to see Owens scream like that, never knew he had that in him. Aggression, violence, energy and a variety of heavy tunes, nothing else I could have possibly wanted. (JW)


Pythia (3/5) are next up they are a 5 piece operatic/ gothic metal band, like nightwish say, I wasnt expecting a female fronted band, they are all dressed up in roman soldier garb, I'm guessing the singer is a god of some kind with her antlers on her head, they aren't all the bad if a little drab and by the numbers, the singer is attempting an operatic style. Not sure if it's all that good, but they have some good riffs at times and others are boring bit hit and miss this band are. (RL)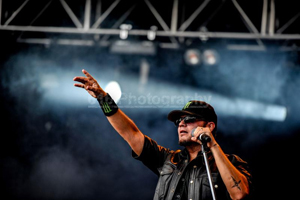 Dio's Disciples (3.5/5) has always been one of the only tribute bands that I actually agree with, when Ronnie James Dio passed away from a long battle with stomach cancer, his band recruited Tim "Ripper" Owens to come on board and perform shows as a tribute to Dio's life and his music. I was intrigued yet sceptical all at the same time as I didn't know how it was going to go down, what I saw however I was very impressed with as Owens absolutely nailed the vocals on each and every song that was performed, not trying to 100% imitate the great one but not straying too far away from the original sound. The material was mixed between Dio's own songs, Heaven and Hell songs as well as Rainbow songs too; "Holy Diver", "Heaven and Hell" and "Rainbow in the Dark" being my personal favourites. As it went on though I feel whilst the performance was good, at the end of the day it will always be a tribute act, even though the sound was perfect I still find myself feeling less inclined to watch them. (JW)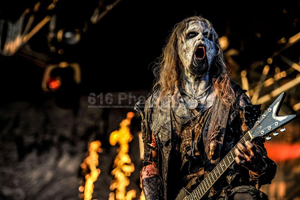 Watain (4/5) were scheduled to play before Dio's Disciples but have for some strange reason came onstage afterwards, a conspiracy we found to be they wanted to play as the sun went down due to the amount of times they referenced they'd "killed" the sun by making it go down, we may be wrong but it seems as good a reason as any. Their stage show was pretty spectacular to be honest there were symbols lit on fire, thousands of candles, goblets of blood, 2 sets of separate fire cannons and various other stage props adding to the creepy atmosphere that surrounds every aspect of this band. Considering they were originally not meant to sub-headline today I must say they did a better job in my opinion that Dio's Disciples would have considering the type of band the headliners are. Whilst the music they played didn't really give me a boner their performance portraying satanic sinister themes played off at this festival a treat and for that they get a thumbs up from me. (JW)


Behemoth (4/5) are our headliners tonight and the excitement is surreal, you can feel it in the air. After everything lead vocalist Adam "Nergal" Darski has been through with his illness causing the band to cancel a slot at this exact festival a couple years previous as well as tours globally, people didn't think they would be seeing the band performing anytime soon and when this headline slot was announced there was rejoice in the air! When the time came however for the band to play their hour and a half set there were some problems; for a start it was expected for them to be delayed because
Watain's set ran over by 15 minutes, which would put them on the stage at half 9, so when they don't take the stage until quarter to 10 and leave the stage by quarter to 11, losing half hour of their set some people were unsurprisingly disappointed but apart from that and a couple of mistakes from the band, dodgy pyro which seemed all untimed when it wasn't meant to and you can't fault anything else. The rest of the set was 12 songs of exceptional Behemoth tracks with some very interesting microphone stands and more symbols on fire with the last 2 songs being their encore including some very strange headgear on the head of Nergal. I thoroughly enjoyed my first Behemoth show even though it appears a lot of things didn't go the bands way I still must say they performed amicably.

Saturday
Savage Messiah (3/5) are a 4 piece thrash metal band and they ain't all that bad they got some pretty decent riffs their a bit like Megadeth, the drumming is pretty damn good and they have a bit of stage presence, heavy and fast not too bad. (RL)


I Am I (3.5/5) are up today with ex Dragonforce vocalist ZP Theart on the vocals so I have a reference point having seen Dragonforce perform more times than I can remember. One thing I notice straight from the get go is that ZP is definitely much happier in this new project, he seems to have more room to breathe here and hey at least he's allowed to swear without worry of corrupting many youths. The turnout was poor but they had a laugh with it, they performed their hearts out and then when they got at times a minimal response they pushed by making jokes and taking the general piss to make sure at least everyone who turned up at least had a bloody good laugh with them. With any hope after seeing this, their debut album is going to hit and they're going to take pride and place in this scene. (JW)


Dripback (4/5) are up next, they have got quite a good turnout for early in the day compared to most bands yesterday, they are brutal live, heavy and just so very loud, very hard core and just tearing up the stage with a very aggressive performance (RL)

Infernal Tenebra (2/5) are up next and playing to only a handful of people, and they are another middle of the road death/doom metal band, they are loud aggressive but there's nothing really to it nothing you haven't heard 20 other bands at this festival do much better. (JW)


Crowbar (3.5/5) hit the stage and that distinctive smell of green, green grass is strong in the air before they get chance to even plug a guitar in. Whilst I struggled to understand most things that vocalist Kirk Windstein was saying to us but the I knew when to cheer, when to admire and most of all when to go fucking mental. It was a nice slower change of pace for the weekend but just as heavy, heavy enough to snap every neck of an overpacked main stage. I did however feel towards the end it began to slightly drone on simply due to the hype I'd been on with all these really fast paced metal acts and it had completely slowed down, not Crowbar's fault but that and not being able to understand Windstein, as well as the statue like stage performance were the only thing wrong here. (JW)


Rising Dream (3/5) are next up and again playing to a bigger crowd than the last band, they are a female fronted metal band with screamed/death/clean vocals, I'm sure she'd get by on her clean vocals as it would be a good contrast to the music which has a few clean melodic parts to contrast the heavy thrashing about, they are not too bad but nothing all that special either if I'm honest, but they do get the crowd going along with them. (RL)


Furyon (3/5) are next up and playing to a bigger crowd on this stage, they are a 5 piece metal band, pretty straight up, bit heavy, a few decent guitar riffs backed up by decent drumming and bass playing, there's a few decent solos in there too, the vocals are clean and that operatic style at times, nothing too bad about them, they have got a few decent tunes overall not bad and one of the better bands to play on the Sophie Lancaster second stage. (RL)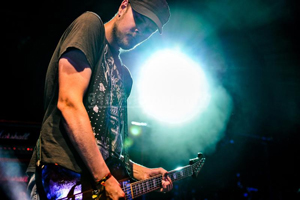 Winterfylleth (4/5) are up next playing their particular brand of British black metal, it's not all that bad, the vocals are not to my liking as I can't understand a single word but it's that sort of festival so who cares, but the music is rather listenable with some really good riffs and some really solid drumming, it's all a bit too fast for my liking but you make do and they are one of the more popular bands attracting a sizeable crowd to the second stage, over all a fairly decent set from these British lads. (RL)


Witchsorrow (2/5) are a 3 piece rock band, after spending most of the first song tumbling on at a rather slow and dull droning pace with nothing to it it then kicks up a gear to a decent tuneful end to the song, then start the next song with more slow pace, it's rather boring at time apart from when the pace is picked up, I'm sure this is Doom rock or metal as its very droll on the most part, simple stuff on the most part but not much in the way of imagination, but they have a sizeable following for their set, overall rather dull and blunt to me ears. (RL)


Hatebreed (5/5) just thrive in this environment, it's like the bigger the crowd the better they are. They manage to push out 16 wicked tracks that spark absolutely chaos with circle pits engulfing most of the ground in front that stage, its proof that no matter how long a set you get given it's how you use it that really counts. Jamey Jasta may only be a little dude but he has an enormous amount of charisma and aggression. Towards the end of the set Jasta even pulled a 7 year old child on stage as he was overwhelmed that such a young fan had come out to see them play and proof that newer generations were still embracing this way of life. There's nothing much more I can actually say about the set after that; it's there for you all to see, absolutely perfect. (JW)


Sight of Emptiness (2/5) are today's main support act on the second stage, yet another band I can't say I've heard of, and I can see why' they are another middle of the road metal band, nothing all that special yet they won a unsigned comp here a few years ago, not sure how as they aren't all that exciting not much in the way of decent memorable riffs or memorable catchy songs, another also ran band. (RL)


Testament (5/5) were nothing short of phenomenal, I have not a single bad word to say about what I saw on that day; my jaw was on the floor, my eyes were locked on lead vocalist Chuck Billy as the vocals that man was producing were nothing short of flawless. 12 songs of the finest matured thrash metal known to mankind but the time just absolutely flew by and really didn't feel like enough of a set. Half way through the set they brought out 2 banners, obviously they used to say "Free Randy" referring to recently incarcerated Lamb of God vocalist Randy Blythe but since they've started using them he has now been freed so they switched them around to say "Randy Free" which was greeted by a chorus of "Randy's Free". Again I don't want to try and push anything else into this review; just that the music was flawlessly performed, the energy was electric and that these veterans know how to handle themselves respectively, proof that they were good is that a lot of other band's turned up side of stage to see their performance, that's how wicked they were. (JW)


Orange Goblin (4/5) are today's second stage headliners they are a UK stoner metal band and one of the better bands on today and probably the biggest crowd of the second stage too. It's pretty heavy and catchy and are getting the best crowd response of the day. The guitar work is heavy but there are some really good solos in the songs, to lift them to another level.. The vocals are a bit rough and Characterless but it's what's to be expected so never mind, it's a really good performance from this band and one of the better performances on this stage, for me stoner metal can be hit and miss but this is a hit, heavy and catchy not bad at all. (RL)


Machine Head (4.5/5) built a massive hype surrounding this show, hype that was a tall order for them to live up to for any band. One thing that disappointed me was they were going to bring a "full pyro show" with them for this set especially; to a normal person that means there will be some interesting uses of fire and CO2 jets, oh and there was just in an hour and a half it got used all of twice, that's hardly a full pyro show to me. Nevertheless I got involved and it was – as per usual – absolute anarchy! Circle pits galore which due to Bloodstock's shoddy way of hiding cables were ridiculously deathly due to an abundance
of metal heads falling down, bouncing across the field with my arms wrapped around fellow festival goers, celebrating – from what Flynn said – the 20 year anniversary of the first Machine Head concert ever performed, kicking it off with "I Am Hell (Sonata in C#)" but fortunately for me cut the excessively large intro out whilst emerging in a sea of green smoke coating the already evil vibe. The band let their fans pick 3 songs from their album "Burn My Eyes" but they ended up playing 5, "Block", "Blood For Blood", "A Thousand Lies", "Death Church" and their set closer "Davidian" make this set predominantly burn my eyes orientated, "Aesthetics of Hate" and "Halo" from "The Blackening" and "Imperium" from "Through The Ashes of Empires" , these and 3 tracks from latest release "Unto the Locust" completed their 11 song set. Rob Flynn's love for heavy metal rants, drink tossers and witty observations fill the gaps between the songs and, in all fairness, that's about all I can say about that, pretty fantastic show as always!

Sunday

Re-Armed (3/5) are opening the second stage this morning, they are a Finnish death metal band, the sound is classic death metal but I'll be honest they have a few decent moments but on the most part it's rather uninspiring and they are t all that exciting to watch, it's a rather average start to the day but they a decent sized crowd for the start of the second stage day. (RL)

Flayed Disciple (3/5) are up next and it's more death metal, I can't imagine people come here for the meaningful tuneful lyrics and vocals just the brutality of the music, the lead guitarist is pretty good, it's sounds rather good at times but the rest of the band at time just sounds like a wall of uninteresting noise, just going as fast and as brutal as possible, brutal is what that have a lot of, not doing much for me though. (RL)


Nile (3/5) as a band have been cropping up in my hometown of Wolverhampton a lot over the years but I've never really had the chance to see play, never even listened to their music if I'm being truly honest. Today I got my chance and I was truly excited, musically it's not really my sort of thing but this is about the live set, in those terms I wasn't sure for a while whether I liked the performance or not, their crowd banter was pretty pour in all honesty as you could barely here them apart from when the instruments kicked in, then you knew there was a new song. Don't get me wrong you could hear the lead vocalist but there was no personality in there really for those reasons alone I didn't dislike their set I just wasn't overly thrilled. (JW)


Battalion (3.5/5) are on next with their own brand of thrash metal, it's very early 90s and it's pretty good, in parts it reminds me of AJFA era Metallica in tone only with bass, they have some good riffs and energy about them, they are quite easy to listen to Nd bang that head along to, they are one of the better bands I've seen today. (RL)

The Black Dahlia Murder (3.5/5) seem to have unfortunately cleared the floor for some strange reason, lord knows why because in my opinion these
guys were absolutely fantastic! Not the best band I've ever seen but I can't see a reason the turnout was this shocking to be honest. Banged out 11 songs in their set spread out equally across each of their 5 albums which is pretty fair but whilst I may've been impressed to start with as it was an energetic performance with more of a modern hardcore atmosphere than most of the acts on the bill bring to the table, I soon grew a bit, unenthused for lack of a better word. I think I need to see some of these bands at a headline show because I don't think they favour as well at festivals, I'm sure thats all this was. (JW)


Crimes Of Passion (3.5/5) are a UK melodic metal band, another band that's easier on the ears, the vocals are pretty decent if you enjoy that 80s operatic style, the chorus are quite catchy and they have a few decent riffs, the songs are decent enough, but them being a bit heavier would be nice as well as being a tad faster but they are going for that classic melodic sound. (RL)

Evile (3.5/5) are one of the leaders keeping British thrash metal alive, they had a joke around with the "no swearing" rule for
today, which I'm not really sure if that was a real thing or not because they went through the whole set without it then made a point of saying "your fucking welcome" which I found quite funny. Anyway the show, not really much wiggle room with their material, they pretty much play the classics alongside debuting "Centurion" in a live environment, "In Memoriam" was a strangle slow choice for today's set but I suppose it gave it a bit of diversity between the relentless distortion and drum rolls. Not the band's best set as it failed as it usually does to inspire and light a fire under a crowds arse, more of a small venue band in my opinion.


Ancient Ascendant (3.5/5) are the middle band of the day on this second stage with some people here hiding from the rain but the crowd is still quite respectable for this 4 piece death metal band, but for a death metal band they are rather listenable as some of the songs are quite catchy with a few decent riffs, the vocals are still hard on the ears with barely legible words! But on the whole not too bad. (RL)


Noctiferia (3/5) are up next playing their particular brand of extreme metal, they are a band that have been round for a remarkable 18 years, not sure what they've done in that time as they sound like every other death metal band, fast guitars, drums, lyrics/vocals you can't really understand, they sound like a lot of bands at this festival I'm sure there are subtle differences between the bands but my uneducated ears are oblivious to them! (RL)


Demonic Resurrection (3/5) are a 5 piece extreme metal band from India and this is their 1st UK performance, they are a fairly lively bunch but don't have much in the way of presence, they might well be a tad nervous, but they had a few decent riffs but they don't really stray too far from the extreme metal formula, they are an average at best band, good enough for the second stage but need a lot more work to make it to the next level. (RL)


Paradise Lost (3.5/5) were a band I was excited to see and for the first half of their set I was genuinely into it but after that I just felt myself slipping to sleep. That's not even an exaggeration I nearly fell asleep in a camping chair during their set. Don't know if it was the dull tones of lead vocalist Nick Holmes as he addresses the crowd or whether it was the music – which before I say anything else was note for note perfect – not having any particular stage show to watch alongside gloomy metal like this will always be hard to keep a large crowd entertained, especially people who aren't already fans. That's that for me I have nothing else to say I was just a bit bored, they played well it was just boring.


Headcharger (4/5) are the main support on the final Night of this festival, after all the extreme metal for most of the day on this stage, this main support act, are a good straight up heavy rock band, they have themselves some rather catchy rock songs, with decent riffs and clean vocals, they are an energetic bunch and put a really good rock show for a decent sized crowd, all in all they are a really decent act that will hopefully get themselves more established in the future. (RL)


Dimmu Borgir (4.5/5) as per usual were absolutely perfect, not a note out of place and you can see clear as day that they exude confidence and determination. For Dimmu the majority of their success really does come from the music, the sheer range in material already provides a pretty wicked set and then alongside their costumes wicked backdrop artwork and everything else Dimmu horde with them. The song introductions played through the PA are crystal clear and just aid in flowing the songs through each other and ensuring there are no awkward silences. Again I'm struggling to find more to say than that, just fantastic. (JW)


Final band of the weekend on the second stage is Annal Nathrakh (4/5), they have bought a sizeable crowd with them, while Dimmu Borgir are playing their set on the main stage. They are playing with 6 band members on stage, making an almighty noise to get the crowd going and drain them of their last bits of energy of the weekend. They are playing their particular brand of black/death metal, it's pretty damn good and a higher level than the bands of this genre that have played on this stage earlier today with the front man on crutches, but still rocking on through a brutal and loud set with lots of riffs and speed a plenty it's a good way to end the weekend on a heavy note before the theatrics of the showman Alice Cooper. (RL)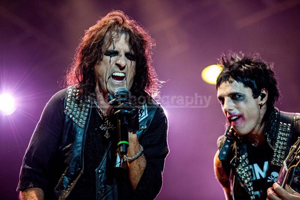 Alice Cooper (5/5) blew me away! I've wanted to see him play for a very long time as I've heard ridiculous things about his stage show and seen some exciting videos. Whilst on this occasion there were no dancing fire girls or over the top antics as such I was still really impressed with what I was seeing. Guillotines, enormous Frankenstein creature prancing around, a thousand different costumes and some severed heads propped on poles and such, guitar solos, drum solos, the works. A wicked 22 song set as well definitely felt worth the wait; set balanced between as many albums as he could fit in but in all fairness he had to favour the classics as he has millions of them, "Schools Out" (Including part of Pink Floyd's "Another Brick In The Wall"), "No More Mr Nice Guy", "Poison" and so on, we even got "Elected" as an encore with Mr Cooper striding around swinging a huge British flag claiming he wanted to be elected by the United Kingdom. Hand's down this was my favourite band of the weekend; hilarious, energetic, freaky and most of all it had that sing-a-long factor to see out the festival, left that field with a smile on my face and some memories I can't soon forget. (JW)

Review By James Webb And Robert Lawrence
Photos By Robert Lawrence