Alkaline Trio
Dave Hause
London, Electric Ballroom
10th May 2012

Alkaline Trio Dave Hause

The wait for tonight's show seemed to have been longer than ever as the show was suppose to of taken place on the 15th November 2011 but a couple of weeks before the show Matt Skiba added another injury to his long list of injuries but this time around it wasn't a skating injury instead his foot got ran over whilst he was out on his motorbike and resulted in his leg being put in a cast, a few months of rest and the Alkaline Trio European and UK tour being put back by 6 months.


We arrived at the Electric Ballroom moments before Dave Hause took to the stage and from the moment he took to the stage and opened up with 'Heavy Heart' right up until the moment he played the last note on'C'mon Kid' he had the crowd on his side with many people singing-a-long and even the people who didn't know the songs that well were participating with claps and screams.

Dan Andriano took to the stage early on through Hause's set to help out with 'Time Will Tell' and 'Prague (Revive Me)', and as soon as he stepped on stage he was met with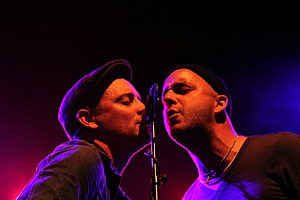 loud screams from the sold out venue made up of Alkaline Trio fans who were ecstatic to see one of their heroes on stage so early in the night, Andriano and Hause worked well together with their acoustic guitars and duel vocals and brought back good memories of The Revivial Tour for myself and many others.

Hause had a lot of time for the crowd tonight and said special thanks to Alkaline Trio for bringing him out on the tour and also a big thanks to the crowd for being wonderful.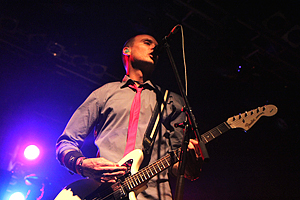 Tonight Alkaline Trio are out celebrating just over 15 years in the music industry and it is great to see that they manage to sell venues out across the country and the same familiar faces turn up at each and every show to watch their heroes rock out but part of me wonders how and why Alkaline Trio have been selling out the same sized venues for many years but have never had the opportunity to headline arenas as they are one of the most hard working and focused punk bands ever who should be so much bigger and more popular than they are.


When the lights dimmed tonight the fans screamed loud and Alkaline Trio made their way to the stage to a set of music featured in the movie 'Insidious' with Matt Skiba pretty much imitating the dance from the boy featured in the movie, moments later Alkaline Trio blasted straight into punk anthem 'We've Had Enough' which was followed up by classic songs 'Time To Waste', 'In Vein', 'Tuck Me In', 'She took Him To The Lake', 'Warbrain' etc.

And as the set progressed Alkaline Trio could do no wrong as they were blasting out classic songs one after another with their earlier material pretty much dominating the set, the highlight of the night was when they played 'This Could Be Love' which is one of
the most loved songs by Alkaline Trio fans and it was nailed with perfection tonight with thousands of fans singing word for word along with Skiba.

The later part of the set featured an 5 track acoustic section which highlights the latest set of Alkaline Trio work with their latest acoustic rework album 'Damnesia' and also Dan Andriano's recent venture down the solo acoustic path, Dan from the Dear And Departed and Dave Hause both made guest appearances during this section of the set with the chilling lyrics of "Your Coffin Or Mine" closing the acoustic part of the set.

Alkaline Trio came back on to play a two song en core which featured 'Cringe' and '97' which took us right back to the early days of Alkaline Trio.

When Alkaline Trio left the stage I was left wanting more as they put on such a great show which also featured one of the strongest sets that I have ever witnessed them play, they didn't need any special stage props just their trademark heart and skull logo, basic lighting, drums, base, guitar and their solid musician and friendship.

Dave Hause 4/5
Alkaline Trio 5/5

Review By Trigger