Hit The Deck Festival 2012
Nottingham - Rock City, Stealth, The Forum, The Rescue Rooms
22nd April 2012


Well this is a festival I was told about back at the start of the year and wasn't to bothered about, but as the months went on and the more bands where added it turned into a festival that I couldn't wait to get too! Eventually the time came and on a nice Sunday morning I head down the motorway to Nottingham to check out what Hit The Deck has to offer!

Arriving at the festival around 10 all I see is a cue for wrist bands and empty streets, so I pick up my pass and head for a walk around town as I've got a few hours to kill before the first venue opens and the first bands start there rocking. After a much needed breakfast I head to The Forum, a venue I'm told has never had bands play there before, but as I head down the dark stairs and into the dim light of the venue below, I find a nice little club which looks like it is more than capable of putting on a good show.


The first band to test my theory is "The Social Club", they describe themselves as polytechnic rock which to be fair is what you're in for. The singer Dave sounds like Elvis Costello and looks like Rivers Coumo, they're keyboardist isn't here (supposedly he's at dance school) so the keyboardist from Spy Catcher stands in. It's a short but sweet set that sees them rock the stage and get this small early afternoon crowd bouncing, if you like nerd rock then this band is the band for you. 3/5


I catch the end of Hildamay's set after walking down the road and wading through a sea of people to get to the main room of Rock City. I get close to the stage to see that their destroying the main room with their own blend of metalcore. They're heavy they're loud and they're in your face. 3/5

Next up is Yashin a band I saw a month ago and who really impressed me, but today they have upped the ante. Their rockier and louder than ever before, their crowd is as I expected it to be back in Birmingham, it's a mix of metalers and young girls. They drop New Year or New York and the room goes crazy, the band feed off this energy and add it to their performance! At one point singer Harry jumps into the crowd and disappears for a moment, only to return with his top all ripped open and gasping for breath! They really know how to step it up for the festivals. 4/5


I decide to stick around in the main room and catch my breath back from the amazing Yashin, and wait to see The Dangerous Summer, who I missed earlier in the week due to the band missing their flights to the UK. I now wish I hadn't bothered and that I had gone and seen another band as they were poor, they were rather boring on stage and well, where not as good as I thought they were going to be at all! The room also seemed to agree with me as it was now half empty where as it was full to capacity moments before. They played their bland music to an unimpressed crowd and so I left to find something with more meat! 1/5

I ended up going down to the basement only to find Straight Lines setting up. After a few moments of waiting around, they delve into a short set which go down great, although not a massive band they have this room swelling with people trying to catch a glimpse of these Welsh rockers who have come from strength to strength and seem to only get better every time I see them. They have the room singing along to "Set Me On Fire" and have got lots of new fans ready to buy they're new album "Freaks Like Us" after this great show. 3.5/5


I am always paranoid at festivals that I'm going to miss the main bands I want to see, as normally the "bigger" magazines get to shoot the highlights and if there's any room then we can shoot too, so with this in mind I end up missing a few bands I want to see (We Are The In Crowd, Of Mice And Men and Heights) so I can be first in the queue to shoot Bat Sabbath(I find out later that I probably could have turned up half way through there set and shoot them but by then it was too late).

So I headed back over to The Forum and catch Imperial Leisure who again are even better when the room is full of people ready to party. They jump around like mad men on stage, showing they're Ska Punk catchiness to this very busy crowd (the last time I saw them there was about 20 people so it's great to see how they interact with a big audience), they keep everyone entertained by making them sing along to "I'm In Love With The Landlords Daughter" whilst all 7 members move up and down the stage making it really enjoyable to watch. They do a great job of getting this crowd pumped; it's just a shame that the ones who stick around are subjected to the next band. 4/5


Arse Full Of Chips take to the stage to WWE superstar The Rock's theme music, all dressed as wrestlers (we have a Mexican wrestler, Stone Cold, Hulk Hogan and a gay Cm Punk). They line up across the stage with no drummer and play acoustic comedy songs which are not funny. They start off well with a song called "I've Got An App For That" in which they list different things and then say I've got an app for that, which isn't comedy gold but it's entertaining, they then get a massive conga going, but by the end of it Hulk Hogan gets naked and they sing a song called "I'm An Absolute Retard" which isn't funny and is just plain rubbish. This band is no-where near as good as other comedy bands out there at the moment (Midnight Beast and Lonely Island), it's a poor excuse for entertainment and I'm just happy it's over with. 0.5/5


Bat Sabbath are up next and this room is heaving, people know this is one of the biggest cover bands out there as it is the Cancer Bats playing Black Sabbath songs, so they fill the room to bursting. The lights go out and the band take to the stage slowly pumping out "Paranoid" as the lights come on Liam takes to the stage and jumps straight into the crowd wearing a black cape ensemble to emulate Ozzy. The band plays a great set of Sabbath Covers including "N.I.B." "Iron Man" and ending in the epic "War Pigs". They sound amazing and do Sabbath justice by playing every song with heart and passion and impress this huge crowd leaving no-one dissatisfied. They have all this stage presence and energy despite them playing 6 gigs in a day, less than 24 hours before. 4/5


The room disbands and it looks like The Swellers are going to play to just me and the bar staff, but fear not, punk is not dead, it's just having a breather as the room starts to fill back up just moments before they head onto the stage. It's a good job they do as The Swellers play the same set as they did when I saw them a few days ago and so it's full of power and raw passion. They play singles "In My Head" and "Fire Away" to great aplomb, and this crowd gets messy, they start pits and go crazy. They don't really stop to talk as they blast through their set but they do say how grateful they are for the support since they left their record company this week. They sound great and leave the audience begging for more. 4/5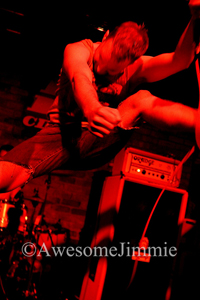 Now I had a big choice to make, stay where I was and watch Young Guns or go see Cancer Bats or maybe even pop punksters The Wonder Years. I decide on the latter and go see The Wonder Years as I'm in the mood for some more punk and a bit of chaos. I head across to the Rock City Basement and already the room is full, people are squished in like sardines, trying to get a view of this small stage. I get to the front and sit waiting with 3 other photographers in the smallest photo pit I've ever been in, the band squeeze past us and get onto the stage and break into "Local Man Ruins Everything" followed by the awesome single "Melrose Diner", during these songs the crowd have started to jump around and people have started to crowd surf, but seeing as the stage is 1 foot away from the barrier and there is 1 security guard the room turns into chaos quick! The bands roadie has to help get people over and out of the pit, whilst the security guard stands there saying he can't do anything. Bassist Josh Martin jumps into the pit and helps a fan down whilst still trying to play, at one point whilst I'm trying to take photo's whilst dodging crowd surfers and singing along(rather to loudly as I'm only mere inches away from the band) singer Dan "Soupy" Campbell turns to me whilst singing and starts to point above my head, I turn around to see someone coming over the crowd to which I help over and out of the pit whilst protecting my camera to then carry on shooting, I then get a tap on the
shoulder as a fan is telling me to look at soupy as he gives me the thumbs up. I can say that is the most crazy pits I've ever been in, I would have stayed there all gig if I could as it was really exhilarating, but I felt it best that I get myself and the other togs out of there so the roadie can get a better grip on the crowd control. Luckily the band's set calms down a bit as they play "I Won't Say The Lord's Prayer" for the first time in the UK, they continue to play awesome pop punk tunes including "Logans Circle", "Came Out Swinging" and ending in "All My Friends Are In Bar Bands". The band performed really well and handled the chaos with experience; I think this is something they love, as towards the end of the set Soupy climbs up high above the crowd before diving into the sea of adoring fans. 5/5


I leave the Basement and try and get up into the main hall for Kids In Glass Houses, but can't fight my way through the sea off people. So I decide to go and see the only other band that is playing; Zebrahead.

Unfortunately Zebrahead are running late due to technical issues with The Young Guns set, but eventually they appear on stage and give this audience the send-off they deserve. They play a great set with all they're hits including "Playmate Of The Year", "Hello Tomorrow" and "Jag Off" whilst doing all the typical things Zebrahead does, including making the crowd all sit down and jump up at once, spraying water into the crowd and drinking heavily during the show. This is great to see the first time but it gets a little old fast, the band are great live though, they sound great and they are fun and catchy. They have a huge back catalogue and have so many songs to play, but they still have time to have fun which even though it is a bit stale for myself this late night party crowd are loving it and can't get enough of their ska/punk/rock. They finish there set with "Anthem" and "HMP" which ends the day on a high, I would have been happy to end with The Wonder Years but Zebrahead definitely make it worth staying around for. 4/5


Overall today has been a great success, I'm disappointed I didn't see more bands but that's due to me being overly conscious with whom I might not get to see. But I didn't enjoy most bands I saw and I thought the whole organisation of the festival was great on the whole; the only thing I'd change is more security about Rock City as it felt it needed some more structure for people to feel safe, especially in the basement. In the end myself and many other people in Nottingham had an excellent day with tonnes of great bands in a number of awesome venues, I cannot wait to go back next year as I'm sure it will be even bigger and better(if that's possible!)!!

Review By James Daly