We The Kings
Don Broco, Riots
Birmingham, Academy 2
6th May 2012

We The Kings Don Broco Riots

It's a nice evening in Birmingham, the academy is bustling and a huge crowd has shown up for tonight's We The kings gig, all eager to get into the party mood and that sunshine state of mind.

Inside the room is boiling and everyone is eager to be entertained, first up is Riots, who I cannot find anything about on the internet. This young group are alright, they are pop rock with a bit of indie thrown in. They sound ok for the most but have rather heavy bass that washes out the other instruments from time to time but I'm guessing this is due to sound problems and not how they are meant to sound. They have catchy chorus's with harmonies a plenty And this young crowd laps it up, but to be fair this is one of the youngest crowds I've seen in a long while so any band would keep them entertained as long as it had pretty you lads in it. They tie up this fast paced set and can be proud of themselves, they've entertained and put on a decent show despite their young age and sound problems.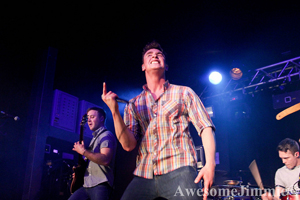 Next on is Bedford based Don Broco, who have played Birmingham quite allot over the past few months and are making quite a name for themselves. I was really looking forward to them but unfortunately I think I built it up too much. They burst straight into their new single Priorities which sounds pretty good instrument wise, the flowing bass, heavy riffs and fast drums are ace but the singing can hardly be heard under the strength of the rest of the band. They move around the stage and make it their own, whilst using creates to stand up above the crowd and jump off. They have fun with their short set which includes singer Rob Damiani jumping into the crowd and getting in amongst the sweaty fans, they get people onto each other's shoulders to get a festival atmosphere and they do the odd synchronized dance moves on stage, but underneath this fun stage show are songs that just are not strong enough, they're good don't get me wrong but they're lacking something that pushes them over the edge. Hopefully they'll come back when there album drops in summer with stronger songs to back up there frantic live show!


Next up is the main act, We The Kings. This 5 piece pop rock band from Florida are rather popular over here with 3 albums rather big selling albums and a sell-out tour under their belts. So it's no wonder they put on a good show starting with poppy anthem She Takes Me High Then continuing the fun with Skyway Avenue and What You Do To Me. They sound great, with all the problems from earlier in the night sorted so the levels are all good, so you can hear Travis's smooth and creamy vocals over the sweet medley of clean guitars and keys, with some nice plodding bass and hi hats thrown in for good measure.

This band is a fun time band, they have no gimmicks, they're pop rock and they're proud of it, every song is catchy and happy and that's how everyone here likes it. Singer Travis Clark puts their love of the fans into context "you are the only reason we exist, if you didn't come to the shows then we wouldn't do this! So with that said it means you are now a part of the band, so sing along" so this mostly female crowd off screechers, who for most of the night scream and pierce my ears as they grab the attention of the bands but now they sing along to Secret Valentine perfectly, it really sounds amazing leaving Travis with little to do on stage.


Most of the band leave the stage and leave Travis and Coley O'Toole alone to do two slowed down songs We'll Be A Dream and Heaven Can Wait, which are stripped back and bear with just the acoustic guitar and piano. This is a nice change of pace and mixes the set up with some ballads before going back into the whole band with Every Single Dollar and Say You Like Me.

I am not a massive fan of We The Kings but they do, what they do well and if you're in the mood for some pop rock and want something less mainstream than Mcfly then We The Kings are the bad for you! The only thing I will say bad about them is that singer Travis goes on about sex way too much and considering the audience is made up of 14 year olds it's probably not the most appropriate. The band wrap up this short set with a excellent speeded up version of The Middle by Jimmy Eat World and finishing with the summer time anthem Check Yes Juliet.


Overall tonight has been fun, the supports where decent enough and We The Kings were great, it is a shame they haven't played more songs as they only play 4 from each of their albums meaning that everyone leaves the venue half hour before curfew, even with them talking quite allot between songs. But everyone has had a good night and they can go home and enjoy the rest of this bank holiday weekend with a smile on their face.

Riots 3/5
Don Broco 3/5
We The Kings 4.5/5

Review By James Daly