The Used
Don Broco, The Marmozets
Birmingham, Academy 2
26th April 2012

The Used Don Broco The Marmozets

First up tonight are the Marmozets, a five piece band from Leeds, I'm not sure what genre this is but random noise in the form of a song might be apt with bits of melody thrown in every now and a again to break up the random noise. Everything is off kilter off trying to be edgy, it sounds like they are all playing different songs with the female vocalist screaming over the top like an angry poet. This just sounds bloody awful, and the crowd don't seem all that interested either, only seeming to respond when prodded and probed!!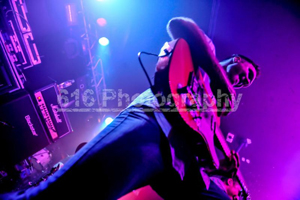 Main supports tonight are Don Broco a 4 piece punk rock band, they are much better and seem more comfortable this time with the new songs and the consistency is there for all the set. I'm still enjoying the clean vocals and the set seems similar to the one I saw earlier in the year, they are a lively bunch which is always good to watch, they played a few songs off there upcoming album which sound superb and catchy.

I haven't seen the used since 2007, so I have been looking forward to this for some time since the tour was announced, Burt has a bad stomach tonight, doesn't seem to affect his performance, they open their set with one of my favourites take it away it sounds lively
and just superb, followed by the bird and the worm again another of my all time favourites. The used have started off very strongly. Tonight's set seems like a best of, which means people get to hear all their favourites.

They carry on with the fantastic Listening, the excellent Kiss it goodbye, I come alive, I caught fire another superb track , they seem to be playing a fair few from the in love and death album, probably my favourite album, and a few off their new album too, the band is putting on a great show high energy tonight.

They continue with the likes of, Hospital, the taste of ink, the fantastic all that I've got, it sounds just top notch, great song to sing along too. The crowd are having a ball of a time. The best of me and paralyzed close out this really great main set.

After a short break, and to great fanfare they come back on to bang out a few more great tunes, the encore consists of blood on my hands, the super catchy and heavy pretty handsome awkward and night closer a box full of sharp objects (with a smells like teens spirit intro) fitting as the band were on sharp form tonight. Great performance.

Marmozets 1/5
Don Broco 3.5/5
The Used 5/5

Review By Robert Lawrence