You Me At Six
Kids In Glass Houses, Mayday Parade, The Skints
Birmingham, Ballroom
31st March 2012

You Me At Six Kids In Glass Houses Mayday Parade The Skints

Today is a good day in Birmingham, there's still a bit of the week's sun left and tonight one of Britain's best pop/rock acts are in town. Being an eager beaver and having to get to the venue early for some interviews, I arrive at 3 to find a queue bigger than any other I've seen for a band, it was from the Ballroom all the way to Scruffy Murphys which is a long way! The cue is full of 14 year old girls, some of which have been here since 7am this morning! After doing my interviews I go outside and wait near the entrance as I have to be in on time to catch the first band.

The Skints, this 4 piece dub/reggae band from London have a great summer feel about them. They play a short but good set of about 5 songs all with thumping bass, keys and a drummer who sings (yes Phil Collins style), they're unique, a young band that plays great sounding reggae, normally to see a reggae band you have to see and old 70's group. But they're not just copying the old school, they're adding a modern twist by mixing songs up with some rap and some heavy beats. They're a great start to the night, I just hope that all these kids go and listen to more dub because of them. They're touring in October so please go and check them out.


Next up is Mayday Parade, they are a 5 piece alternative rock band from Tallahassee, Florida. They Burst into the small amount of stage they're allowed to use and they jump around like crazy. All moshing their heads whilst playing some really awesome pop rock songs. This band had You Me At Six supporting them in the states so it must be odd for them to be supporting them. They have many years of rocking under their belts and it shows, as they work the crowd up in the small amount of time they have on stage. To be fair though this crowd would scream for anything that was on stage, they may be young but they are here to have a good time and this makes the band perform better, as when the band hear the noise they try even harder. It's a great cycle which is only going to continue through the night. It comes to the last song of their set and singer Derek spends it on the front row of the barrier orchestrating everyone to sing along whilst the rest of the band rock out and break into the occasional solo.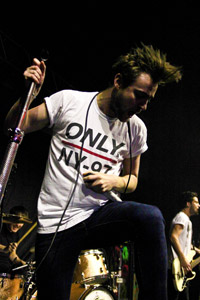 Kids in glass houses have played this size of venue on their own recent tours so it's rather odd there supporting on this, but who cares you're getting more bang for your buck by getting these welsh rockers thrown in! But what I find weirder is that they only have half the stage like the other supports as You Me At Six are hiding something big behind the backdrop, when last time they toured they had a full stage with big lighting props and matching suits were as now they are playing a small portion of the stage in their own casual gear and I think its stepped them up a notch not having the pressure of making sure their fans go home happy as they're not the headliners. It's great they've gone back a step just for this tour as they seem to be thriving of it by playing their hearts out. Lead singer Aled can't stop moving, he paces up and down the stage getting everyone psyched! They sound great, really well done, levels are all correct and the vocals sound as good as they do recorded. They play a long set of all the hits covering new and old including, Undercover Lover, Give Me What I Want and Animals. They try and get the crowd doing circle pits but as this isn't an old crowd (the oldest people here are the parents in the back corner), it doesn't work as planned, but they give it a go. The set comes to a huge end with Maters At All, and the crowd are all warmed up maybe even ready to go home, but they won't be leaving just yet as the headline is still to come.


You Me At Six are waiting to come on, the stage has been covered by a huge sheet and the crowd are eagerly waiting with anticipation of the band to come out and the sheet to be torn down. After what seems like a lifetime of waiting, the speakers start pumping out some big beats and the crowd goes wild. The curtain drops to reveal a rather underwhelming stage set up of the normal metal crates for the band to stand on with a black cut out with ramps and other levels for the band to wander around. The most impressive thing is drummer Dan being high up above the rest of the group; it must be an odd sensation to play that high up to a crowd of adoring fans. The band waste no time and start off with Loverboy and they sound great, the levels are perfect and they have spared no expense making sure they sound good live. They are well rehearsed and make great use of the stage pacing from top to bottom climbing up the ramps and using the metal grates so everyone can get a good look at them. They definitely have rocking out down to a formula and this is what I think lets them down, they know what to do and when, they know everything in and out, so there's hardly any room to be spontaneous. The only unique thing I saw was everyone singing happy birthday to drummer Dan in-between Take Of Your Colours and Finders Keepers. There set list was mainly from there new album but they did play 17 songs and put on a good
show. They even played the new song they wrote for Thorpe Park ride The Swarm which was great if not a little full off co2 gas that get bursting out blocking peoples view from the front but making it look amazing from the back as big clouds of gas flew up into the air and moved around like a tornado. They closed their set with Underdog, Stay With Me and slightly heavier song to end with Bite My Tongue, to which they left the stage under darkness bowing out as they went.

Overall tonight's gig was great, the bands got better through the night up until You Me At Six, but even with all their great stage set up I don't think they were as good as Kids In Glass Houses who were belting tonight. Also they missed a few singles that would have gone down well, most noticeably Save It For The Bedroom, but the crowd left in a good mood and they did sound amazing, it was just a shame a few small things let them down as a whole. I do however look forward to seeing them go on to bigger things and hopefully seeing them play as well as they did tonight in an arena gig in the future.

The Skints – 3/5
Mayday Parade – 3.5/5
Kids In Glass Houses – 4.5/5
You Me At Six – 4/5

Review By James Daly