Black Veil Brides
D.R.U.G.S
Wolverhampton, Civic Hall
24th March 2012

Black Veil Brides D.R.U.G.S

Black Veil Brides headlined the Civic Hall in Wolverhampton tonight a show that was originally due to happen last October but was rescheduled due to front man Andy Biersack breaking his nose live on stage. We got to Wolverhampton quite early and from the moment we got there the town was full of people dressed in black and covered in different variations of the Black Veil Brides style face and body paint.

After a little bit of trouble picking up our photopass we managed to get into the venue in time for D.R.U.G.S to take to the stage at 8.30pm, now D.R.U.G.S are a band who have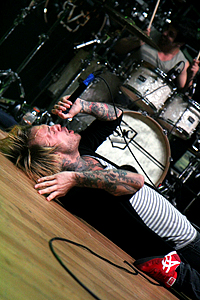 been together for just over a year and have already enjoyed major success in the UK so it was good to catch them live once again before they take a break from touring to work on new material. Frontman Craig Owens is on top form tonight running across the stage screaming his lungs off and when he is not on stage he is either climbing the big speaker stacks getting him that little bit closer to the fans in the balconies or in the crowd getting shirtless whilst blasting out his raw vocals.

D.R.U.G.S managed to fit in a good selection of songs from their debut album into their set tonight such as 'Mr. Owl Ate My Metal Worm', 'My Swagger Has A First Name', 'The Only Thing You Talk About' but it was 'Sex Life' and 'If You Think This Song Is About You, It Probably Is' that the crowd reacted to the most tonight with Craig leaving the crowd to sing for the majority of 'Sex Life' and 'If You Think This Song Is About You' ending the set perfectly with Craig sweating it out with the fans in the pit.


The Black Veil Brides were due to take to the stage at 9.30pm and minutes before this the crowd erupted into massive screams which were loud enough to pierce your ears, I have never heard such a positive welcome to a band moments before they take to the stage in my life and as the Black Veil Brides walk onto the stage these screams become louder and louder as the fans welcome their musical heroes with their hands in the air and screams at volume 11.


The band wasted no time getting the rock and roll show in motion by kicking straight into 'New Religion' which saw them conquer the stage with pure energy the whole band was on top form and I am sure that everyone's eyes were constantly moving as no member of the Black Veil Brides stayed in the same place for long apart from Christian Coma who had no choice whilst drumming.

As the set progressed we were treated to a drum solo from Christian Coma whilst he preformed whilst blind folded and he simply showed off his skills and knocked out one
hell of a drum solo which even featured some sound snippets of Daft Punks 'Around The World', the solo felt never ending as every time you thought that was it and was about to clap Christian Coma had more tricks up his sleeve.

Half way through the set Andy Biersack made a joke which people who have been reading his tweets would understand when they launched into 'God Bless You' with Biersack calling the song 'God Bless Shampoo' in relation to the bands hygiene on tour.


There was no letting up for the Black Veil Brides as they knocked out one great song after another and made them sound even better than they do on record, the Black Veil Brides are an extremely tight sounding live band but then they should be as they have been relentlessly touring ever since the release of their debut album 'We Stitch These Wounds'.

Tonight's show was easily one of the best gigs I have seen in a long time and both D.R.U.G.S and the Black Veil Brides are fastly becoming my new favourite bands and I am sure that the majority of tonight's strong 3000 crowd would agree, I can see the Black Veil Brides moving up to selling out arenas in the next couple of years especially more so when album number three drops and the haters will continue to hate yet the lovers will love even more and Black Veil Brides will become the superstars they set out to be.

D.R.U.G.S 4/5
Black Veil Brides 5/5

Review By Trigger