Crazy Arm
Bristol, Croft
1st March 2012

Crazy Arm

There must be something in the air around Bristol, as I have yet to see a bad performance this year, and tonight was going to be no exception. The performances so far have been such a high standard, each with their own unique strengths to keep the performance in our heads for many days to come.

This level of performance is usually reserved for the larger stages and audiences of venues such as Bristol's O2 Academy, but tonight we have been blessed with the chance to get up close and personal. If anything, the performances we have seen far surpass that of the recent Academy shows, as they have invoked more emotion and power, but without the aid of an amazing light show, large stage or high tech sound system. 'Brand New' may be able to orchestrate the fans of a sold out show to sing along with them for the chorus of a song, but Austin Lucas and an acoustic guitar can bring a crowd to silence as he serenades them unplugged from within the crowd. The only question in our minds at this point of the night, is how do you follow that?


My mind cannot comprehend how another acoustic performance could improve on what has just been witnessed from Austin Lucas, luckily Crazy Arm had no intent on keeping such a low volume for their performance. By this point, the events of the night had already run on well past schedule, leaving Crazy Arm only 10 minutes of their 45 minute set time remaining. With touring sound engineer Neil Dodd behind the desk, Crazy Arm waste no time in getting into their opening track 'Of The Tarantulas'. The volume is the loudest I have heard from any gig in the Croft, with the amps cracked to 10 to add to the immersive sound. At this point I am not sure what I should do. My ears are at the point of rupturing but the sonic perfection coming from stage is mind blowing. I missed taking picture in the first song, I just stood in amazement. Long past has the day when I first saw this band, but they still render me jaw open every time they begin. Even note on the guitar is stroked with perfection, every hit on the drum has so much intent, this isn't a small club gig, its a demonstration of years of hard graft, experimentation, some great music taste and strong beliefs from every member of the band. The songs are quickly knocked out in quick succession to try and please the fan that have waited all night to see them in the small time slot that they have been given.


This is the first time that I have been to see Crazy Arm with the new additions to the band. At previous gigs, Ihave had the pleasure to witness Vicky Butterfield join the band on stage to add some superb guest vocals on Peggy Seeger's 'Song of Choice'. With the introduction of their latest album 'Union City Breath' Vicky has now taken a more prominent role on stage accompanied by new addition Patrick James Pearson on keys and fiddle. With only a few songs completed without the new members, it wasn't long before all six members were on stage. Their presence was well received; not detracting from the original members, but adding another level of depth and a stronger folk element to their live performance.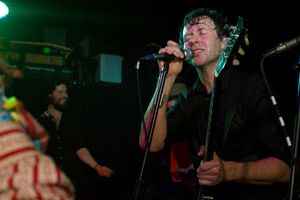 By the time the band broke into their latest single 'Tribes' they were already 10 minutes over their curfew and this was expected to be their last song. As one last push to end the night on a personal and intimate note, lead singer Darren Johns announced that for the first time he was going to try something new to get some audience participation. With the help of the beautiful vocal of Vicky Butterfield, they split the crowd in two to sing two separate harmonic variations of the closing melody. It was a great spectacle to watch. Even though some of the crowd didn't know the words, and most could not handle the melody, the band successfully recreated the end to their recently filmed video to the track. Everybody was having fun and it was sad to think that the band had been cut so short on their set.


As the song finished Darren looked to the back of this small room and asked if they had time for one more. With a short pause and no reply, Crazy Arm broke into 'Bandalito' and then with no signs of being told to stop, continued into 'International Front', and 'Broken By The Wheel'. The atmosphere in the room has changed, from people trying to soak in every second of the set, to just pure enjoyment. The crowd seemed more satisfied that they hadn't been cut short and let themselves relax into the music. Mosh pits were started and the crowd started to move and become involved a lot more. Feeling that they had pushed the curfew far enough, Crazy Arm drew their set to a close with the title track of their first album 'Born to Ruin'. Words and photos will never be able to capture how incredible a Crazy Arm gig. The years of experience and sure passion for the music they play is unlike any other band I have seen. The only band that comes close is the great 'RX Brandits' who sadly are not currently writing or touring, so for now Crazy
Arm are that band that you should make it your mission to see at all costs. The gig wasn't without fault, the time constraints put a squeeze on the performance and felt slightly rushed at the start, but this was quickly forgotten after the band made the decision to play until the plug was pulled. I have seen this band play to 10 people in a small pub and to thousands at festivals such as Reading and Leeds. In relation to their other gigs, I would rate this only a 4/5, in relation to any other band on the planet, it was pure perfection. 5/5 doest seem to do this band justice, but if you really want to see something special, get down and see them at a home town show.

Crazy Arm – 5/5

Review By Neil Oliver