Emilie Autumn
Bristol, Academy
11th March 2012

Emilie Autumn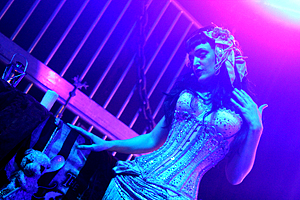 Tonight we headed down to Bristol, Academy to watch Emilie Autumn bring her Fight Like A Girl tour to the UK and ended up experiencing one of the most breathtaking shows ever.

Emilie Autumn is a classically trained musician and performer like no other she is backed up by The Bloody Crumpets who are three girls who go by the name of Veronica Varlow, Captain Maggot and The Blessed Contessa and between the 4 of them there is so much diversity in their characters which help them put on a show which should have a permanent home in the west end.


The show started dead on 8pm when the lights went down and a spoken word introduction went on for 10minutes before each character appeared in silhouette form behind the big circular screen situated at the back of the stage brandishing their weapons of choice like something out of a horror movie before making their way onto the stage one by one moving like possessed puppets, Emilie was the last of the girls to make their way on stage and she had a wild outfit on that I am sure even Lady Gaga would be jealous of and from this moment we just knew we was in for a visual and musical masterpiece.


As the show progressed it featured pretty much everything from tea parties, cakes being thrown in the crowd, fights with knifes and spoons, dancing with fire and feathers and also Emilie doing what she does best playing the violin, keyboard and singing with pure passion.

There were also some comical moments of the show such as when Veronica Varlow brought a couple of girls from the crowd on stage to do the rat dance and share a kiss which was met by heckles from a guy in the crowd shouting "I wish I was a girl now" which Veronica Varlow responded with a positive reply of "Whoever just said that I fucking love you for that statement and am making out with you in my mind".


Musically the stand out moments of the show were when 'Girls Girls Girl's and 'One Foot' were played, both songs are so different from each other yet so enjoyable. 'Girls Girls Girls' was performed in a real upbeat musical way which had Emilie and The Bloody Crumpets dancing around stage like pros with Captain Maggot bringing a bit of humour to the performance with masturbation actions. 'One Foot' was more of a laid back serious performance which featured Captain Maggot playing a marching band style drum beat whilst the rest of the girls moved on stage to the lyrics putting one foot in front of the other.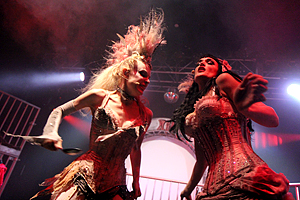 Towards the end of the show Emilie made a beautiful speech where she asked the crowd to look at what she has been looking at all night and look around at the crowd as no two people looked the same, she stated that everyone was beautiful looking yet there was no genres, no dress code, no age bracket yet such a wonderfull and wide mixture of people had come together to experience the same show, whilst looking around I noticed there was a wide age group which ranged from people in their teens to people in their late 50's there were people in stripy tights, there were people with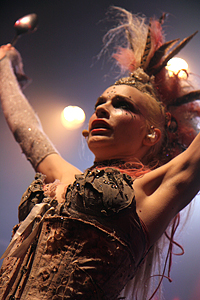 skinheads, people with big green Mohawks, people with hair extensions, people wearing corsets male and female and it was truly amazing knowing that an Emilie Autumn show could bring such a diverse range of people together.

It is not every day that someone as unique and fun like Emilie Autumn tours but seriously if she ever comes to a town near you then head along as no words, reviews or anything can really explain just how enjoyable an Emilie Autumn show is as you really need to experience it for yourself and make sure to make the effort to dress up and get fully involved.

Emilie Autumn – 5/5

Review By Trigger