Rammstein
Deathstars
Birmingham, LG Arena
25th February 2012

Rammstein Deathstars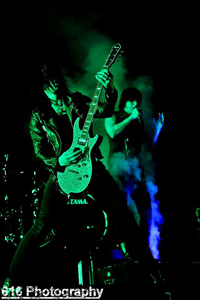 Deathstars are only able to put on a small production tonight due to 70% of the stage being home to Rammstein's Fortress. Never the less they use this simple setup to its full potential; the guitarists each stand on one of the 3 platforms as smoke engulfs them tinted with some sinister green upward lighting, 3 small backdrops of a dark blue cityscape with the center proudly displaying the Deathstars logo. Every aspect of the performance followed more of an evil gothic theme, even the way vocalist Andreas Bergh would address the audience was really creepy. Their heavy musical style fit beautifully next to Rammstein, not that it needed warming up in that arena anymore than it was. The crowd reception though was less enthusiastic than I thought the band had earned, they performed tremendously but I think everyone was just too excited for the headliners. Hopefully people will definitely remember that performance though as they definitely earned some praise.


Rammstein. Best. Show. Ever. To fully describe the sheer amount of occurring events during the set would have me rambling on for 3 pages, I'll sum it up best I can. Let's start with describing aforementioned fortress; they had 2 stages, a small one in the center of the arena and the normal stage with a bridge that lowered from the ceiling whenever they travelled between the 2, huge lighting rigs and lit up symbols that would switch around and move all over the place, started with a backdrop that looked like cell membranes which later on fell to reveal a really industrial metal pipe background with what appeared to be computer chips as lighting. As for the shenanigans, where the hell do I start; the microphones and stands were on fire, huge sparks shot from the sleeves of vocalist Till Lindermann, he was then showered in sparks, at one point he brought out a huge pot dressed as a butcher and used a huge flamethrower to cook keyboardist Christian Lorenz in it which would then explode, during "Feuer Frei!" the fire masks came out, 3 huge balls of sparks shot to the back of the arena then came back causing the stage to explode, Lorenz crowd surfed across half the arena in an inflatable boat, they travelled to the second stage over the bridge dressed as gimps humping each other, Lindermann exposed a penis from his trousers and doused the audience with it, during last song "Pussy" Lindermann again glided across
the stage on an enormous cock cannon squirting foam everywhere. To sum up, there was fire, everything exploded and there was foulness at every turn. Even with all the stuff they have to do onstage and how hot it is, not a single member once displayed even an ounce of fear, they performed with military precision and extreme dominance, looking at the way they conduct themselves you would actually think they were an army. 20 long songs which included 2 encores, I was left in awe completely speechless, my number 1 spot for best gig of all time has just been taken.

Deathstars – 4/5
Rammstein – 5/5

Review By James Webb
Photos By Robert Lawrence