Alesana
We Came As Romans, Iwrestledabearonce, Glamour Of The Kill
Birmingham, Institute
6th February 2012

Alesana We Came As Romans Iwrestledabearonce&nbsp&nbsp&nbsp&nbspGlamour Of The Kill

Glamour of the Kill are back in Birmingham once again on a pretty heavy line up, having seen them several times before I know what the band are really capable of. Tonight was a bit too much sound wise because I think my ears are blown, it was only for their set but I feel the fact that everything was a bit too loud and unclear which I feel is why the crowd missed some things that singer Davey was asking for. They only had a short set so this is more of a short time to showcase but I feel the song selection was spot on; opening with "Supremacy", "Hope In Hell", "If She Only Knew", "Worlds End", then closing with "Feeling Alive". After their 3rd song their stage was invaded by Alesana's guitarist drunkenly thinking it was time for him to play, was pretty funny. With a room that's surprisingly full for a first act I feel they've won a few people over, shame about my ear drums though but I'll get over it.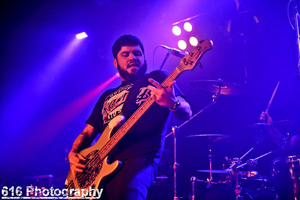 Iwrestledabearonce rattled my brain around. The harsh combination of strobes and complex songs with various electronics rendered me totally speechless. Don't get me wrong this kind of music really isn't my thing and I wouldn't listen to it at home but this tiny female vocalist puts some top male screamers to absolute shame, I couldn't believe it. A portion of the crowd has left by this point (to where I'll never know they all came back later) but this doesn't go unnoticed and the band rationalises it with some dark humour. Not only am I deaf but I'm not blind, everything's taking a hit tonight but whilst I dislike this music their raw energy and sheer hyperactive behaviour makes for a very good show. Halfway through again Alesana feel it necessary to invade except this time it's the front row of the crowd for a bit of a rave and to assert their presence I feel, it takes nothing away from the set and they've genuinely impressed me.


We Came As Romans dominate the night. The room is now more packed than it's been all night and turned into a warzone. It's absolute chaos people getting taken down left right and centre boys and girls alike (I say that due to the youth of most of the people in here). For the first time tonight a band has come out and aggressively asserted their presence in the venue rather than hope the crowd will like them. Clear vocal projections make every request and instruction heard and understood, you can see confidence just pouring out of them as they give it all they've got. Both vocalists get their fair share of the spotlight and don't overshadow each other which is nice to see for once, the crowd hangs on every word from both men. Definitely the performance of the night, again not a huge fan of their music but I really enjoyed watching them it was a pleasure.


Alesana themselves summed up their set from the start; "So you've all had a good night so far yeah? Well it's all downhill from here, we are Alesana" and downhill was an understatement. By this point it's quite clear a sizable portion of the crowd were only here for We Came As Romans as they've all left the venue and headed home not even giving Alesana a chance. It quickly becomes abundantly clear that their all a bit too drunk after antics we've seen before they've even come on stage (Guitarist thinking he was on during the first band, singer invading the crowd during Iwrestledabearonce) and its clearer when the singer is tripping up and generally making a tit of himself on stage. At first I thought the lead mic was experiencing problems as it was barely audible at times but it must have been the vocalist as it worked during his deep growls but not on the higher ones. Every aspect of the performance was sloppy and with the room being near enough empty now I can't get into it at all, very disappointed compared to what I was expecting.

GOTK – 3.5/5
Iwrestledabearonce – 3/5
We Came As Romans – 4/5
Alesana – 2/5

Review By James Webb
Photos By Robert Lawrence