Biohazard
Heights, Lionheart, Dripback
Birmingham - Hmv Institute library
2nd February 2012

Biohazard Heights Lionheart Dripback

&nbsp&nbsp
Dripback are the first up tonight, and are pretty much beset with a problem to one of the guitarists amp heads, which causes him to miss some of the set, but gets back into it somewhere near the end, the sound does get a mishmash at times trying to identify which genre it's supposed to be, can't say I'm a fan of the screamed vocals but he's aggressively delivered like the music, I've never been a fan of hardcore as it sounds like noise to me most of the time, I think the point is to be aggressive as possible within the structure of a song, I've seen it done well and I've seen it done shit, this floats somewhere around the former, one real annoyance is the drum sound, the Tom seems to pop and sounds more like a bongo, it grates! But the guitar work is good, the bass tone is pretty cool and different, and nice to be able to hear it too, all on all there not bad but could do with some direction in the set, as it sounds like a bunch of songs or varying genre, entertaining though.


Lionheart are the next band up, their a bit more to my liking it seems a bit more coherent and palatable more controlled if you will. The crowd has come alive and the hardcore dancers are out too, had to dodge a few kicks even in the toy pit!! The guitar work isn't too bad as are the vocals palatable too, I guess this band follow a more traditional song structure I guess, the riffs are heavy but I've no idea what the lyrics are, there's lots of swearing. And one of the guitarists is really enthusiastic with ye olde F bomb, it gets tiresome rather quickly! There an ok band but nothing to really bang the drum about.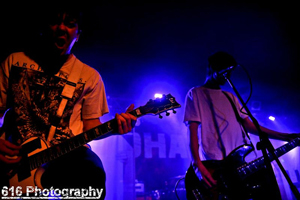 Main support tonight are Heights, a band like bring me the horizon, they have youth on their side to go far, they have some fairly decent songs, not much of a fan of the vocals, but then what's new there!! The riffs aren't too shoddy, catchy at times, good solid drumming but they really lose me when they really go flat out boarders too much on being noise instead of a song. There does seem to be a few people here just for heights but the further back you go in the crowd the more the wrinkles start to show and you see who's here for biohazard. Not a bad set their a band with a lot of potential.


Biohazard, there a band I've been seeing adverts for as long as I remember but never really ever thought to give them a try, better late than never I suppose. I guess there not as extreme as the other bands on the bill tonight but are clearly the most well structured and polished of all the bands naturally with experience on their side as a massive bonus and a hefty back catalogue to choose from, they opened there set with, Urban Discipline, What Makes Us Tick, Chamber Spins Three, there's plenty of controlled aggression in their set, welcoming people on stage only for them to a bit of stage diving which isn't reserved for just the crowd, I guess live crowd integration is integral to their set. This is the liveliest crowd I've seen so far this year. Their a fairly decent band, they have some solid riffs in their arsenal of songs with plenty of heaviness and catchiness thrown in, I can see at times the influence they've had on other bands I listen to and enjoy, they blister on with the likes of Reborn, Black and White and Red All Over, Down for Life, Retribution, Come Alive. For a band that's been around for as long as they have, their a tight unit, they close out a fairly decent live set with Love Denied, Punishment and Hold My Own, I can't say this has been the best night of music for me, but it flew by like many a hardcore dancer before me that I had to dodge.

Dripback 3/5
Lionheart 2/5
Heights 3/5
Biohazard 3.5/5

Review By Robert Lawrence