Thin Lizzy
Clutch, Trigger Finger
Wolverhampton, Civic Hall
27th January 2012

Thin Lizzy Clutch Trigger Finger

Trigger Finger had the unfortunate job of standing between me and Clutch. Their music to give them credit is actually quite bouncy and fun, I just felt at some points as though I waswatching my dad try to become a rock star trying to imitate the on stage traits and antics of the greats such as Angus Young but not quite pulling it off, at all. It wasn't cringe worthy per say just not exactly the most thrilling of acts on the bill, a little too old school.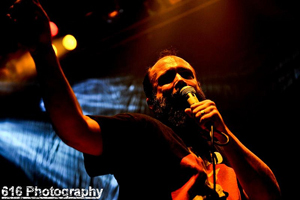 Clutch for me quite simply topped every single band tonight, not even for the usual insanity at gigs because Clutch aren't and never will be an aggressive band, but Neil Fallon and co finally get some reaction from this now appropriate sized audience. I must say I think Fallon wanted to enjoy both the performer and audience roles by which I mean when he had nothing to do he'd stand to the side dancing, clapping and admiring his fellow band mates. Their set list changes with every show but tonight's inclusions of particularly "50,000 Unstoppable Watts", "Cypress Grove" , "Mice & God's" and especially set closer "Electric Worry" we're all performed with flawlessly. That's another dose of Clutch taken and I pray to God they come back for festivals.


Thin Lizzy had me in 2 minds, 1 hell yeah I'd like to see Thin Lizzy but on the other hand it's not really been Thin Lizzy for a damn while now has it? Never the less I was assured that the vocalist with them – Ricky Warwick – was a very impressive talent, I was not let down. An impressive youthful stamp on genuine classics makes for a nostalgic yet fresh sound; it's quite surreal in all honesty. The set was quite lengthy playing a total of 18 songs including some of their greatest; "The Boys Are Back In Town", "Jailbreak", "Whiskey In The Jar" and a terrific encore of "Emerald", "Black Rose and a cover of Bob Seger's "Rosalie". Their stage show was also pretty outstanding, lights projecting their logo all around the venue, their name in lights at the back of the stage and a zillion more lights arranged for optimum impact. All in all seeing the younger lads bringing some energy and the older legends providing the "oh my God it's Thin Lizzy" factor its safe for me to say they had the best of both worlds tonight.

Trigger Finger – 3.5/5
Clutch – 5/5
Thin Lizzy – 4.5/5

Review By James Webb
Photos By Robert Lawrence