The Defenders OF The Faith III
Trivium, In Flames, Ghost, Rise To Remain, Insense
Wolverhampton, Civic Hall
2nd December 2011

Trivium In Flames Ghost Rise To Remain Insense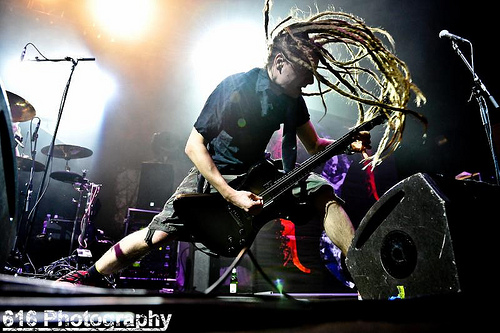 Insense have decided to play a game of musical microphones tonight, the number of microphones actually exceeds the number of band members present. 5 of the damn things are spread across the stage; there are only 4 members 1 of which that actually sings, the other 2 provide from what I can tell random crying at points. Maybe an attempt to not be rooted to a specific spot due to vocal duties is the reason here but I personally found the whole thing rather confusing, especially when various members collided trying to get to certain microphones. Now there's progressive metal and then there's a confusing mess of chord sequences and timings, that's more like the type of music Incense produce; each song appears to have some really intricate riffs and licks but they're surrounded by parts that just don't compliment them.


Rise to Remain are the most energetic of all 3 support acts. I feel this is due to their youth and excitement at touring with such prestigious metal acts, I know for a fact they are giving it their all tonight as when I spoke to the lads a month ago they said they had to really put their stamp on the night due to amount of acts they had to contend with. After I struggled to come to terms with Incense (and later would feel the same with Ghost) it's a great feeling to have a familiar British band on the line up at this point. Lead vocalist Austin Dickinson bounces around the stage with his fellow band mates following his lead, these lads have really matured as performers since I first saw them perform and they've found their own way of going about it rather than mimicking the greats. Aggressive music is hard to deliver any other way than aggressively, Rise to Remain try to deliver other aspects by having a laugh and giving a broader range of emotion into their performance. That part was great, again however whilst Austin's voice is getting better and better with each tour, tonight it wasn't as good as you would expect on such a large tour. There were a couple of mistakes in the guitar department also but nothing major, I just feel they've still got a fair way to go yet.


Ghost managed to entertain me for a while but not very long, their gimmick is really unusually and quite sinister but due to the nature of it, they are restricted by what they can actually do on-stage. Their dark natured on stage outfits hide their identities but their vocalist's outfit is so flamboyant that he is limited to what movements he can physically make. Regardless of that they fully embrace the characteristics of their personas and stick with it through to the end. After a while however the slow satanic material starts to become a bit boring standing against all the other acts on this tour and their performance suffers the same fate. Don't get me wrong they played their songs flawlessly but it takes more than that to create the ultimate live experience, I just feel when you're on a tour out of your comfort zone you desperately need to push the boundaries.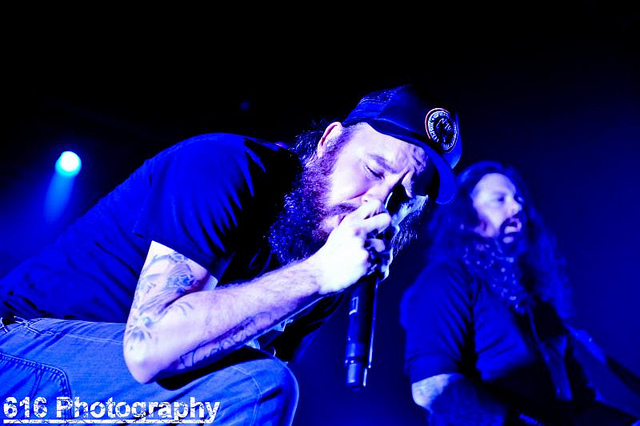 In Flames were one of the bands back when I first started listening to metal that were one of the biggest names in the business that cropped up everywhere. With a string of incredible albums under their belt already, the release of "A Sense of Purpose" and their latest effort "Sound's of a Playground Fading" were really quite disappointing with their lighter approach. This has caused interest in the band to begin dropping since 2008, tonight with a set that's built of a lot of newer material this was never going to be the best set they've ever given. One thing that did impress me though is their crowd interaction, before now it's been near enough none existent but tonight was a step in the right direction, "We want you to stand still for this next song, and pretend it's really boring. Yeah, not really let's see this place get chaotic". This is followed by my favourite song of the night "Only For The Weak" which was a really unexpected yet brilliant surprise. After the usual closers "Cloud Connected" and "Take This Life" the band departs leaving me and I'm sure many others with rekindled interest in their music.


Trivium finally take to the stage to conclude a strange and interesting night in Wolverhampton's Civic Hall. After the huge range of acts have given varied performances already this evening, Trivium have to really pull something out of the bag to make their presence felt tonight. This was clearly very apparent to them as they give quite frankly the best performance of the night; where the other acts went wrong, Trivium have succeeded. Striding out to their intro track "Capsizing the Sea's", the band drops the first few notes of "In Waves" and Armageddon ensues. There set is filled mostly with tracks from their critically acclaimed "Ascendancy" album, including beautiful surprises in "Departure" and "The Deceived". Tonight is the first time I've ever seen a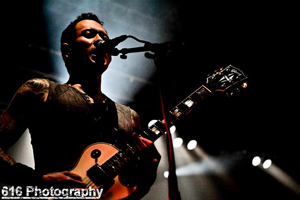 sign that Matt Heafy and the lads slightly regret "The Crusade" album as prior to playing "Ignition" they explain that they don't play tracks from that album but give no reason as to why, but Matt's face said it all. Seeing as Wolverhampton was the very first UK city that the band ever played in, there's a very special bond with the fans here which may be why every spoken word feels very natural, the reaction proves that the crowd reciprocates the feeling. After a few tracks from "Shogun" including the amazing surprise in "Kirisute Gomen", New tracks from "In Waves" and a few more from "Ascendancy", the band leave the stage not to return for an encore, but to be fair Trivium never play encores for some reason. Huge bursts of energy and a well rounded set, no matter how what changes the band undergo with their material, their live set is still as powerful as it's ever been.

Insense – 2.5/5
Rise To Remain 3.5/5
Ghost – 2.5/5
In Flames – 3.5/5
Trivium – 4.5/5

Review By James Webb
Photos By Robert Lawrence