The Swellers
Broadway Calls
Birmingham, Academy 3
5th December 2011

The Swellers Broadway Calls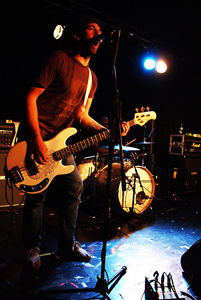 It's a cold dry night here in Birmingham and so I'm glad there is no queue to get inside the nice warm Academy 3. I arrive at the venue before Broadway Calls take to the stage, only to find that the room is less than half empty, now I've been in this room once before and that was for My Passion a year ago, and you could not move for people! It was wall to wall with bodies and I expected more of that tonight!

Broadway Calls or Calling Broadway as it said on the venues stage times, take to the stage and burst into a set of punk rock, it's very fast it's very loud and its fun! The Oregon 3 piece don't really talk to the audience but it doesn't matter, as I'm sure they can come and talk to everyone individually later as it wouldn't take them to long! They blast through a half hour set of rocky tunes with simple heavy riffs and nice harmonies, the drums are thumping and the sound is raw. This is right up my street and the vocals are very similar to Less Than Jake which puts a smile on my face. Myself and the rest of this small audience enjoy their set which hardly leaves you time to relax in between songs.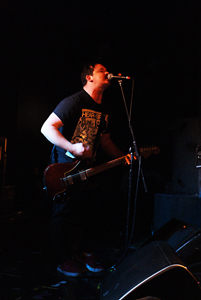 The Swellers, who in case you don't know, are a 4 piece punk rock band from Flint, Michigan. They come out on stage and get everyone to come forward, the once sparse room now turns into a hectic front of room party full of moshing and dancing! Singer Nick Diener tells the crowd why he loves England, "short drives, babe-a-licious babes, handsome dudes, and the weather sucks, but in different ways". He also comments of how great the crowd are tonight "in America people sing along but don't know the words, it's like they're eating water melons, but here you know them all! Thank you". The band kick into my personal favourite, Fire Away, the sound is really loud, deafening even, but the band comes across clearly. The bass flows freely and the guitar runs smooth into these punky tunes with a bit of pop drilled in.

This is their first proper headline tour, and I thought with endorsements from bands such as Paramore and Motion City Soundtrack people would be flocking, their videos are always on Kerrang and they've supported bands over here quite heavily in the last year.
They're also on Pet Wentz's label "Fueled by Ramen" and yet there playing to a half full Academy 3 and not to a full Academy 2! I mean, I know allot of people say how they remember seeing huge bands in small venues, but those venues are small and a full, they're not half full.

This is a band who are jumpy and pumped full of energy, they're really good fun, if more people where at this gig, it would have been awesome but the atmosphere just isn't there, people don' t fully let themselves go if people might be watching them. So next time around get your arses down and see this great band, that is keeping punk flowing through to the next stage! I have no doubt that this band will be huge, so don't miss out on seeing them rise to fame!

Broadway Calls – 3/5
The Swellers – 4/5

Review By James Daly