Electric Six
Swound!
Bristol, Academy
6th December 2011

Electric Six Swound!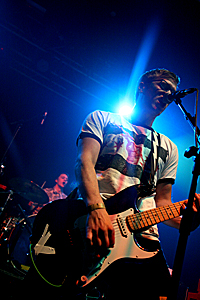 I got confirmation on tonight's show 20 minutes before doors were due to open so I grabbed my camera and took the hour drive to Bristol to make it in time for the support act Swound!.

When I got to the venue I was shocked at how empty it was there was only about 60 people so I went and spoke to one of the bouncers who informed me that only 376 tickets had sold in advanced which was pretty bad considering that the venue can hold up to 1800 people at any one time.

Luckily just as swound! took to the stage at 8.30pm the venue was starting to fill up a little bit more, the members of Swound! took to the stage one by one in their own random way appearing from different locations and they wasted no time at all blasting off into their Weezer-esque nerd rock.

Swound! are made up of 4 brothers and hail from Nottingham and tonight they proved that they are the full package, they played a 30minute set and each and every track that they played sounded solid and there certainly were no fillers in tonight's set, there were a few mindless hecklers at the back of the venue shouting out "Your shit, get off", but Swound! dealt with this extremely well by totally ignoring it and rocking out instead.


In between songs the band interacted with the crowd a lot and even got the crowd mega excited when they threw a Freddo and Kinder Surprise into the crowd as presents, the main highlights of the set were when they played their current single 'In My Head' and also the closing track 'Into The Sea' which saw the guitarist leave the stage and take a tour around the venue posing for fan photos whilst knocking out some great riffs, whilst a breathtaking drum solo brought the set to an end.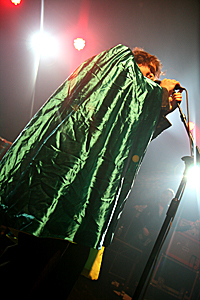 Electric Six took to the stage 30minutes later and the great thing about Electric Six is looking at them you would think that 6 randoms just got brought off the street to perform tonight as looking at the band members you really wouldn't associate them together but that is just part of the comical charm that is Electric Six.

They managed to play 18 tracks tonight and it was the legendary singles 'High Voltage' and 'Gay Bar' which really got the venue moving, yet eyes were on Dick Valentine for the whole set as he is one unusual front man who even dropped to the floor and did 10 press ups during 'Hello! I See You' and returned to his vocals seconds later with no breath taken out of him, and in between songs he had a lot of banter with the crowd which mainly consisted of a comical political theme.

The only downside of the show was seeing how empty the Academy was tonight, when Electric Six released 'Gay Bar' back in 2003 they were selling out venues this size so it was slightly disappointing knowing that they couldn't even sell a quarter of tickets this time around but then again Christmas is on the horizon and yet another recession which could be a small factor of tonight's poor attendance..


Overall despite the poor turn out tonight was a great night, Swound! showed positive signs of a band who we will be hearing from a lot more in the future, whilst Electric Six brought a massive party atmosphere to the Academy for an just over an hour and by the end it looked like everyone left the venue with a massive smile on their face.

Swound 4/5
Electric Six 4/5

Review By Trigger