Every time I Die
Trash Talk, Defeater, Spycatcher
Birmingham O2 Academy 2
3rd December 2011

Every Time I Die Trash Talk Defeater Spycatcher

Spycatcher are a 5 piece rock band, there not all that bad, I think the singer is trying too hard to be Dave Grohl as he sings a bit like him at time, their music is pretty catchy and lively playing it a bit safe I'd say, it's not bad but it's nothing new either, the guitar work is pretty good some decent riffs and he drumming is fairly solid, they seem relaxed up on stage and do move about a bit which is nice to see, it's a shame the crowd isn't showing signs of life, Also interesting is the vocalist picking up a guitar from a song, they do enough in their short set to leave a solid account of themselves, and maybe win a few of the crowd over.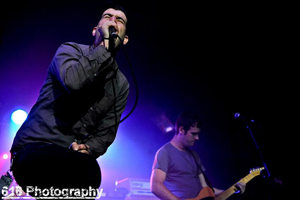 Defeater are up next with their particular brand of hardcore punk, and oddly they open with the vocalist playing an acoustic guitar and signing on his own, not exactly the electro start I was hoping for, it was a good song by a bit of an damp towel to start there set with. Any way after a song and a half there set finally came to life, their songs aren't all that bad but again nothing really original about what the band is doing, it's mostly by the numbers fast noisy with screamed/clean vocals, and distorted/clean guitar, there is a bit of variety in the guitar sound as one song is mostly clean guitars but other than that it feels mostly by the numbers, it's not bad but it's not exactly attention grabbing either but at least the crowd seem more awake than last time and they seem to have a few fans here tonight to sing along to a few of their songs.


Trash Talk are the main support tonight, their another hardcore punk band, there more doom noise merchants if you ask me, it's lively and exciting to watch but the music is like having teeth extracted, not exactly the most listenable of bands of I'm honest, there's a song in there somewhere but a lot of the songs sound the same, same guitar tone just doomy and noisy in fact most of the songs sound the same, which makes it boring the vocal are shockingly bad, and the band take turns in getting right in the crowds faces, good see but the music could be so much more with the sort of aggression their giving.


Every Time I Die are the final punk rock band of the night, their sound is somewhat heavier with a slight southern sound to the guitar tone, I'll be honest while there exciting to watch their a bit of a Nightmare to shoot and their opening songs apocalypse now and then, bored stiff and ebolarama, while lively and really getting the crowd going I don't really find the songs that engaging, I enjoy he change of guitar sound from the previous bands but the songs I just don't find all that interesting. The performance is pretty good there a tight band to say he least while still going nuts on stage, the guitar work while good not all that exciting nothing really grabbing my attention, but the crowd are loving every hot sweaty minute of it. They continue with the likes of no son of mine, marvellous slut, she's my Rushmore. I have to say the set does get somewhat better, how could it not I guess it's a case of going with it even if it isn't my cup o tea. Overall after a bit of an indifferent start but it ended strongly, not bad I think with maybe playing a few different songs to what they played could have been much better.

Spycatcher 3/5
Defeater 3/5
Trash Talk 2/5
Every Time I Die 4/5

Review By Robert Lawrence