Textures
The Ocean
Aliases
Birmingham o2 Academy 2
1st December 2011


Textures The Ocean Aliases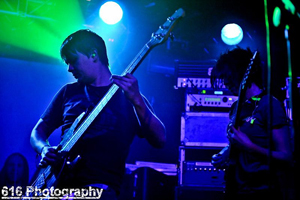 I can't stress how underwhelming the crowd in the academy 2 is tonight, there must be about 50 people here.

Aliases are I think there a progressive metal band, but the first song is pretty much all over the place so much so it sounds as if there just making up on the spot it's that disjointed, which I'm sure is the point, the main vocalist seems at times looks disinterested he's still giving it some welly mind you with his shouted lyrics, the others members are all technically proficient but it just sounds noisy convoluted and mess like at times, they have a few melodic moments but it's just sounds really boring to me, there are people here that seem to be into it and I'm guessing textures are the same sort of band as there supports if this is the case then I'm in for a bit of a boring night as I'm not interested in hearing 3 bands that all sound the same.


So this is the third time I'm reviewing the ocean, and I'm running out of things to say at how proficient this band is, they have both their heavier metal moments and the quieter melodic proggy moments it's all really good and very listenable on the most part, the vocals still grind my gears a bit, the music its self still very variable and enjoyable, their still a Solid tight band, they really give it some at times it can be like watching Dr Jekyll and Mr Hyde, they switch without notice being calm then thrashing about then going calm again, I'm sure they make some of this up on the spot with the changes, there's a video playing behind them I'm not sure if there providing a soundtrack. To it but it's interesting to watch none the less, as they play in mostly darkness you may as well watch the silhouettes thrash about or watch the footage behind them, it's a good performance tonight.


It's my first time seeing and hearing textures tonight and the crowd for them hasn't Increased at all, it's more progressive metal and at times there more progressive than metal then completely the opposite. The constant guitar tone is kind of boring, sometimes the signs are pretty decent and others there rather boring they open their set with an instrumental, then the singer comes on with his growled vocals, there alright nothing too spectacular here folks. They have some decent head banging moments then ruin it a tad with picking up the paced, the songs fluctuate between being catchy and just death/groove metal, they got a good mix in there but sometimes it doesn't work and it's a bit too much. Overall I'm not sure what to make of this band there are aspects that I like and others I'm clearly not a fan of such as the vocals or varying style or that guitar tone. Perhaps a second viewing will make my mind up I unlike them or not, but there not quite the ocean, who really stole tonight's show with a decent performance. 3/5

Aliases 2/5
The Ocean 4/5
Textures 3/5

Review By Robert Lawrence