Incubus
Fin.
Cardiff, Motorpoint Arena
5th November 2011

Incubus Fin.

After many setbacks with tickets and guestlists I headed off to the Cardiff Motorpoint Arena this evening to check out Incubus on their first arena tour in many years expecting to be turned away but the staff at the Motorpoint Arena were super efficient and sorted everything out in seconds which meant I was able to review and photograph the show.

When I first got into the venue I was shocked at how empty it was, the venue holds 7500 people when it is at maximum capacity but I would be surprised if there were more than 2500 people in attendance tonight.


The support band tonight were long running English indie band Fin. And from the crowd response and their lacklustre performance I am pretty sure that tonight's slot did not gain them one extra fan, they took to the stage and started off playing really mellow rock and even when the song got going with the chorus it was still real easy listening. Instrumentally Fin. Know what they are doing but creativity is where they are lacking as there was nothing from there set that stood out tonight and the further back you were in the venue the worse they sounded.


After a 30minute break the five piece that are Incubus took to the stage and situated behind them was a massive screen which featured live filming of the night and many different mini movies and bright swirling lights and objects. Incubus didn't hold back and blasted straight into their heaviest song 'Megalomaniac', this got the crowd moving at a frantic pace and from that moment you just knew that the night ahead was going to be fun.


Brandon Boyd and co smashed through a great variety of songs such as 'Wish You Were Here', 'Promises Promises', 'Pardon Me', 'Vitamin', 'Switchblade' and many others but it was the classic sing-a-long 'Drive' and more heavy 'Nice To Know You' which really got the crowd going tonight.

When 'Drive' came on everyone edged that little bit closer to the stage and Brandon even had a little bit of time to rest his vocals whilst the energetic crowd took over singing the chorus each and every time, whilst 'Nice To Know You' got the pit moving and had everyone singing along for the last time before the encore.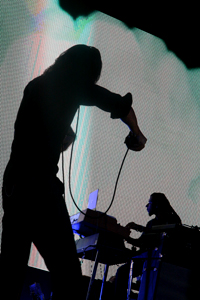 The encore featured 'A Certain Shade Of Green' and latest album closer 'Tomorrow's Food' which happens to be one of the most mellow tracks that Incubus have ever written, as the band played through it the screen was full of different occurrences in the world such as corn growing, explosions etc.

Incubus are a band who throughout the years have gathered a very diverse collection of songs, you have the more heavy songs such as 'Megalomanic' and 'Nice To Know You', the sing-a-long moments like 'Drive', the more mellow moments like 'Thieves' and 'Tomorrow's Food' and then the stoner rock moments like 'Nebula' and 'Vitamin' and I think this is what make's Incubus shows exciting but at the same time not for everyone.

There was no interaction with the crowd tonight but when you have such an extensive back catalogue as Incubus do then you can let the music do the talking and that is exactly what they did.

Fin. 2/5
Incubus 4/5

Review By Trigger