Bowling For Soup
Suburbon Legends, Orange
Birmingham Academy
16th October 2011

Bowling For Soup Suburbon Legends Orange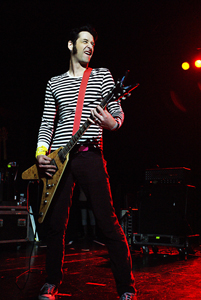 Orange were not at all what I expected, I was under the impression the band were going to put on quite an interesting feel good show but instead what I witnessed was poor to say the least. I know it's not looks that make a show but the aesthetic of it was speaking louder than words; lead vocalist Joe Dexter could not possibly look more like My Chemical Romance vocalist Gerard Way unless he literally had his face transplanted, he was dressed the same, had the same colour hair and his vocals (although his were flat most of the time) had the same whiney style associated with MCR. Not only that but the set was full of gimmicks; don't get me wrong I'm normally a sucker for that and really enjoy them but what these guys were doing was just plain cringe worthy. Silly hats, ridiculously oversized glasses and a blend of stale pop punk, whilst some of the audience may be young they aren't 4 years old. Some people genuinely seemed to enjoy it but I was thoroughly disappointed.


Suburban Legends are the only band on tonight's bill for which I had no expectations of; I had no idea what style of music they play, no idea what they looked like and I was absolutely blown away. They may have had choreographed dance moves which I heard bitchy little comments about from people wearing Iron Maiden t-shirts next to me but in my opinion that really gave them an edge alongside all the other theatrics. Their sound is a blend of ska and pop punk if you can imagine the combination; they have a trumpet and a trombone player who are the main culprits alongside lead vocalist Vincent Walker who bring make it really theatrical with the dancing and general antics. Some of the covers they do caught me completely off guard and were just plain awesome; Lion King's "I Just Can't Wait To Be King", Youtube Sensation "Bed Intruder Song" and then "We are the Champions" by Queen which all go down a storm. Each member has their own persona in the band; Guitarist Brian Klemm embraces the hard rock attitude, bassist Brad Polidori has got this whole funk thing going on, Vincent Walker with his brass accomplices are the funny guys whilst the drummer gets his ska on. Hands down, these guys have been one of the most entertaining bands I have ever seen in my life, any time the band returns I will definitely be there I guarantee it.


Bowling for Soup have stated that the aim of these UK shows is to play all of the songs they have released as singles in their career. It is no secret that the band's live shows are extremely unpredictable and ridiculously hilarious; tonight is far from an exception although they didn't stick inflatable cocks in inflatable sheep. They've had a bar built and it has been placed on stage with some very lucky fans having the privilege of drinking there for the duration of the show, not only fans but the support bands and crew randomly turn up at this bar and spark a lot of humorous moments. The main event to mention however is that vocalist Jaret Reddick has allowed a fan to propose to his girlfriend onstage with her having no idea what was going on, it was a really beautiful moment which of course was a 5 minute point of interest for the band to spout humour about encouraging Chris to propose to a member of the audience, naked. That is the essence of Bowling for Soup, an hour and a half of immature jokes about vagina's and ball's with some really lively punk rock music to accompany it, whether your 14 or 34 it's good to have a night where age is irrelevant and you can feel like you're young for a couple hours. Amazing set filled with songs like "Punk Rock 101", "Almost", "High School Never Ends", "Ohio (Come Back to Texas)" along with a couple of covers;"Summer of '69" by Bryan Adams, "Staceys Mom" by Fountains of Wayne and of course their most famous cover "1985" by SR-71. every song is amazing, really tight and well performed and once they left the stage my favourite moment from the show happened during their encore; Jaret returned saying "Chris just asked if we should come out and play 1 more song, I said that I didn't think we had any more singles left to play, he just looked at me and said I think you forgot about a pretty big one, it goes a little something like this" and there it was, the best song of the night " Girl All The Bad Guys Want", I felt like I was 16 all over again I haven't smiled like that in a long time.

Orange – 2/5
Suburban Legends – 5/5
Bowling For Soup – 5/5

Review By James Webb
Photos By James Daly