Evile
The Rotted, Warlord UK, Morgue Orgy
Birmingham The Asylum
30th September 2011

Evile The Rotted Warlord UK Morque Orgy

Morgue orgy are first on stage, a great name I have to say, the music however drifts between heavy, catchy and head bang worthy to heavy and noisy, the vocals are
Death metal vocals, which while obviously suiting the music, to me is just annoying and rubbish, many will disagree. The one surprise is the keyboards going for a gothic sort of sound, there not bad, and adds a much needed layer to distract me from the vocals. The guitar work is pretty good and the guitarists and bass player even spare a little time while playing to pull faces at the camera. There a lively sort of bunch but with little room to move about on due to the amount of gear on stage. It's a real mixed performance music wise, with good parts and bad which it fluctuates between regularly.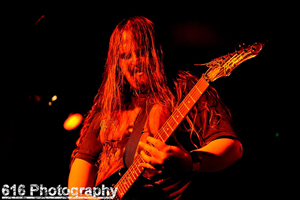 Warlord UK are the second band of the night, there a band I have seen before. The performance tonight is probably on par when they supported napalm death last year, but not sounding as good, probably just down to the PA. The guitar work is still very proficient as is the drumming, I'm still not a fan of the death metal vocals, but that should surprise no one by now. The music being melodic and thrashy is good to listen to at times while getting messy at others. They played angel of death at the end of their set, its good, it's not slayer but still good. It's a solid performance tonight.


The Rotted are the main support tonight another band I saw last year at the napalm death gig. There more of a thrashy punky sort of band. The vocals are more growly and squealing that alternate between the two. The music isn't really all that palatable at times verging on just noise on the most part, the band just going at it as fast as possible which is fine but it doesn't really grab my attention if anything it makes me want to ignore it if anything, leaving it a hard task to pick out positive points and review them. The slower parts are easier to listen to but only just the crowd for the rotted has thinned out after warlord UK had been on, which says there's not too many fans in the house tonight, even between songs there's no cheer from anyone when a songs announced, it's an average set by an average metal band.


Evile, an 80s thrash metal sounding band, my sort of music, they really are head and shoulders above the rest of the bands on display. I have to say there newer material is easily as good as some of their older stuff, catchy heavy really easy to listen to and head bang along too, and the vocals, finally clean vocals, evile my vocal saviours! This band really should be bigger than they are, it's a shame they wasn't about in the 80s, or they would be huge now I'm sure. I'm thoroughly enjoying the likes of five serpent teeth, killer from the
deep, who are about to die (what a tune) Cult a new tune, it's pretty damn awesome, a proper head banger. The crowd finally showed proper signs of life as soon as evile started. Its' not as hot in the venue as I was expecting, thankfully! Thrasher, decent in to madness, infected nation and long live new flesh are other set highs, especially thrasher, it's awesome.

They close their short set with armoured assault, great way to finish an excellent set after seeing some average bands tonight, evile finally got me out of the funk I was in since the first band came on, and topped off what would have been an also ran night.

Morgue Orgy 3/5
Warlord UK 3/5
The Rotted 2/5
Evile 5/5

Review By Robert Lawrence