New Found Glory
Fight Like Apes, Save Your Breath
Birmingham, Academy 2
21st August 2011

New Found Glory Fight Like Apes Save Your Breath

Tonight I get to see a band that I've always wanted to see, but have never gotten round too. You know how it goes, you like the songs, you check out the tour dates but you never actually get a ticket, and if you do something comes up. This was that band for me, they've been around for over 12 years and they've played Reading and Leeds Festivals on numerous occasions and yet they still managed to evade me. Well tonight is different, I'm outside the Academy and I'm ready for some pop punk, the thing is, it's not at the Academy, it's at the Academy 2. Luckily it's the same building so I head inside and check out the first support Save Your Breath

These Welsh punkers play a good set of fast old school punk, and by old shook I don't mean oi oi punk, I mean old school Greenday and Offspring with a twist of heavy breakdowns to make it sound more new and fresh. The are 5 members, and unfortunately the sound isn't great in the mix, but I'm sure they sound good on CD but at least the backing vocals are great, which add to the poppy New Found Glory style main vocals! The band goes down well and NFG's Jordan watches a few songs from the side of the stage, I say the crowd are getting pretty warmed up and are ready for more of the same, but the next band isn't going to do that.


Fight Like Apes
Are and Irish Electro punk band, you could say very Yeah Yeah Yeahs in style but allot more experimental. They start off with a weird and wonderful collection of noise, with random hits of the keyboard and the occasional shout that is definitely punk in its nature but it takes the crowd by surprise. They play a small set of songs, in which the lyrics are all over the place, and don't tend to make the most sense, but they convey themselves through the music and stage presence with hair and body's going everywhere. I'm not sure the crowd gets it, but I do and I love it! It's different and reminds me of the Epoxies who are signed to Fat Wreck Chords. There's definitely a gap in the market for this style but maybe not supporting New Found Glory. On a plus note there set is short and so leaves allot of time for the main act!

New Found Glory
The Florida pop punkers kick straight into a 23 song set covering all 7 albums including a few covers! They start off the set with the amazing Understatement and the pace for the next hour and a half is set, fast punk songs that get the crowd and the band moving! They sound great, the mix is good and at one point in the set bassist Ian plays that hard that he messes up his bass and has to switch it out. I was confused when I arrived, why are New Found Glory, one of the best pop punk bands ever, playing the Academy 2? And half way into the set guitarist and Paramore lover, Chad Gilbert, tells us "We wanted to play some smaller venues as we miss playing to rooms with an atmosphere, we love big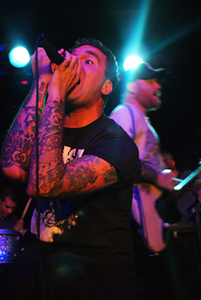 stages but you just don't get the same feeling you do when you play to a smaller crowd of dedicated fans". It makes sense, this band has played the world over, and to play to a smaller crowd than the norm, it makes the fans that are there feel special too, as they're part of only a few hundred who get to see such a great gig. They play all the classics to perfection, including; All Downhill From Here, Kiss Me, Failures Not Flattering, Dressed To Kill Hit or Miss and ending with My Friends Over You. They even play the newest single Radiosurgery and give the Birmingham fans a treat when they play Boy Crazy due to chants instead of Better Off Dead. This band love they're fans and they love they're music, Chad tells the audience "I'm sick of people hating on pop punk, they think it's a bad name to have, but we love it, it's what we do and we know you love it to! So here's to all the pop punkers out there!".

Overall tonight's been a great! With some interesting support bands and a long set of classic New Found Glory songs no-one is walking away disappointed. I'm happy that I've seen New Found Glory, but at the same time I'm annoyed, annoyed due to the fact I never checked them out live before!

New Found Glory 4.5/5
Fight Like Apes 2.5/5
Save Your Breath 3/5

Review By James Daly