Taking Back Sunday
The New Regime
The Xcerts
Birmingham HMV Institute
1st September 2011

Taking Back Sunday The New Regime The Xcerts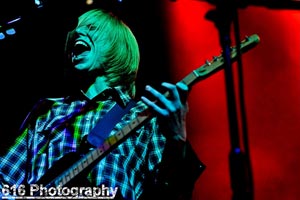 The xcerts are the first band up, an alt rock band, right from the off it's all very middle of the road stuff' they seem to have tried and made their songs disjointed but I don't think it works very well it's just messy and not very catchy. They don't seem all that active on stage, they don't exude much presence, all the songs seem to follow the same path soft part heavy part followed by distorted vocals at the end, its overused and it's all bit boring if I'm honest. Song highlights are few and very far apart. The crowd reaction was muted to say the least they were about excited to be here as the band are. All very life less, a less than Steller performance.


The New Regime are the main supports there a band I don't know much about, I hadn't heard of them before other than that Ilan Rubin, He was drummer for lostprophets and NIN a few years back, he plays all the instruments himself on the studio albums. The opening song reminded me very much of audioslave, and to be honest I think they sort of continue in that vein, it's defiantly alt rock, it's pretty good, they got a bit of synth in there, some keys too. Surprisingly he can sing too and it's good not just shouting. There are a fair few decent attention holding songs in the set, it wouldn't surprise me if he went for a more synth/electronic sound in the future. There set is too short for my liking, I'd say the last song is pretty damn good and probably the best song of the set high energy and catchy, got an really good main riff, the song seems to want to break out in anarchy in places before the band reels it back in. Crowd reaction is better than the openers which isn't surprising as the band are more up for it, they're having a good time, it's good to see after a drab xcerts set.


Taking back Sunday is a band I've been curious about from time to time but I've never really listened to them, so tonight should be interesting. They get off to a fairly good start with EL Paso, Make Damn Sure and You know how I do but it drops off a tad with Liar, picks back up with Faith, but nothing so far sounds even remotely familiar. The singer Adam spends about too much time blathering on in between songs which they probably could have fit in a few more songs. For all the band members on stage I was expecting a more complex sound, I'm sure they could make the same music with less members, but at least there all really feeling the music and putting on a good energetic performance.180 by Summer, Error Operator Timberwolves at New Jersey, Existentialism on prom night, what's it feels like to be a ghost and A decade under the influence are the main highs of the set for me pretty catchy songs all-round, A decade under the influence is a real stormer of a song plenty to sing along too. The rest of the set was ok but nothing really grabbed me, this included the likes of Your so last summer You got me and set closer, Cute without the 'E' The Encore consists of just one song No I in team, a fine way to finish the set. Does this make me want to go out and buy their records, maybe a best of, but that's about it. It was a good performance and worth seeing again once I get into the songs a bit more but everyone involved had a good time, which is the most important thing.

The Xcerts 2/5
The New Regime 4/5
Taking Back Sunday 5/5

Review By Robert Lawrence