Sonisphere Festival 2011
Knebworth Park, Stevenage
8th - 10th July 2011

Sonisphere Festival has returned to Knebworth Park for its third year this year and this year was the biggest line up the festival have had to date with the big 4 taking to the main stage on the Friday, Biffy Clyro headlining the Saturday and the amazing Slipknot closing the festival on the Sunday and it also happens to be the first year that Sonisphere has sold out and it is no wonder why considering the mighty line-up they had across the whole weekend.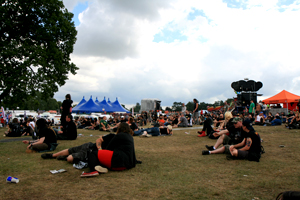 Friday
Diamond Head [4/5] open up the main stage on the biggest day of this festival, the first ever UK Big 4 show. They pull an enormous crowd and get through a 6 track set of punchy old school rock music from the midlands, a great warm up for the big names about to obliterate this festival. Finishing with "Am I Evil?" which has gained huge fame since the big 4 started performing it; it's become a glorious anthem to which thousands of voices echo around the field early on in the day, the best is yet to come children. (JW)


Anthrax [5/5] today are unfortunately missing their guitarist Scott Ian and have Sepultura's guitarist Andreas Kisser to fill in for him, some very big shoes to fill right there but this guy steps up and gets the job done. They smash out 7 beasty thrash metal tracks including "Indians", "Antisocial", "Madhouse" and debut of brand new track "Fight 'Em Till You Can't" which goes down really well with the fans. Before final song "I Am The Law" Andreas gets a big shout out from singer Joey Belladona thanking him for filling in and plays us a snippet of "Refuse/Resist" which even further energises the audience before playing their last song. It was a great set, still gutted Scott Ian wasn't there but Andreas did an excellent job and the rest of the band still rocked it. (JW)


Megadeth [4/5] are back again! Megadave and his band of some of the finest musicians around (Chris Broderik for a one, Jesus Christ) have got to keep us interested and entertained after the last time they were here; by God they do just that. 12 songs in this set, 12 of the best Megadeth songs ever released including "Peace Sells", "Symphony of Destruction", "A Tout Le Monde", "Hanger 18", "Sweating Bullets" and "Head Crusher" amongst many others. The band debut a new song called "Public Enemy No.1" and it goes down a storm with enormous pits breaking out, people singing along after the first chorus and their mascot Vic Rattlehead walks out on stage and starts pointing at people. Finishing with the one and only "Holy Wars" Megadave has proved after much negative press recently that he can still kill it live and with "Endgame" being such a great album I look forward to Megadeth's future. (JW)


Slayer [4/5] gain the title as Sonisphere 2011's Circle Pit band of the weekend from me; I have never seen chaos before but this was something else. 13 tracks of the purest thrash metal in the world including some of the bands finest tracks; "Diciple", "War Enemble", "Seasons in the Abyss", "South of Heaven" and the final 3 tracks were "Raining Blood", "Black Magic" and the obvious closer "Angel of Death". The band perform well, today guitarist Jeff Hanneman wasn't here due to his condition rendering him unable to play and he was by Exodus's Gary Holt. Considering all the health problems Tom Araya has had not too long ago he was on top form; I think after all the health situations and everything that the band has had to deal with recently this show has seen the band returning to true form. (JW)

Metallica [5/5] are one of the very few legendary bands in the world that I actually haven't ever seen live so the excitement is indescribable. The stage setup is what I expected; their backdrop is a massive screen, podiums and ramps for the band to roam over and masses of fire. They hit the stage and they "Hit the Lights" followed by "Master of Puppets" leaving me in awe with my jaw in the dirt. Busting out the classics like "The Shortest Straw", "Seek & Destroy", "Welcome Home (Sanitarium)", "Ride the Lightning", "The Memory Remains", "Sad But True", "For Whom The Bell Tolls", "Blackened", "Enter Sandman" and only including 1 track from Death Magnetic "All Nightmare Long" so it's a
definite classic set. During "One" it's almost as though world war 3 has erupted on stage with all of the explosions and fireworks cracking all over the place it was Armageddon. I cannot stop smiling even though my legs are in agony and I'm being crippled, I still feel warm in my stomach; I've only felt like this at a show once before, that was Rob Zombie. After 15 songs the band disappear backstage and the roadies get to work bringing out a stupid amount of extra equipment whilst chanting begins; we all know what's coming next. James Hetfield returns to the stage and begins talking when the one and only Dave Mustaine steps out and the pair hug whilst the rest of the bands start emerging including Gary Holt, Andreas Kisser and Diamond Head's guitarist Brian Tatler who actually wrote the song. Once that's finished the James Hetfield encore game begins; taking his guitar on and off to get massive reactions –including Hetfield swallowing a bug - before finally playing us their encore of "Battery" and finishing with "Creeping Death". That's it; no more words to be need be said other than one; perfect. (JW)


Saturday
Richard Cheese & Lounge against the machine [5/5] are possibly the funniest band of the weekend; what a surreal experience to have first thing on a Saturday morning. It's like watching Frank Sinatra but the swearing and obscene lyrics make it hilarious. All of the members are dead serious too! All of the musicians are there rocking out in suits, really getting into what they're doing whilst Richard is busy with getting the stewards and the majority of the audience dancing. The set list was just a thing of beauty; "Closer" by Nine Inch Nails, "People = Shit" by Slipknot, "Nookie" by Limp Bizkit, "Baby Got Back" by Sir Mix-A-Lot, "Enter Sandman" by Metallica, "Creep" by Radiohead, "Down With The Sickness" by Disturbed mixed in amongst others. I have never witnessed anything quite like this before in my life and doubt I ever will again, no matter how much I'd love to. (JW)


Architects [3/5] hit the stage next and whilst I've heard many bad things about the band I've also heard many good things so it's finally time to make my own mind up. You can see front man Sam Carter is on some kind of rush because he's bouncing all over the place and screaming at the crowd everything he expects of them, you always know what to do. They get 7 songs out and play to a decent sized crowd who make the band feel welcome with all the pits and head banging very early on in the day. At some points I do just think to myself Sam please shut up, he keeps going on and on repeating himself and talking really quickly which he just didn't need to do because he did a great job as did the rest of the band, just a small annoyance as all. (JW)


Gallows [4/5] have certain expectations to fill due to all of the crazy things that are written about them in the press and the sheer chaos raged about in their live set; today no such shenanigans like fighting, playing in the crowd or just generally being over the top crazy. Having said that they are full of life and energy I've never seen every member of a band explode around a stage as much as these guys. They get through their set causing one of the biggest circle pits of the weekend matched with their aggressive stage presence but then a bit of a low note; vocalist Frank Carter announces he's leaving Gallows. He only announces this before the last song and encourages people to come to his final shows and to make this last song count which kicks things into a higher gear for the next 4 minutes until the end of the set, crazy stuff but really enjoyable. (JW)

Cavalera Conspiracy [4/5] whack out the thrash metal in the middle of a day that wasn't looking the best for me and I'm eternally grateful. In a 9 song set they only play 5 of their own songs due to Max and Igor Cavalera being the founding members of Sepultura and feel those tracks fit in today's set also, no complaints here; "Refuse/Resist", "Territory" and the finishing track "Roots Bloody Roots". They also play "Cockroaches" by Nailbomb who were Max Cavalera's other side project. Max seems to have 2 levels which are metal and more metal, by which I mean even when he addresses the crowd he just death metal screams at us, the man just never stops! The tracks of their own are pretty brutal too and the today we get new songs "Warlord", "Killing Inside", " Black Ark" and 2 oldies "Sanctuary" and "Inflicted" which finishes their time here for the weekend and I'm grateful for the chance in today's pace it was neccesary. (JW)


Sum 41 [5/5] brought the fun to Sonisphere today and a good 30minutes before they were due to take to the Saturn Stage it was all ready packed out with fans waiting out in anticipation, as soon as Sum 41 took to the stage they were met with huge screams and a highly positive response from the massive crowd and they wasted no time giving the fans what they want as they blasted straight into 'Reason To Believe' which happens to be the opener form their current album 'Screaming Bloody Murder', the set the band played featured a big mix of songs spanning their whole career with 'Walking Disaster', 'Screaming Bloody Murder', 'Fat Lip' and 'In Too Depp' being amongst the highlights, the band also managed to through in some short covers of Metallica 'Masters Of Puppets' and 'Enter Sandman', the crowd were going mental from the start with the biggest yet most random circle pit kicking off in front of us with people doing geeky dances and massive pile on's rather than your average brutal pit antics, after playing 'In Too Deep' Deryck Whibley announced "We have to go now but we are going to give you one more song, fuck them this is for you", they then into 'still Waiting' and a good minute into the song the sound was cut by the jobs worth stage team but this did not stop Whibley and co from carrying on which was met by huge screams from the crowd. (T)


You Me At Six [4/5] had a really unlucky moment to take to the stage as seconds after Sum 41 finished the sky's opened and the rain came down in heavy force but this did not stop You Me At Six from having a good time and trying to brighten up the day for the damp audience. They started off with 'The Consequence' which featured Sam Carter from The Architects take to the stage with the band for an unforgettable performance, the band played songs off both albums with songs like 'Save It For The Bedroom' and 'Kiss and Tell' getting a huge cheer from the fan's whilst more recent tracks 'Liquid Confidence' and 'Underdog' doing it for me more. (T)


All Time Low [4/5]carried on the pop-punk theme of the day back over on the Saturn Stage but just like You Me At Six they had the curse of typical English festival weather where it would totally tip down and then minutes later the rain would stop for it to only start again shortly after, the rain didn't bother All Time Low but they did make fun of the crowd because everyone was hiding under raincoats, ponchos and umbrellas this was until the bad realised they had the best rain cover ever with the protection of the Saturn Stage so this prompted them to enjoy the English rain and take to playing pretty much in with the crowd, the set consisted of Blink 182 immature style sex themed jokes and a massive greatest hits set with 'Damned If I Do Ya (Damned If I Don't)', 'I Feel Like Dancing', 'Lost In Stereo', 'Weightless', 'Dear Maria, Count Me In' and many more songs trying to brighten up the day.
Periphery [5/5] are one of the biggest highlights of my weekend; what tremendous performers and such talent displayed, the vocal range of the singer I thought would never be do-able live but he 100% proved me wrong. "Jetpacks was Yes!" and "Buttersnips" absolutely obliterated the Bohemia tent and even being soaking wet and miserable the band manage to get everyone's spirits up. It's such an experience just seeing people here for the first time who can't head bang in time to it and don't know what to do and when they debut the new track "Face Palm Mute" even the diehard fans aren't sure what to do with themselves but everyone is having a good time which is the main thing. Loads of crowd interaction and loads of songs finishing with my favourite "Icarus Lives!" and I have been waiting for that since download 2010 and it by God was it worth the wait. (T)


Weezer [5/5] were simple the band of the day and one of the best bands of the weekend and they even managed to lift the horrible weather and played through pure sunlight and blue sky's, they took to the stage with Rivers saying a few random hello's to his photographer friends, the security, the noodle wagon, the donut wagon and more importantly the thousands of people waiting out in the damp filed waiting to watch them.
The set that Weezer played was pure amazing it was an hour long set which featured 14 songs and right from the opening track 'Undone – Sweater Song' right up until the last moments of set closer 'Buddy Holly' everyone was having a great time singing-a-long and dancing like mad, the set featured all the classic Weezer song's you would expect such as 'Dope Nose', 'Island In The Sun', 'Beverly Hills', 'Hash Pipe' and the ever so random 'Pork And Beans', but the band also added a few covers in the mix with a stunning cover of Radiohead's 'Paranoid Android' and also a cover of Wheatus 'Teenage Dirtbag' which prompted Rivers to go and do some dad dancing with the crowd and generally have fun, in my eyes 'Buddy Holly' came along to quick as I could of easily stood watching Weezer for another hour. (T)


The Mars Volta [4/5] I have never listened to, but heard lots about. I figured I'd go watch them before Gojira. So here I am and on they come; now I was expecting a strange show but this was something else, the vocalist had a table with a kettle and cups on it with which he proceeds to make tea during the show. At one point the vocalist rips the barrier from the back of the stage uses it as a xylophone with his mic before throwing it off the stage; absolutely nuts, after that it seems to calm down a bit. They get a large set but because of the sheer length of their material they only manage to fit 10 songs in. Very charismatic group of guys are The Mars Volta; the drummer never stops smiling even whilst sweat floods from his face, the guitarists hat manages to stay on somehow as he lunges around and the singer is always doing some form of strange dancing and trying to climb under the stage or other odd things. I'll be honest I'm glad I witnessed this se even though I'm not really a fan to be honest, these guys are nuts. (JW)


Rival Sons [4/5] are an upcoming rock band who have recently signed to Earache Records and are soon to head out on the road supporting Judas Priest and they certainly brought the noise to the Jagermeister stage tonight and proved that they are worthy of the Judas Priest support slot and have the potential to make a good name for themselves. The band played a good 30 minute bluesy rock and roll set and frontman Jay Buchanan really stole the show tonight with his retro rock and roll vocals, the set consisted of 'Gypsy Heart', 'Burn Down Los Angeles', ' Pressure And Time', 'Get What's Coming' and a couple of others and throughout they managed to keep the positive pace with 'Burn Down Los Angeles' being the stand out track for me. (T)

Gojira [5/5] annihilate that tent! Quite literally, the tent is that full security has to physically stop people from entering; this causes riots, people storm security, smash barriers over and tackle personnel over and then there's me in the middle of this madness and the band has only played 3 notes of "Ocean Planet"! It doesn't stop there; having watched the first 3 songs from the front row of the barrier on the outside, when I finally get in there are only 4 songs left and the head bangers are out in force and the pits are fierce further forward with the fans getting involved, somebody even brought an inflatable whale and its now being batted around the tent (for the song "Flying Whales"). The last 2 tracks just own the set for me, "The Heaviest Matter of the Universe" and "Vacuity" are just the perfect closers to one of the heaviest sets of the entire festival; hair is flying everywhere, everything is vibrating, people are screaming and those pits look even more painful that they did to start with, brilliant! (JW)


'Saint Jude' [3/5] were up next on the Jagermiester stage and from the off they really reminded me of Led Zeppelin with their whole bluesy classic rock vibe but they really did fail to fully catch my attention, the whole time the front lady Lynne Jackaman had a tambourine dangling from her arm like it was permanent attachment to her but saying that she did use it quite often and she really rocked the field with her soulful vocals, the highlight of the set was 'Soul On Fire' which really does show off the full classic rock potential of Saint Jude. (T)

Back over on the Apollo stage it was time for Biffy Clyro's [3/5] headline slot and after seeing them totally rock Milton Kynes Bowl a week previously supporting the Foo Fighters I was quite looking forward to Biffy, the took to the stage and opened with 'The Captain' which was pretty epic but from that moment for me things started to downhill as throughout the 23 song set that Biffy played at Sonisphere the majority of those tracks came across as fillers unlike their short Foo Fighter support slot where each song was a killer.


Biffy still came across like champions with their positive stage presence and when tracks like 'God And Satan', ' That Golden Rule', 'Many Of Horror', 'Mountains', 'Bubbles', 'Saturday Superhouse' and ' Who's Got A Match' were played everyone was having a great time dancing around like lunatics and it was also surprising to see how much of a big gathering Biffy got tonight considering that it was the quieter day of the weekend. (T)

Back over on the Jagermeister stage the Black Spiders [4/5] were ready to show Sonisphere what rock and roll is all about and they did just that with an extremely heavy and energetic short set which started with everyone's favourite chant along rock track 'Kiss Tried To Kill Me', the song went down a storm with the crowd rocking out with devil horns in the front and people behind tossing their beer up in the air like it was a new Olympic sports. After seeing the Black Spiders tear the Jagermeister stage a new one tonight you realise that it is only a matter of time before these guys move away from the smaller stages and work their way up the second and main stage in the near future. (T)


Sunday
Black Tide [2/5] are the first band on Sunday for me and also the most disappointing band of the entire weekend. When I first got into the band they had their amazing first album "Light From Above" out and were supporting Avenged Sevenfold. Lead singer Gabriel Garcia was 15 at the time and now 3 years have passed and he's cut his hair short, stretched his ears to a stupid size and covered himself in tattoo's; he's seemed to adapt to the modern scene and the bands music's followed suit. Sounding less like really riffy heavy rock and more like a rip off of Bullet for my Valentine combined with a rip off of Avenged Sevenfold combined. Their set contains mostly new unheard material with one song from their first album "Warriors of Time" before leaving on a bit of a poor note, what a bitter disappointment. (JW)


Arch Enemy [5/5] don't really have much of a challenge to follow what I've just witnessed, however they do have to put some effort in to win me back over and with their amazing new album "Khaos Leigons" they should have no problem. This early on in the day they only have time for 6 songs which include 2 from the new album ("Yesterday is Dead and Gone" & "No Gods, No Masters"), 1 from Wages of Sin ("Ravenous"), 1 from Anthems of Rebellion ("We Will Rise"), 1 from Rise of the Tyrant ("Revolution Begins") and from one Doomsday Machine ("Nemesis"). Only songs from the most recent 5 albums but that's really what they need to promote. Angela Gossow's vocals are just tremendous and pitch perfect and the pace is always kept up and heavy as opposed to previous shows. It's also great that Angela has definitely blossomed as a front woman now that the whole woman death metal singer novelty has worn off; she's become a terrific front for this band and really takes control of the audience. They've definitely won me back today and if another UK tour arises I'll be on that straight away. [JW]


The awesome House Of Pain [4/5] have been away from the music scene for far too long and from the moment they took to the stage the gathering of people was massive and the crowd was buzzing jumping up and down to the old skool hip-hop sounds of Everlast and co, the band played an intresting 30minute set but it was the classic 'Jump Around' which everyone was waiting for and when it was time the Saturn stage did not know what hit it. (T)


'Parkway Drive' [4/5] took to the Apollo stage moments after House Of Pain finished and managed to keep the crowd entertained during their hectic 8 track set and they put pretty much everything into their set with guitarist Luke Kilpatrick even taking to the stage in a wheelchair not wanting to miss the show due to a broken ankle, the set was fierce and angry, the crowd was full of circle pits and even a couple of lucky fans ended up crowd surfing in a blow up boat. (T)

Next up was the 2minute silence for Paul Gray and before this happened I really did not know how it was going to go but as soon as Paul Gray's boiler suit was brought on stage everyone went quiet, there was one heckler right at the very beginning who thought it would be funny to shout "Buttscratcher" but hopefully he got dealt with. The actual two minute silence was very emotional and eerie and made the hairs stand up on your spine as you looked around and appreciated the love for such a talented man.


Moments after the 2 minute silence In Flames [4/5] took to the Apollo stage and blasted straight into 'Cloud Connected' and from the start you could tell that In Flames were really confused on how they could follow up such an emotional moment which happened minutes before they took to the stage and they even spoke to the crowd to say they are not sure how they can follow the 2minute silence up and then went on to dedicate 'Trigger' to Paul Gray and from this moment you just knew that In Flames were back in business and played a solid set which featured 'Deliver Us', 'The Hive', 'The Quiet Place' and set closer 'Take This Life'. (T)


Mastodon [5/5] dominate their set, 14 songs of pure insanity. Kicking off with "Iron Tusk" followed up with "March of the Fire Ants" and "Where Strides the Behemoth", they're off to a heavy start! That is one thing I noticed, they favoured their heavier songs for this show and only play "Ghost of Karelia" and "Crack the Skye" from their highest rated album Crack the Skye, it shows they know exactly what Sonisphere requires of them. The band set the place alive, especially during "Bladecatcher", you could not help but laugh at Brent Hinds' face when he was making all of those bizarre random noises; it looks like he's having an extremely violent orgasm. As for the rest of the members; Troy was bouncing around snapping his neck head banging, Bill was walking around too cool for his own good with that moustache flapping in the breeze and Brann was just smashing that kit to pieces, band of conflicting personalities this one. Destroying the remainder of their set with absolutely amazing tracks
"Colony of Birchmen" and "Megalogon" before finishing off with the inevitable "Blood and Thunder" which provokes an extremely aggressive reaction with most of us stood in that crowd, a fitting end to that set. (JW)

Airbourne [4/5] have their standard setup here with them today, the 20 or so marshall cabs and the interchangeable backdrops, perfect then for a rock and roll show. The guy who makes Airbourne shows as crazy as they are, is that absolute nut job Joel O'Keefe and today he's obviously off his rocker; smacking beer cans off his head till they start popping then throwing them, running and jumping on and off everything and then during "Blackjack" the guy climbs the huge stage and gets on the roof still playing his guitar solo before climbing back down and pretending to slip; how that joker isn't dead yet I'll never know. After this they blast out some of their best songs "Cheaper Wine & Cheaper Women", "No Way but the Hard Way", "Too Much, Too Young, Too Fast", "Running Wild" and finishing with classic "Stand Up For Rock 'N' Roll" they've left their stamp on this festival to be remembered. (JW)


We headed over to the Jagermeister stage to catch Demonic Resurection but they never took to the stage and instead Amplifier [3.5/5] were left setting up for an hour and I have to say that it was an boring hour but Amplifier just about made up for it when the band took to the stage all looking pretty smart in their black shirt, trousers and tie with the Amplifier logo on. Despite Demonic Resurection not taking to the stage, Amplifier only had a 30minute set which in my eyes in so not enough time for a prog rock band especially when Amplifier only managed to play 4 songs but their spacey psychedelic sound was just right for this average Sunday afternoon with set closer 'Motorhead' concluding the set in a good way.(T)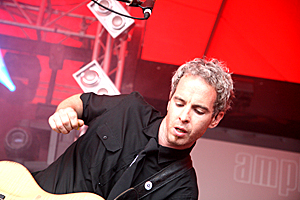 Motorhead [3/5] I feel aren't much of a festival band; seeing them last year at Wolverhampton Civic Hall they were tremendous, don't get me wrong they play well today but there are just factors that aren't as great as their smaller shows. Like the fact that when there's fewer people it's easier to interact with them, on a larger scale and more people making noise it's very hard to hear what Lemmy's saying. There are signs that Lemmy's getting old, after all the years of debauchery it's catching up to him as he had to read the backdrop to even remember the name of the band's new album, that's pretty bad. All that aside you cannot deny that their music is still amazing, the new songs "I Know How to Die" and "Get Back In Line" still match up to some of their classics. There's 3 things a fan knows will be at a Motorhead concert; Lemmy Kilmeister shouting "We are Motorhead and we play rock 'n' roll", "Ace of Spades" and them finishing with the song that never ends "Overkill" all of which are the same today. Shortly into the set Lemmy announced to the audience that the day before this performance, ex-guitarist Wurzel had died of a heart attack and they dedicate the whole performance and especially the song "Going to Brazil" to his memory, RIP. (JW)


Cancer Bats [4/5] have their Sonisphere 2011 time to shine and I can't wait, the past 2 festivals I've missed them due to clashes with other bands but not this time! The first and fifth songs were my favourite tracks; "Shillelagh" and their cover of "Sabotage" by Beastie Boys. Promoting their new album today but even though that's the case they favour debut album Hail Destroyer more by playing 5 tracks from it, I thought they'd skip Birthing a Giant completely due to it being the middle album that was quite different to the rest but no we get "Shillelagh" and "Pneumonia Hawk" to my delight. That's always been the main thing about Cancer Bats they are absolutely mad and vocalist Liam Cormier just explodes everywhere, jumping off stuff as high as he can, violent head banging and covering every inch of that stage multiple times, the man can't stay still! Want a bigger set next time I see them including more Birthing a Giant songs because that's my favourite album so roll on a UK tour. (JW)


Limp Bizkit [5/5] were one of the bands that I was looking forward to the most all weekend and they did not fail to impress as from the off Wes Borland was dressed in yet another comical outfit dressed all in black apart from the top half of his head which was right, and as soon as Fred Durst took to the stage he had the crowd in the palm of his hand dressed in his trademark red cap and over sized shorts.

The set that Limp Bizkit played was a good old greatest hits set which was slightly handpicked by the fans with Fred giving the fans a choice of two songs at a time with the song getting the biggest reaction being the one played but this seemed to of failed when everyone screamed for 'Nookie' and the band ended up playing 'Douche Bag' towards the middle of the set.


Throughout the set Fred encouraged many girls to get their breasts out which was met by massive cheers from the crowd and towards the end he was also encouraging men to get their cocks out which Fred named as tally whackers and unfortunately a select few males took up this opportunity to Freds disgust.

The highlights of the set was hearing thousands of people swearing along to 'Hot Dog', when John Otto took us to the Matthews Bridge during 'My Generation', the massive mosh up during 'Break Stuff' and the classic hand movements throughout 'Rollin'.

Everyone who witnessed Limp Bizkit today walked away with a beaming smile on their face and maybe that slight bit more happy due to the fact that the band announced they will be back at the O2 arena in December.(T)


Fozzy [5/5] took to the Jagermeister stage shortly after Limp Bizkit and I have to say it was the biggest gathering I have ever seen at the Jagermeister stage and a good ten minutes before the band were due on stage the fans started with their wrestling chants but before you knew it Fozzy took to the stage with Rich, Frank, Bill and Sean jamming for a solid two minutes before frontman Chris Jericho makes his over the top wrestling style entrance to a massive cheer from the crowd.

As soon as Fozzy took to the stage the skies opened and the rain came down heavy but this did not stop anyone from having fun as the crowd were going mental, the photographers were out at the front getting their gear soaked to capture Fozzy in action and Fozzy were putting on the performance of their life which was filled to the brim with sheer energy.


A wide mixture of songs were played such as 'To Kill A Stranger', 'Feel The Burn', 'God Pounds His Nail', 'Martyr No More' and perfect set closer Enemy' and from start to finish everyone was having a great time and enjoying the heavy party that Fozzy brought to Sonisphere, seriously if you think Fozzy are good on record you really need to check them out live as that is where these guys excel. (T)

Bill Bailey [5/5] was freaking hilarious! His stories and jokes are great and the songs are some of the best things I've heard comedy wise for a long time. The man has balls for headlining the second stage at a metal festival, it was a risky move but he really pulled it off. Playing tracks like "Insect Nation", "ASDA", "Oi Satan, Have a Word with Yourself" and "The Majesty of Emo" which is even more hilarious when there's some emo's stood next to you. He also covers "Cars" by Gary Numan in French, a Rammstein styled version of "Scarborough Fair" and the original, "Poker Face" by Lady Gaga and the extremely popular "Combine Harvester". 14 comical tracks with videos to compliment some of the jokes and stories told between each track, I would have never pictured this being the headline of a metal festival but thousands turn up to see it and all leave laughing. Only problem was the wind further back and annoying drunken idiots screaming because then you couldn't hear the jokes which was the point in this set. Finishing with "Das Hokey Kokey" and a great cover of "Enter Sandman" leaves the field in hysterics and heading over for the last band of the weekend. (JW)


Slipknot [5/5] could have gone 1 of 2 ways; either the set would be extremely emotional or an overly explosive tribute set. Thank God it was the second one; a full aggressive set with some of the greatest songs ever written by the band including the majority of their self titled album. Opening with 2 intro tracks "Iowa" and "742617000027" during which they sinisterly creep on stage dripping and menacingly looking over the crowd; some members brandishing old masks and others with the new, they smash through first 3 tracks "(Sic)", "Eyeless" and "Wait and Bleed". On stage they have Paul's boiler suit, mask and bass as a part of the layout to symbolise he's still there is spirit. They're still just as crazy as ever; Sid climbing and hanging off stuff, Corey bounces around like a mad man and everyone
else just goes nuts. They aren't rooted to the stage either; Sid climbs the sound booth and stage dives off it, Shaun runs round the barriers and the pair crawl all over the crowd. "This is not a sad occasion; this is a celebration, so let's get this shit going!" Corey Taylor states before proceeding to induce chaos with "Liberate", "Before I Forget", "Pulse of the Maggots", "The Heretic Anthem", "Duality", "Psychosocial", "Only One" and "Purity". As is becoming standard at Slipknot shows, during "Spit It Out" the entire crowd gets down on their knees and then rocket into the air and in the mud and rain it's great to see that everyone's still in good spirits. Their encore is 2 songs which are "People = Shit" and "Surfacing" before an emotional end to the set where they all come up and hug Paul's boiler suit – some members in tears as their song "Till We Die" plays and many people in the audience including me begin weeping as it's a very emotional experience.(JW)

Review By Trigger And James Webb