Athlete
My First Tooth
Birmingham, HMV Institute
31st July 2011

Athlete My First Tooth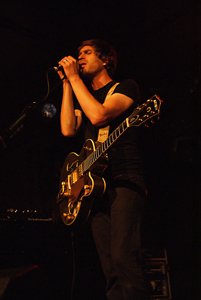 Tonight is my first time at the HMV institute even though it's been open for about a year now, and I tend to go to allot of gigs! Unfortunately I've not been to all that many this year, it's just been one of those years where nothing seems to go the way you want it to, so I was glad to be going to see one of those bands that have been there for most of my adult life, who I have seen a few times before and who's music always puts a smile on my face.

I arrive and the venue and find out the gig is in the part of the building called the Library which is in size like the academy 2 but is styled rather differently, with a balcony and weird triangular pillars that block your view from the bar, so you have to get in with the crowd or be about 6ft to see the stage whilst having a drink. The venue is nice though, the lighting is atmospheric and the crowd are all closed in so it feels like everyone is in it together, unlike other venues where you spread out and feel bad if you bump into someone.


But anyway, that's enough about then venue let's get onto the gig, the support band are called My First Tooth and are a four piece from Northampton. They consist of two men and two woman and sound rather folky. They have a nice consistent sound made up mainly of acoustic guitar, loud bass, snare drum and violins. They're definitely Irish sounding and use many traditional instruments throughout their set.

"Tonight's our last night on the tour and where already getting the post tour blues" They then ask the crowd to join in but don't actually say how, I worked out that it was clapping with the bass drum but the rest of the crowd didn't. The crowd seems rather nonchalant even though they go into a song which is reminiscent of Mumford and Sons. The next song is without bass and to fill in the gap the bassist claps and does backing vocals to a song that reminds me of the Magners advert (Galway Girl), but she flaps around like a fish out of water (literally what a fish out of water looks like!)


Overall they're pretty good but this crowd came here to continue the support for one of Indie music's best kept secrets, even though they have had success they're still not up there with the Elbows they're still much like the Ben Folds of the music world.

As the tour name suggests Athlete tonight are stripped back, the songs they're playing are different to the cd's and this is due to the mellowness of the gig, all 4 members are here but the style is more acoustic with keyboards rather than full blown samples and electric guitar. Athlete are not a heavy band but there is a subtle difference in the sound between the cd and tonight and this difference makes a change as the atmosphere tonight is more of a sing along than a band playing to a crowd. If the band had spread out around the room instead of on stage then it would have made it more intimate but that's just my crazy ideas, there has to be a stage or it would be a sound and lighting nightmare!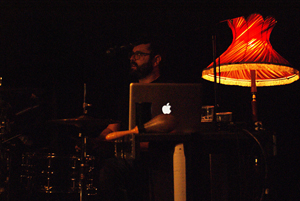 The different, relaxed sound, shines through with songs like Half Light and You've Got The Style are stripped back and raw and instead of the big breakdowns the sound is cut out and heavy bass is lowered, so the atmosphere is not spoiled.

The singer, Joel Pott jokes "This is us stripped back, not stripped off as it would be weird! But were going to play some songs a bit louder and it may be different than what your used to!"

This makes the gig turn into something more like a remix album, than a straight like for like playing the songs as they normally sound and I guess that's a good thing as it makes it more interesting for the band to play the same songs, that they're been playing now for almost 10 years. They burst into Westside and it sounds very different, as if it was being played underwater with weird, chugging bass and a repeating keyboard sample that sounds like a submarine. The crunchy guitar breaks through just enough to make the breakdown come alive and sound just as fresh as it did all those years ago.


Joel say's "This is Last night and it's rather relaxed, but we've been on the whisky! So it will be a good end to the tour" The band continue to play through classic tracks including Beautiful and El Salvador and end the night on the instantly haunting Wires. The crowd love it and sing throughout the set, with glasses held high a good time is definitely had by all!

Athlete are set to go back into the studio and record some new songs, and I'd recommend that people check them out, as they're a great band that all the family can chill out and relax too.

My First Tooth – 3/5
Athlete 4/5

Review By James Daly