Gallows
Gloucester, Guildhall
11th July 2011

Gallows

As soon as I heard the Gallows were playing a small intimate gig at Gloucester Guildhall I just knew I had to go as the Gallows are one of my favourite punk bands and the Guildhall is one of my favourite local venues and the whole thought of the Gallows playing the venue just made me think of pure enjoyment and mayhem.

On the Friday before the gig it was announced that singer Frank Carter was due to leave the Gallows with the remaining July gigs being his last for the band whilst he moves on and does things with his new band Pure Love and the Gallows carry on with a yet to be announced new singer, what I heard this I was instantly gutted but at the same time glad I could witness the Gallows play one of their last shows with Frank.

The Guildhall was packed to the rafter's way before the Gallows took to the stage but as soon as the clock hit 10pm the Gallows took to the stage and played one of the shortest but highly energetic, hectic and crazy sets I have ever witnessed in my life.


From the off the crowd was bouncing around like nutters and if anything was going to give me faith that the guildhalls infamous bouncy floor was safe and has no chance of caving in then tonight's was that moment as Frank encouraged the crowd to make human pyramids which went horribly wrong, wall of deaths and also encouraged the crowd to create the biggest circle pit that I have ever seen in the Guildhall and the very few security in the building tonight really did not know what was going on or how to deal with the mayhem happening right in front of their eyes.

Frank spent the majority of the gig off stage and on the floor in front of the barrier getting as close to his fans as he could and Steph even took to the crowd and walked from the front of the room all the way to the back and back to the stage again to also show his envolvement with the fans.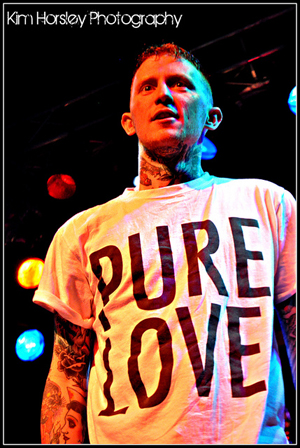 The set that the Gallows played started with 'Leeches' and also featured classic material such as 'London Is The Reason' which Frank renamed 'Gloucester Is The Reason' for the purpose of the show, other songs included 'Misery', 'In The Belly Of A Shark' and the set closer 'Orchestra OF Wolves' which featured Frank leave the stage towards the end for members of the support band to come on and help the band close the set.

Tonight may well have been the last time many people will witness Frank play with the Gallows again but at least they can say that they witnessed the end of Franks time with the Gallows on a high as the gig was superb from start to finish and he even spoke a little bit about loving the last 6 years of being in the Gallows but it is time to move on, who knows what the future will hold for the Gallows and also Franks new band Pure Love, but what I do know is the Gallows will never be able to top tonight's show ever.

5/5

Review By Trigger
Photos by Kim Horsley