Slam Dunk Festival
Leeds, Uni
28th May 2011


Being at Slam Dunk is like a family get together. Albeit a highly dysfunctional, extremely sweaty and alcohol fuelled family get together. Slam Dunk North is the annual festival that takes place at Leeds University and celebrates the best that the pop-punk world has to offer. Everyone from Paramore to Fall Out Boy has played at this independent festival since its incarnation in 2006.

The first band to kick off Alternative Vision's day is FAILSAFE (4/5). Having recently been holed up in the studio working on their third album it's nice to see them where they seem most comfortable. The crowd before the Macbeth Stage swells nicely and they receive a triumphant reaction from onlookers. Their next release is certainly something to get excited about.

Next up is SAM LITTLE (5/5). Making a welcome return to the Punktastic Acoustic Stage, Sam relishes the opportunity after returning from a brief hiatus. Songs such as 'She's Just Not That Into You' and 'Fallin'' sound sublime and he even has time to throw in Fleeing From Finales favourite 'Mighty Ducks Vs. Thundercats'. You can't help but smile when watching Sam Little, and with the news that his old band are back I imagine we'll be seeing a lot more of him in coming months.


DON BROCO (5/5) is the perfect band for this kind of event. You can always depend on them to inspire rowdiness. Playing to an overly packed, undersized Kerrang! Introduces Stage, Don Broco instantaneously get the party started. Encouraging walls of death and shoulder dancing may not be the safest ideas frontman Rob Damiani has ever had, but does he care? No. Everyone looks like they're having the time of their lives, none more so than the band themselves. Don Broco are definitely cruising along the crest of the wave right now, let's hope it doesn't stop any time soon.

The room gets even busier for next band LOWER THAN ATLANTIS (4/5). Although Don Broco prove a difficult act to follow, LTA take it within their stride and offer their moody, angsty punk-rock which is gratefully lapped up by the hundreds before them. Their latest release World Record may have seen a slight departure from previous material, but it is live where this band comes into their own. They are loud, abrasive and they don't give a shit. Songs such as 'Deadliest Catch' and 'Beech Like The Tree' are perfect examples of how exciting this band is.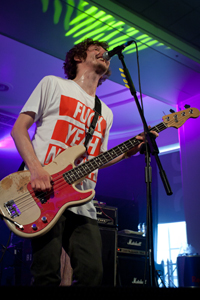 The good thing about Slam Dunk is that you only have to turn a corner to find a good band. This particular corner leads us to FRANCESQA (3/5). Having been hand picked by Tom DeLonge to play the festival last year, Francesqa have had a blinding interlude between then and now – exemplified by the huge crowd that has turned out to see them today. Having seen the band several times in the past month or two, I now feel that I want a bit more from them. Although We Lived is full of fantastic songs, you can have too much of a good thing. Still, Francesqa are on fire today and they round up a very impressive set, rather predictably, with 'Ghosts'.

THE STARTING LINE (5/5) is the band that everybody has been talking about, and they do not disappoint. Perhaps it's because they haven't played on British soil for five years, or that a majority of the people at Slam Dunk grew up listening to Say It Like You Mean It – but as you can imagine, the biggest sing-along of the day happens during 'The Best Of Me'. It's been nine years since it was released as a single, so nearly a decade's worth of nostalgia is expelled in four minutes. Truly fantastic.


Whoever had the idea to timetable CARTEL (5/5) straight after The Starting Line was an absolute genius. Another band that hasn't graced UK shores in far too long, the Georgia quartet seem just as happy to see us as we are to see them. Pulling the biggest crowd to the Macbeth Stage of the day so far, Will Pugh et al. storm through a festival tailored set. 'Say Anything (Else)', 'Lose It' and 'Honestly' make you realise just how much you love Cartel. Hopefully they won't leave it quite as long as three years before we next see them over here.

Rushing over to the Honour Over Glory stage, AV manages to catch Californian noise merchants DANCE GAVIN DANCE (5/5) in full swing. Love him or hate him, Jonny Craig is back and has a point to prove. You cannot deny that this man has an incredible voice, to say he is DGD would do the rest of the band an injustice, but they certainly sound complete with Craig back in the frame. Tonight they sound amazing, the intricacies of the songs are perfectly balanced by big guitars and ending on 'And I Told Them I Invented Times New Roman' is the icing on the cake. Point proven.


We have just enough time to see a bit of MAYDAY PARADE (4/5) before heading back to the Honour Over Glory stage to see Deaf Havana, but they are pretty much what you would expect. Ever professional and a well-oiled machine, Mayday Parade thrash out their greatest hits in yet another festival tailored set. 'Jamie All Over' and 'When I Get Home, You're So Dead' satisfy the masses and it's time for us to depart.

DEAF HAVANA (3/5) have had quite a turbulent year, having parted ways their lead singer just before last year's Slam Dunk, they are back again, but on a much bigger stage, with much bigger expectations. And do they meet them? Well, kind of. James Veck-Gilodi seems more confident in the role of frontman than ever before, but it feels like there's something missing. With a new record set for release later this year I'm reserving judgement, maybe then it will all make sense.

REEL BIG FISH (4/5) are a band that you would never tire watching. For all of their onstage antics, they are brilliant musicians. After all the years of playing live, the thousands of miles travelled and the unfathomable units of alcohol, they still seem to have a really good time. 'Sell Out' and 'Take On Me' get the reaction they deserve, and on cue thousands of drunk people skank and dance like idiots.


Just when you thought that the day couldn't get any better, SET YOUR GOALS (5/5) show up. Perfectly rounding off a day of fine music, ropey pints and expensive burgers, co-front men Matt Wilson and Jordan Brown bound around like men possessed. Songs from records Mutiny! and This Will Be The Death Of Us are showcased tonight, and with a new album scheduled for June, SYG are on the cusp of something very exciting. Essentially, Set Your Goals are the ultimate party band, and a fitting end to the party that has been Slam Dunk North 2011.

Review By Ben Connell
Photos by Rick Caughey