D.R.U.G.S (Destroy Rebuild Until God Shows)
Bristol, Fleece
7th June 2011

D.R.U.G.S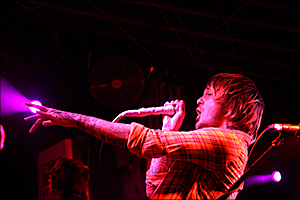 Tonight I headed to the Fleece in Bristol for the first time in many years to watch everyone's favourite rising hardcore superstars D.R.U.G.S and wow what a show they put on tonight.

D.R.U.G.S took to the stage at 10.15pm and they played a short but solid set where everything was spot on from the opening chants of "We all know we all know right now you're the only thing you thing you talk about" from their track 'The Only Thing You Talk about' right until the final bit of machine gun drumming and frantic sing-a-long chants of 'If You Think This Song Is About You, It Probably Is'.


Throughout the set D.R.U.G.S played a solid 10 tracks which happened to be the majority of their debut album played in no particular order and as soon as they took to the stage you could see the chemistry between the members of D.R.U.G.S and the fact that they have gelled together so well in such a short amount of time, their pace on stage was fast and furious and their between song banter was great with Craig Owens making many jokes with the crowd and even stating that we should all strip and have a massive orgy due to the sheer heat in the venue.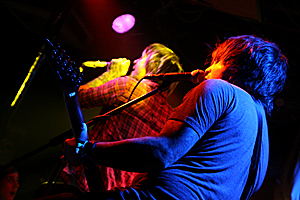 On Record the debut album from D.R.U.G.S is currently one of my favourite albums's to be released throughout 2011 and it was good to see the band play the songs from the album in such a pure and passionate way, the highlights from the set were 'Mr. Owl Ate My Metal Warm' which managed to get the whole of the venue on their feet bouncing up and down singing word for word to perfection, the other main highlight from the set was when they played their latest single 'Sex Life' midway through the set with Craig Owens making an announcement saying this is for all the selfish people in the world before blasting into the song and screaming the chorus "If you had a sex life, a sex life would you even worry about mine" in such a meaningful way.


Overall D.R.U.G.S may well of played a short 40minute set to a mere 80 people tonight but after all it was a warm up for their biggest UK appearance to date at this weekend's Download Festival, the set was fun and energetic with bassist Adam Russell even finding time to rock out on top of the venues bar and even a select few members of the crowd doing their best to get closer to their hero's by climbing up the massive beams situated near the stage in the venue.

This surely is the start of something massive for D.R.U.G.S in not only the UK but the whole world.

4/5

Review By Trigger