Hub Festival
Otterspool Park, Liverpool
21st - 22nd May 2011


With festival season fast approaching, Liverpool has been given an early treat in the form of HUB Festival 2011. Acclaimed as the UK's "finest action sports and music festival", it runs for two consecutive days on the banks of the very blustery River Mersey. This is the first year that HUB has joined forces with Liverpool Sound City, ensuring the best up and coming bands, skaters and BMX-ers.

HUB succeeds where many other festivals fall at the first hurdle: the price. For two full days of music, skating and break dancing you will pay £8. Bargain!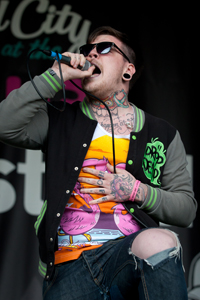 Saturday
DRIVEN OVERBOARD (3/5) are given the unenviable task of opening the festival, a task they take head first and handle with aplomb. Their riff-laden set goes down very well with the deluge of teenagers gathered before the Liverpool Sound City Stage.

Next up are competition winners DROPTHEGIRL! (3/5). Their squeaky-clean pop-rock encourages the first crowd participation of the day, a very promising set from the young Liverpudlians.

You get the impression that DECADE (4/5) are on the cusp of something huge. Their Set Your Goals/Four Year Strong inspired brand of pop-punk is a huge hit and despite a few technical hitches, they exit the stage with their heads held high.

FINE YOUNG FIRECRACKERS (4/5) attract the biggest crowd of the day so far and tracks such as 'Alive' and 'Neon' prove just how exciting this band is. Frontman Adam Campbell commands the stage with confidence, and rightfully so.


Today must be a very exciting day for WE ARE THE IN CROWD (4/5) as it marks their first ever UK performance, and what better place to start than at HUB? A flawless half-hour set complete with Taylor Swift's 'Love Story' sends an already bonkers crowd a little more excitable. Although the obvious Paramore comparisons will be made, Tay Jardine and co. stand firmly on their own two feet. After today they might be wishing they'd hopped across the pond a whole lot sooner.

Since the release of their debut EP We Lived last year, things have been on the up and up for FRANCESQA (3/5). Today they find themselves playing the windiest show of their careers thus far! Fortunately, this doesn't affect the sound too much and they rattle through an impressive set of songs both old and new. Stand out tracks 'All I Had' and 'Ghosts' showcase their masterful approach to writing the perfect pop song.

Unsurprisingly, MAYDAY PARADE (4/5) pull a huge crowd. Opening with the songs 'Jamie All Over' and 'Kids In Love', it is clear that they mean business. With two records under their belts they are by far the most experienced band of the day so far, and this shows. They are slick, polished and fine-tuned; a pleasure to watch.


Fresh from releasing their second album, Go Now And Live, WE ARE THE OCEAN (5/5) are one of the best British bands around. Having toured the length and breadth of the globe, WATO look at home on a stage in front of thousands of people. Set-closer and latest single, 'The Waiting Room' sounds almost anthemic and it sparks the biggest circle-pit HUB has to offer. A truly enjoyable set from the Essex quintet, as per.

The atmosphere is palpable as the crowds gather in anticipation of tonight's headliners, Welsh sextet THE BLACKOUT (4/5). Sean Smith and Gavin Butler appear to be having a wail of a time, a feeling that is clearly reciprocated by onlookers. Despite one too many Scouser jokes, Smith and co. are given a welcome usually reserved for heroes. The Blackout were made for occasions like this, they have showmanship and cracking songs in equal quantities. For tonight, at least, they are The Best In Town.

Sunday

HAWK EYES (4/5) are setting up just as we arrive for day two of Liverpool's HUB Festival. Once again the weather isn't proving too spectacular, but if the crowd isn't blown away by the wind then they are about to be by this band. They are loud, raucous and fucking awesome. Having seen the band when they were Chickenhawk and not being too sure, it's pleasing to see that they have really honed their live performance and make for an excellent start to our day.

fter a longer than expected interlude whilst festival staff monitor the wind and whether it's safe to continue, THE KING BLUES (5/5) eventually take to the stage. Blistering through a set including favourites 'Headbutt', 'Save the World, Get the Girl' and 'I Got Love', it is clear that the band is loving every second of their HUB experience. The band sound absolutely phenomenal and are definitely the highlight of the weekend so far.


Next up are YOUNG GUNS (4/5), another band that seem to have had a stratospheric rise to fame in the past year or so. And from their live performance today, it doesn't take long to see why. Lifting most tracks from their 2010 album All Our Kings Are Dead, YG shake away the cobwebs from the ska-folk-punk we have just enjoyed from The King Blues. The rain does little to dampen anyone's spirits as they get a reception worthy of any headlining act.

The crowds gather once more for tonight's headliners and worthy festival closers FUNERAL FOR A FRIEND (5/5). Tonight they use this opportunity to delve into their back catalogue and
throw out old classics 'Juneau' and 'Escape Artists Never Die' as well as more recent favourites, 'Into Oblivion (Reunion)' and 'Damned If You Do, Dead If You Don't'. Matthew Davies proves the ever-entertaining frontman, rather unfortunately securing the biggest laugh by falling on his arse not long into the set!

And with that, HUB Festival 2011 is over. All of that and with change left out of a tenner. It is easy to see why the accolades are racking up on HUB's mantelpiece. The nice thing about this festival is that there truly is something for everyone, the skate-obsessed son, the frontman-obsessed daughter: you name it, HUB has it. Roll on 2011.

Review By Ben Connell
Photos by Rick Caughey