3OH3
Innerpartysystem, Hyro Da Hero
Birmingham, Institute
25th May 2011

3OH3 Innerpartysytem Hyro Da Hero

Hyro da hero, What can I say that I haven't already about a band that I saw not too long ago, it's seems like the same set they played last time, well something different as it happens, I think me saying they were a poor man's RATM was a bit harsh but the music does follow them lines without the massive guitar effects, there much more fun to watch this time around much more active, they sound allot better everything about more developed, cleaner and just easier to listen to, they just seem more up for it really, not quite catchy as it probably should be butchers certainly on the right track to say the least.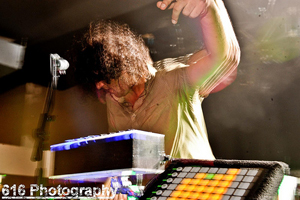 InnerPartySystem, a member down from the last time I saw then, dropping the guitar sound and don't stop, which was quite surprising really but the set they played was outstanding an awesome mix of drums and synth, this is one tight band, played a different variation of their songs that appear in cd form, so much powerful and sounds like more is going on in the songs, you can really feel the bass, it's an awesome sound to behold as they blast through the likes of, and together, money makes the world go round, it's no getting any better and set closer American trash and a few songs off their first album die tonight live forever and obsession, one track I wasn't familiar was lobotomy as it opened the set so I think it maybe an intro song, either way pretty good. They were really on it tonight and cannot wait to see them again. 3oh3 really have their work cut for them to follow this storming set.


3oh3 a band that I'm familiar with somewhat Just what ice seen on TV, opener starstrukk, my first kiss, and don't trust me, and that's about all I know, everything else is pretty much over my head. It's a lively set for sure but some of the songs take the pace of the set down like touching on my, did after the opener, it was weird listening to starstrukk without Katy Perry vocals. They did a cover of rock you like a hurricane, not a bad cover of a rubbish song, short lived thankfully too!! I'm not sure why there's a guitarist on stage as oh can barely hear it most of the time you can't, although it does play its part during rich man, where it's actually audible for most of the song.


We are young is another song that seems to kill the pace of the set again. They play another short cover this time r Kelly's I can believe I can fly, funny but still abut rubbish. And the guitar sound makes another appearance! Other songs that feature in there set include house party, still around, streets of gold, don't dance, love 2012 encore opener double vision and set closer don't trust me. It's a fairly decent set to be honest, the vocals are good with the mix of effects employed on them at times, I quite enjoyed the synth and drum driven sound but some of the songs work really well and others they miss the mark but not by much.

Hyro Da Hero - 3/5
Innerpartysystem - 5/5
3oh3 - 4/5

Review By Robert Lawrence