Asking Alexandria
Of Mice And Men, While She Sleeps
Birmingham, Academy 2
3rd May 2011

Asking Alexandria Of Mice And Men While She Sleeps

While She Sleeps are on fire tonight and they smash the Birmingham academy 2 apart with tracks from their debut album "The North Stands for Nothing". The lighting is set up brilliantly however blinding me during parts of their set but it all adds to the atmosphere they put out; strobes bouncing off them as they all bounce around the stage with energy and power. At the end of the set, lead vocalist Lawrence Taylor flies off the stage into the crowd with his microphone and organises a massive wall of death; whilst he's doing that someone else grabs hold of his trousers and when the wall of death hits drags him out of the way. They give an amazing commitment to giving a great fair play to them.

Of Mice and Men are good, but they just don't live up to that previous act in my opinion. Musically I much preferred While She Sleeps because this band tries to put extremely heavy vocals together with some clean ones but in the way of mixing As I Lay Dying with You Me @ Six and the product is something that doesn't really tickle my fancy. Regardless you cannot deny that they are a force to be reckoned with on stage and know exactly what they're doing.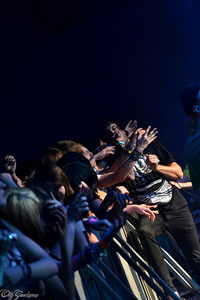 Hailing from the USA this band have only been together for 2 years but have a second album on the way and a large amount of shows under their belt in America on a large scale so coming over to Europe and UK to play these small sold out shows doesn't even phase them. Pure confidence and aggression and to look at them you can tell this is where they naturally belong, between song singer Austin Carlile does begin to get a bit repetitive towards the end but on the whole valiant effort.

Asking Alexandria have had a massive hype around this gig for weeks now, everyone I speak to is really excited and a lot don't have tickets as it's a completely sold out show. So you'd think with all this hype and attention that what you'd be about to witness would be one of the best shows ever by some really professional musicians who really give it their all; this is not the case, they play a decent show but the hype exceeds the performance by a long shot. Seeing as they were hung-over earlier and then the guitarist hit the stage chugging a bottle of wine I could see where this was going. They have big songs and they perform them terrifically; the thing that lets them down is that once a song is over their front man, Danny Worsnop who has a big presence during songs doesn't follow it through and ends up repeating himself many times and trying different things eventually
leading to him telling the crowd they were going to do an encore and ruining that part of the live show, he also couldn't remember the set list and had to check it to see what it was. Even after all of this and the fact that the crowd pretty much predicted everything that was coming showing they really need to shake things up a bit; the crowd absolutely lost their minds and went berserk. Every song had the same momentum and sheer energy in that pit and had everyone bouncing around; it's an absolute delight to be a part of. May I add whilst I've slated them for their unprofessionalism the way they perform their material is just flawless, they produce the atmosphere and the intensity for all the craziness to flow and during their songs they are great. Coming back on to their already announced encore and give 2 more songs including "The Final Chapter" before leaving Birmingham on a high note. To be honest with this crowd they could have been terrible and I think they love them that much they'd have still gone crazy, they could be an unstoppable force in the near future.

While She Sleeps – 5/5
Of Mice and Men – 4/5
Asking Alexandria – 4/5

Review By James Webb
Photos By Olly Goodman