Skindred
Chiodos, Mew Vs Hero
Wolverhampton, Wulfrun Hall
29th April 2011

Skindred Chiodos Me Vs Hero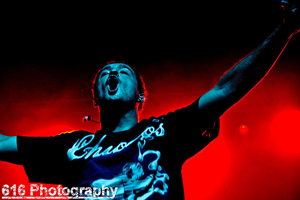 Me Vs Hero are tonight's openers and they hit the stage to quite a large turnout. Their music doesn't really have much originality or distinction from their genre they sound like they've just put 3 bands together like A Day To Remember, All Time Low and New Found Glory and nothing really new or creative. They give it their best on stage but not too many people really get into it; I think if they had a more original sound then a lot more people would be interested and if they ironed a few creases out of their stage show then they could really have something there, tonight though no such joy.


Chiodos are up next and after being disappointed by the previous act I'm praying that Chiodos step up and bring back the faith. I'll be fair they come on and they bring a dark atmosphere and a more aggressive attitude to the stage; however the vocals get on my absolute nerves after a while managing to have whiney clean vocals and quite whiney screaming vocals as well so you can't really escape from it, the music itself is quite good though and some of the members onstage are over the top. The vocalist just plays it cool and calm whereas the keyboardist bounces around constantly as though he's the main attraction of the band. Overall it's a step up from the earlier band but still isn't the kind of thing I would have foreseen Skindred bringing with them and it's not my cup of tea.


Welsh ragga punk legends Skindred are one of the best British artists on the scene with their unique sound and style. Tonight they are back out on the road to promote their latest studio effort "Union Black" and to prove that their status as possibly the best live act around is well deserved. I cannot argue with that the set they play tonight is possibly the best live show that I have ever witnessed, it's just got everything; sing along's, jumping around, pitting, classic Benji Webbe humour, mash ups, dancing and above all some amazing songs. Some things they incorporate into their set really get people in the mood, for example during "Trouble" they include a breakdown in the form of Metallica's "Sad but True", they have a mash up of their song "Selector" and Tinie Tempah's "Pass Out" and then in their encore (they themselves don't play it) they put on Rihanna's "Only Girl". They hit the stage to "Bruises", one of their heaviest songs to date and it shows the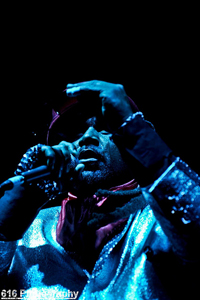 room explodes with bouncing and violence. This atmosphere continues with "Roots Rock Riot", "Set it Off" and new track "Doom Riff" with every member of the audience moving in some way or another if not bouncing then dancing or pitting. They get the sing along going with a few verses from "State of Emergency" before stopping and launching into "Trouble". They do give us a taste of the new songs with other new debuts such as "Guntalk", "Living a Lie" and "Cut Dem" which proves that their new album must have gone down a storm as it's only been out for 4 days and a fair few people seem to know the material. More Roots Rock Riot songs "Rude boy for Life" and "Rat Race" before bringing the atmosphere to a calm personal level by playing the song "The Fear" which goes out to anyone that's been picked on for "Wearing a slipknot t-shirt or liking Pantera". This band is a statement for every heavy metal fan in the world, they stand up for us and unite us under one roof as equals it's a terrific atmosphere that gives you hope. They bounce back out for their 4 song encore and smash through "Stand for Something", "Pressure" and finally bringing Sam Thompson from Me Vs Hero back onstage to help them sing their new anthem "Warning" with half naked people all over the room swinging clothing around in the air.

Skindred have never played a bad show that I've ever witnessed and never released a bad album either and seeing as their new album may be the strongest to date they can only go up in the world. Anybody who's a Skindred fan or anyone who isn't needs to get out and see this band it's such an energetic night out full of fun. Nothing beats that kind of atmosphere.

Me Vs Hero – 2/5
Chiodos – 3/5
Skindred – 5/5

Review By James Webb
Photos By Robert Lawrence