Dave Mcpherson
Howard James Kenny, Matt Ablard, Robin Henderson, Joe Lewis-Brown
Southampton, Joiners
24th March 2011


What better way to spend a quiet Thursday evening in Southampton than an acoustic night at Joiners?

To begin the night, former drummer for local band 'Eight Tide Suicide' Joe Lewis-Brown took to the stage in a less than familiar role to normal. Joe, who you would usually find behind a drum kit put himself in the driving seat and switched his drums for an acoustic guitar with a combination of self written tracks as well as a generous helping of Dallas Green covers. Clearly nervous of his new role, Joe kept the chat to a minimum and did his best to fit into his new shoes. With the exception of the odd line being forgotton and his generally awkward stage presence, this singer/songwriter has more to give which will hopefully shine through with more experience

To follow a calming, soft vocalled act, Robin Henderson brought something different to the venue and created an energy about the room with his eclectic guitar playing. With the help of a loop pedal Robin created the sound of a full band in an acoustic-electro-ska style to compliment his soulful voice. His confidence in contrast to the previous act was on top form as he engaged in crowd banter and kept his cool when recording, tapping and plucking complex original songs.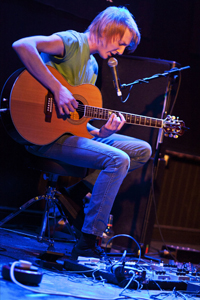 Next up was local act Matt Ablard. The singer/songwriter's music had clearly been influenced by his personal experiences; the hot topic for Matt's original songs being his (lack of) luck in love including 'Call My Bluff' and 'Fake Happy' as well as expressing his negative views on The X-Factor and his passion for real music. He finished his set with 'Prove You Wrong'.

After a lengthy and complex looking set up of mics, guitars and pedals, Howard James Kenny (Dave McPherson's tour support act) took to the stage in a reserved fashion. The crowd was silent in anticipation of what was to come and were not let down. His pitch-perfect, soft voice beautifully complimented the slow build up of hand claps and guitar picking with the loop pedal. With the use of shakers and delicate vocals, 'My Wrongs' was a perfect example of the work of a true musician with flawless timing and a huge talent for music writing. The understated musician covered 'Teardrop' by Massive Attack and finished with an original - 'Insects' leaving us with an epic chorus of harmonies.


Finally the eagerly awaited Dave Mcpherson took to the stage and started the set with 'Winter: Hibernation' – the first of his Four Seasons themed songs. Dave reminisced to his previous Southampton appearance at The Joiners in which he had to run off stage to be sick, not to gain sympathy but laughs, as he added that a fan asked for his autograph whilst he was throwing up on his shoes! Continuing with the theme he sang 'Spring: Hearts Need Blood' – both of which can be found on the upcoming debut solo album The Hardship Diaries due to be released early April. Dave's casual crowd banter was very natural and genuine, he announced his online campaign had reached the £2000 mark recently which he is raising for Save The Children.

Serious stuff aside, this man really enjoys making people laugh whether it be at his own misfortune or just through his cheeky smiles and cheesy jokes throughout his set. He admits stealing a chord from Neighbours theme song in 'Before I Even Had You' and mocks himself at pronouncing 'get involved' wrongly - causing his catchphrase of the night to be 'get invoolved!'

Dave performed the new single 'Summer: She Puts Me in a Good Mood' for which he has his first solo music video and can be found on You Tube, followed by a song close to his heart. 'I Will Honour You' is an emotive song about his 2 grandads who passed away and were clearly great influences in his life. To lighten the mood Dave performed crowd pleaser 'Boom Shake the Room' and asked us to 'get invoolved'! Rounding the set off with an acoustic version of InMe favourite 'Faster The Chase'.

Dave will be back touring with InMe in the autumn and continues to tour solo in the UK throughout the year.

Joe Lewis-Brown 3/5
Robin Henderson 4/5
Matt Ablard 2/5
Howard James Kenny 5/5
Dave Mcpherson 5/5

Review By Jen Manley