A Day To Remember
Bayside, Pierce The Veil
Birmingham Academy
2nd February 2011

A Day To Remember Bayside Pierce The Veil

Its a cold damp evening in Birmingham, but that hasn't stopped people coming out in mass to the O2 Academy. There's a headliner on at each academy but for once the security seem to be getting people in quick and they need too as San Diego post-hardcore band Pierce The Veil are due on stage any second.

Pierce The Veil come running on stage jumping around full of energy, the crowd get straight into them as they are all ready to enjoy this night of punk and metal. The sound is pretty off but this is due to the set up and not the band, as the levels are clearly out. The singer 'Vic Fuentes' keeps the crowd entertained and even joins them during one of their tracks, the guitarists jump around in synchronized moves and the drummer is great, playing hard fast rhythms. The band rap up their set with the single 'Caraphernelia' which means they are joined by ADTR's vocalist Jeremy McKinnon which gives the crowd a taste of what else is to come tonight.


Next on is Bayside a punky 4-piece from New York. The band are another high energy fast paced band with ripping solo's and heavy bass. Unfortunately the sound was still off but this doesn't stop every ones fun. The sound is very basic, but it is broken up with nice little drum beats and solo's that make the band more interesting. Bayside are good but I think they should have opened up tonight as they just help pass time before ADTR appear on stage.

The building is a sell out, but I've been to sell out gigs here before and they have never felt as busy as it does tonight. I pop out for my guilty pleasure of a cigarette between bands and find out how busy the academy is, I spot lots of people sneaking in from the balcony section to the standing section and I'm informed that people have paid touts £50 on the door just to get into the balcony so people are trying their hardest to get into the mix.

I arrive back into the main room to find the stage covered by curtains hiding ADTR's stage set up, the lights go down and the curtains open to reveal a knock out of a stage, which is decorated with big punch bags and ramps round the drums. The band line up on stage and a big bang is heard as confetti cannons fire up confetti into the crowd and immediately the Florida rockers kick into their unique style of pop-punk metalcore. The massive crowd go crazy and the band blast into tracks from their new album "What Separates You From Me".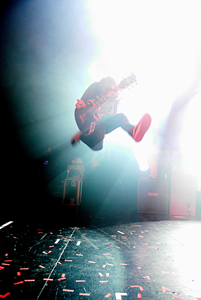 ADTR are the most energetic band of the night and that says something about how much enjoy playing to people, they don't seem to be able to stand still as they run around the ramps and keep changing mics. They're stage show is great and they even brake up tracks by blasting clouds of gas up on the front of stage. Jeremy McKinnon interacts with the crowd well and tells the audience "Birmingham is definitely the warmest show on the tour, so that means your rocking the hardest" they then keep up the pace by playing some heavy tracks from the last two albums.

They're setlist is great and mixes all 4 albums really but they keep the crowd happy by playing most of their third album Homesick. The crowd love it and toilet rolls are flying all over the place. The band rap up their main set with 'You Should Have Killed Me When You Had The Chance' but the song has a few sound issues with the music cutting out but unlike the first two bands this is their first and only problem.

Jeremy and guitarist Keven Skaff come back on stage and slow things down with and acoustic number of 'If It Means A Lot To you' which is a great calm before the storm as they kick into they're big finale of 'The Downfall Of Us All' going into 'The Plot To Bomb The Pan Handle'. ADTR go down great and everyone has had a great night. All Bands where enjoyable and A Day To Remember cement the fact that they're getting stronger and stronger and they'll definitely be around for a long time to come.

Pierce The Veil - 4/5
Bayside - 3.5/5
ADTR - 5/5

Review By James Daly