Airbourne
Enforcer, Black Spiders
Birmingham, Academy
10th December 2010

Airbourne Enforcer Black Spiders

Black Spiders they are tonight, well back on form with their brand of heavy, meaty and fucking filthy rock sound with their middle fingers in the air!! Kiss tried to kill me is a killer song and it's a new song too. It's the best I've seen them so far, and they sound great, there really heavy!! There songs seem catchy again, full of great riffs and good drumming full of life I guess you could say, There also batshit insane too!! They look like dirty rockers and walk the walk too, some of the songs they played included, opener si el diabilo,stay down, just like a woman, St Peter and set closer blood of the kings, and great song to finish the set and keep them heads banging and ears ringing long after the final notes have been played.

Not sure what it is but enforcer remind me of a kill em all era metallic and I'm pretty sure the bass player thinks he's a 1980s Steve Harris, he's got his act down to a tee, I'm not sure how to describe this band, speed metal,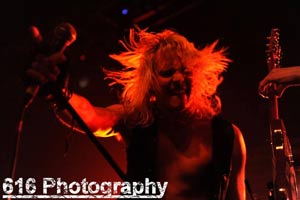 power metal but not thrash metal! It's full of lots of energy a real 80s vibe spandex and leather everywhere, The guitar riffs are pretty decent but the songs aren't as catchy as maybe they should be but they have right ingredients just not the right mix yet, or maybe I'm not hearing or understanding it properly it was a pleasure and fun to watch but there's something missing. Song they played in there what seemed a rather short set included Midnight Vice, Roll The Dice, On The Loose. Diamonds, Scream Of The Savage and set closer Walk With Me, it was a good performance, perhaps too good that it took something away from the music, with too much going on visual wise.


There aren't too many bands have decent riffs song after song, Airbourne are one of the few, great atmosphere in the Birmingham academy tonight top stuff indeed, and I'm sites there's tons of drinking to be had!! It's loud as fuck too lots of speaker stacks turned up to 11 for sure. I shot them on their first UK tour, there second show and my first big band shoot in fact and there also the reason why I wear earplugs when shooting gigs now. They open there set with Raise the flag, a stormer of a song to open up with, and really setting the pace for tonight's set, Hellfire and Chewin' The Fat keep the blistering pace up and then hit home with Diamond in the rough, couldn't help but bang that head and sing along, such a great tune, top guitar work from this band and great drumming too, nothing too complex just solid and catchy, and the whole band just bursting with energy not sure how long on the tour they'll be able to keep that up and covering the crowd and photographers with beer, lots of beer. Other songs they played included Blonde, Bad And Beautiful, Girls In Black, Bottom Of The Well, Cheap Wine & Cheaper Women, Born To Kill. There's no denying there musical influences of AC/DC and Rose Tattoo. They close the main set with No way but the hard way and Too Much, Too Young, Too Fast, which is an absolutely fantastic way to finish on a real high. the lights stayed down as they start there encore with the superb Runnin' Wild such a catchy heavy song, and the energy continues through to their second encore of stand up for rock and roll, one of my favourites off their first album and a possible set opener let alone closer. It was a pleasure to see this band doing so well and being in a big venue like this after seeing them rip it up in such a small venue the last time I saw them, and seeing them doing the same again, with Joel doing his solo in crowd instead of on the bar like the last time I saw them, Top stuff!!

Black Spiders - 4/5
Enforcer - 3/5
Airbourne - 5/5

Review By Robert Lawrence