Fozzy
Symphony Cult, DVP
Belfast, Spring And Airbrake
14th October 2010

Fozzy Symphony Cult DVP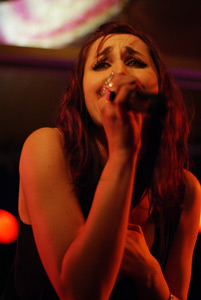 The first band of the night was the very aptly named DEATH VALLEY PILEDRIVER. I was half expecting the wrestler The Undertaker to be in the band. They just exploded onto the stage with massive riff after riff. They are definitely one of the best thrash bands I've seen in a while and I was pleasantly surprised to see a band like this on tour with Fozzy. There was a definite stage presence which kept the crowd's attention and had them head banging along. There were quite a few great choruses that had everyone singing along even though most had never even heard of the band before. By the end of their all to short set, the fans were cheering and wanting more. I'm sure it won't be long before they get snapped up by one of the metal labels, then we can see them on their own tour and we'll get a full set of music to mosh along to.

Next up was SYMPHONY CULT who have a totally different vibe going. I'd already heard their album so I knew kinda what to expect. I also knew it would be a bit different with only one guitarist now instead of the two on the record plus a new bass player was drafted in. I'm not sure how good an idea it was to put them on after DEATH VALLEY PILEDRIVER, who had the crowd all worked up. Imagine something between Evanescence and Lacuna Coil and that's what the crowd were seeing. They are good at what they do and have a definite maturity onstage for such a young band but it was kinda anticlimactic because they just didn't have the big songs to follow the openers. I did enjoy them, they do have some good catchy songs which definitely sound better with only one guitarist. Their big song at the moment is Until Tomorrow which got a decent crowd response, it has a very Evanescence feel about it. All in all they are good at what they do which has been backed up with the fact they've been on tour with the likes of SEVENDUST but it was a bad idea to put them onstage after a brutal thrash metal band.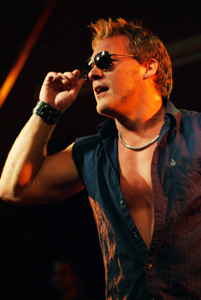 From the second SYMPHONY CULT left the stage the crowd came alive once more. There were chants of Y2J and JERICHO and FOZZY. Once the stage setup was complete, everyone was shouting and chanting louder. All went quiet and the stage went dark. A few seconds passed and QUEEN'S We Will Rock You started playing over the sound system. The band hit the stage apart from Jericho and got set up and into position. About 90 seconds into the song he burst onto the stage and it was the start of a whirlwind set that no one in attendance will forget in a hurry. From start to finish it was a high energy, fun and very accomplished performance from a band that has come a long way since their days as a side project for Rich Ward away from his duties with STUCK MOJO. The crowd sang along to every single song with gusto and a few times it felt like the roof was going to blow off the place. Definite highlights of the night were Let The Madness Begin, Martyr No More and of course their last song, Enemy. Another highlight was when Jericho promised to write sick notes for everyone in the crowd so they wouldn't have to go into work the next day. That's just the kind of fun energy he had all throughout the set. He was running around the stage, up and down the front row, slapping hands with the fans and really getting them involved with the show. The guy is a world class entertainer and gave everyone their money's worth and then some. It was rock, metal and entertainment at it's finest and just seemed to end all too quickly. Kudos have to go to the rest of the band also, they are very accomplished musicians and showmen and they all fit perfectly together.

DVP - 4/5
SYMPHONY CULT - 3/5
FOZZY - 5/5

Review By Craig Young