The Computers
Tropics, Spy Catcher
London, 93FT East
21st October 2010

The Computers Tropics Spy Catcher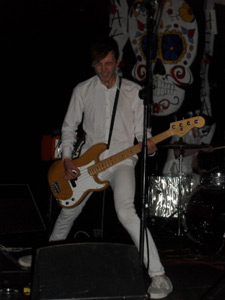 Waking The Dead seems an unlikely, some would even say impossible, ending to one's evening's jaunts. Well, think again as South of the Border presented a 'raucus Mexican evening of punk rock and rock n roll' featuring Spycatcher, Tropics and fearless bill toppers, The Computers. Oh yeah, and a blindfolded raffle winner swinging a golf club at a suspended pinata - only one head was nearly lost.

Spy Catcher were the perfect appetiser on the rock menu as they wowed the crowd with their special brew of grit pop delicacies. Being shouted at never felt so damn good as the Watford foursome ricocheted their punk rock stylings against every wall and rib cage in the vicinity. Steve Sears, Mitch Mitchener, Stu Gili-Ross and Will Taylor took us to the brink but not quite into the warm glow of the white light. So energetic and unrelenting his beating was, it seemed inevitable that Taylor be ejected from his drum kit in the most rocking James Bond kind of way. It's ok. He just about stayed put.


The next celebrants came in the form of Tropics and their unique sound patterns. The sunshine reigned the second the Brit punk noiseniks stepped into the spotlight showering revellers with offbeat rock n roll meltings fit, in time, for a much larger stage. Short, sharp bursts of pure adrenaline fuelled punk rock evolved into a punchy set punctuated only by equally short 'Thanks' before the palatable punky onslaught continued it's journey of destruction on our frontal lobes.

Headline honchos, The Computers put the fuck yeah into tonight's already chaotic proceedings - as if it needed help being any more anarchic after the golf club-pinata beating interval.The men in white, complete with the perfectly groomed barnets of Alex, Sonny and Nic and Aidan's festival appropriate make over, stripped out anything extraneous to deliver a set of nigh-on perfect punk rock tunes including Must Try Harder, S.O.S., and Love The Music Hate The Kids. Cue big fat doses of naturally comedic banter, giant quiff and gargantuan onstage presence to rival that of Linkin Park, these insane Devonian upstarts made this reviewer more excited than she's been in a hell of a long time with fusions of rock n roll and 80's hardcore; who knew the harmonica sat so well next to abrasive vocals and beat down riffs. Remember kids, '2011 is the year of dance' and The Computers are bringing back dancing into the 'cool' hangouts of London.

Want balls on the chopping board rock n roll? Oh boy, do these bands do all out rock like no other! The bill fillers left us ecstatically exhausted and dripping in Alex Kershaw's sweat after being corralled by the frontman's mic. Three cheers for the mother fucking Teenage Tourettes Campers and their troop of supporting merry pranksters!

The Computers - 5/5
Tropics - 4/5
Spy Catcher - 4.5/5

Review By Jessica Acreman