Plan B
Claire Mcguire, Del Camino
Birmingham, Academy
22nd October 2010

Plan B Claire Mcguire Del Camino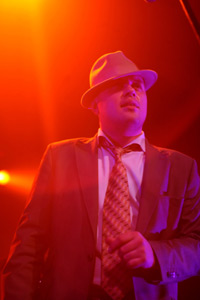 Del Camino are a Big band music of Cuban/Salsa/Latin style, I think sung in an different language,you know other than English, which is refreshing even though the singer appears to be a cockney geezer! All the songs are upbeat with each instrument shining cleanly through, which is good because i think too much of anyone of the them would ruin the songs. there should be party going on this is where this music belongs not some urban dive like this, fantastic music for sure! The 5 songs that were played were as follows, the opening song which lasted quite a while 10 minutes so I'm told, must have seen 5 at least of Ya ahi voy, after having a little trouble getting, my name is harder to spot apprently at the bottom of the list, in big handwriting!!!! Lloraras was up next which was followed by El Careterro, La Murga and La Muerte and set Bilongo, I have no idea what he was singing about but I do know it was good, and I liked it.


Claire McGuire is aPop radio friendly singer with a band, this stuff aint that bad, her voice air too bad can carry a tune, got a feeling the guitarist want to let loose abit, but he gets a few solos. She reminds me somewhat of Cheryl Cole(or is it tweedy). The music itself is pretty good and works well with her vocals! Decent guitar playing, steady drumming, some decent keyboards and bass working well together each instrument coming through nice and clean, the sound here ain't too bad for once. Its pop music, I can live with just about, and with her being a brummy too it helps also!

Kila kela opens the set up with his human beatbox antics, which somewhat amuses me but the crowd love it after 5-10 minutes of his waffle finay ben drew comes on and opens with writings on the wall and it's immediately obvious that he feels more at home on the biggest of the 3 academy stages, as he played the middle venue the last time he was here at the academy. And the vibe here is pretty laid back which I don't think I got last time
round feels better this time. Everyone on stage has some space to breath, the music sounding better than last time, still sound like the CD a bit, know what I mean? After the opener they play free which is then followed by praying probably the best of the 3 opening songs. Other songs in the mid set are, welcome to hell, traded in my cigarette the recluse, Charmaine with crowd singing the chorus, coming up easy a cover done the plan b way, it's really bouncing, they play a new song which is really loud, which is pretty good and really loud, and before the encore the excellent and probable fan favourite she said with lots of singing along by the crowd just like most for the set. After a short short break they and go into, tracks of my tears/lean on me medley. Which works quite well followed by a soul dubstep medley opening with my girl,stand by me, kila kela comes back on and they continue with stand by me, which is now ruined beyond all recognition, annoying this continues with ain't no sunshine when she's gone, ruined again this is followed by kiss from a Rose, clean then dubstep, good and then bad!!! Which is then closed with the ending of forgot about Dre!' It's also Ben Drews birthday, which happy birthday is sung to him by the crowd. Set closer is stay too long which makes the room bounce along and is a good, memorable ending to the set I think this is a much better set than last and being more familiar with his material I enjoyed and understood it better!

Plan B - 5/5
Claire Mcguire- 4/5
Del Camino - 3/5

Review By Robert Lawrence