Circa Survive
Middle Class Rut
Nottingham, Rescue Rooms
18th September 2010

Circa Survive Middle Class Rut

Hailing from Sacramento, California, 2 piece Middle Class Rut played with a sound that blew the faces clean off the front row at the Rescue Rooms. Both vocalist/guitarist Zack Lopez and vocalist/drummer Sean Stockham played furiously throughout what was a highly enjoyable set. What they lacked in members they certainly did not lack in sound with Stockham triggering an array of bass and synth samples to give weight to the juggernaut of noise that Lopez let rip from his guitar.

Tracks like "Busy Bein' Born" and "USA" (taken from their coming release in November "No Name No Colour") were delivered with such explosive spirit that you couldn't help but like them, and dazed the room into a state of awe. Even their slower songs still had you hanging on every fuzz infused note. The only downside to their set, through no real fault of their own, was Stockham's faulty headset which cut in and out. A real shame as his calmer, more melodic voice contrasts Lopez's adrenaline-fuelled and gritty voice very nicely.

You expect the last night of a tour to always be something special. This rule applies tenfold when Circa Survive are involved. Opening with "Get Out" from their incredible new album "Blue Sky Noise", it felt exhausting just watching the Philadelphia band throw everything into every riff they played.


Ever the charismatic front man, Anthony Green wasted no time perching at the very edge of the stage, constantly reaching out the crowd, getting everyone involved at every opportunity, with his fellow band members throwing themselves around the rest of the stage. By the time they got round to playing "Glass Arrows", just under half way through the set the room already felt like it was 100 degrees, with Green completely soaked but still dancing, jumping and screaming like the energetic genius he is. None of the band let up for a second, making older tracks like "Act Appalled", "Oh Hello" and "Stop The Car" that bit more enjoyable. You really feel a part of the show that Circa Survive put on. The Rescue Rooms were by no means packed to the rafters, but despite this the band still constantly interacted with the crowd. It felt almost as if it was a personal, private show rather than the last night of a tour. However from his conversations with crowd, it's clear that Green hasn't seen the film "Anchorman", with screams from some of his fellow countrymen in the crowd of "Milk was a bad choice" after stating how warm it was in the room, being met with a bemused expression.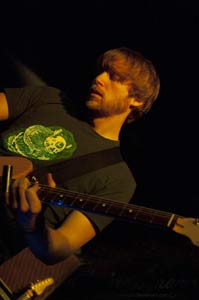 Only once did the set take on a slower tempo with just guitarists Brendan Ekstrom and Colin Frangicetto joining Green to play one of the bonus tracks from the new album, "Every Way". The mellow switch hypnotised the crowd, even those who hadn't heard the track before seemed to be instantly captivated.

Ending the last part of the set with "Through the Desert" the band had only been off stage a matter of seconds when everyone began chanting for an encore. Re-emerging a few moments later, the band gave the people what they wanted and asked what they'd like the guys to end the night with. Despite many chants for what is arguably one of their most successful songs, they resisted playing "The Difference Between Medicine and Poison is The Dose" they chose the request of a few die hard fans at the front and played out with the amazing "Imaginary Enemy". They have failed to disappoint with a live performance to date and I honestly think it would be a long wait for anyone who thinks they eventually may do. How these guys aren't more famous than they are still amazes me.

Circa Survive – 5/5
Middle Class Rut - 4/5

Review By Justin Andree